Book review: Trite plot, relatable characters
Alice Adams' debut novel, 'Invincible Summer' focuses on friendships built to survive crises
There's a long list of reasons that Alice Adams' debut novel, Invincible Summer, shouldn't work. But it clicks anyhow. Adams has managed to combine a hoary premise, a familiar plot, readable to iffy prose and pigeonhole-ready characters and spin their story into a heart tugger with seemingly honest appeal. This amazing feat doesn't rival those of the Large Hadron Collider, which plays a cameo role in Invincible Summer. But it's close.
Adams has followed four friends over the course of 20 years, manipulating their luck and happiness for dramatic effect. Two are men. Two are women. All are heterosexual, and there's a brother-sister pair in there. But the situation still has romantic potential, which Adams exploits to the max. The book's jacket copy says that she grew up in a home without a television and thus became a voracious reader, but it doesn't say what she read. Classics, no doubt. Popular novels, obviously. Parts of Invincible Summer hint that she may have seen Soap Opera Digest, too.
The foursome are first seen in Bristol, England, lying together on a hilltop. Three are university students; the fourth, Lucien, is the book's Rake. Lucien is the brother of Sylvie, its Artist. The other two are physics students: Eva, the Ambitious Climber, and Benedict, the Shy Rich Guy. There was a time when the role of Benedict would absolutely, positively have gone to Hugh Grant for the movie version.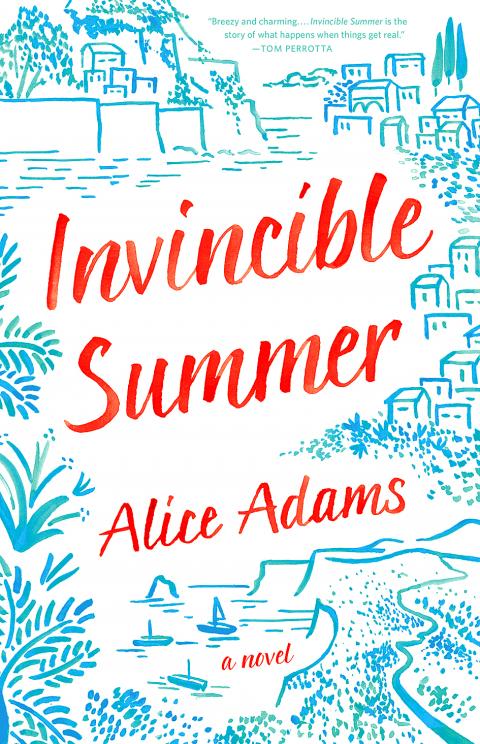 Invincible Summer, by Alice Adams.
Eva is the book's closest thing to a main character (and her story most closely aligns with that of Adams). At first, she is very drawn to Lucien, who is capable of "weapons-grade flirtation" and riding high in the book's early stages. But she also goes off with Benedict to what his father calls their "bolt-hole to escape the unwashed hordes," a summer place on Corfu. Eva thinks of Benedict as a brother; Benedict thinks otherwise. The upshot: An event later referred to as "the kiss that almost-but-didn't-quite-happen." That phrase alone will send some of you running for shelter.
But Invincible Summer, which takes its title from an uncharacteristically upbeat Camus quotation, means to focus on bigger, less fluffy things: moving from a sheltered academic life to an unprotected one, facing increasingly consequential problems, making serious decisions and, inevitably, serious mistakes. It also takes some notice of the world around its self-involved foursome, although by the time the book reaches the second half of 2001, it seems entirely possible that the attack on the World Trade Center will go unnoticed. It does come up, briefly. And then the characters go back to thinking about themselves.
Adams' most pungent remark about September 2001 is actually about the weather, which provides "a gentle reminder that a warm week in September didn't mean that autumn could be staved off forever." This is a metaphor. It means that the characters are aging, and it's about as subtle as "Invincible Summer" ever gets. So where does the good part of this book come from?
It comes from Adams' gift for making her characters so changeable, so vulnerable, so universally familiar. They all make terrible decisions during the course of those two decades, and the book's main satisfaction comes from watching them adapt and cope. In their early 20s, they are hopeful to the point of arrogance; they have been living inside a comfy shared bubble, and they can talk to one another with absolute freedom.
But Adams captures the way that freedom begins to erode as each character defines himself or herself more clearly. As the lines that separate them are drawn, the friendships become more competitive and awkward. Eva takes a job at a big London bank and lives large, in ways that her friends find obnoxious and ludicrous. She's boastful. She's status-obsessed. She doesn't much notice her friends anymore, except when her amorous desires are thwarted — and that may be mostly a power thing, anyway. We know that she's cruising for a fall. Money is everything to her. And 2008 is part of the book's time period, after all.
No spoilers here. But once Invincible Summer gets past a pokey start, its individual stories kick in, and its grip tightens considerably. None of these people could have guessed what they wanted from life until fate overrode their wishful thinking: If the book has one point to make, that's it. And their shared friendship is depicted as a lasting, enviable thing that can survive any obstacle.
As they help one another through a long parade of crises, some of them truly character-building, Adams' story develops an increasing power that can be created only incrementally. And by the novel's end, regardless of whether you buy the plot's string of remarkable coincidences, its message of friendship, love and loyalty hits home.
Nice work if you can pull it off, and Adams has. How often does a book's upside outweigh lines like, "her thoughts were oozing through her mind like mud?"
Publication Notes
Publication Notes
Invincible Summer
By Alice Adams
308 Pages
Little, Brown and Co.
Hardback: US
Comments will be moderated. Keep comments relevant to the article. Remarks containing abusive and obscene language, personal attacks of any kind or promotion will be removed and the user banned. Final decision will be at the discretion of the Taipei Times.