Restaurant review: Shangching Sheep Hot Pot Restaurant (尚青ㄟ羊肉爐)
Shangching Sheep Hot Pot Restaurant (尚青ㄟ羊肉爐), located in the depths of Sanchong (三重), likes to flaunt a hard-core image. It's tactic, which involves hanging whole sheep carcasses outside the main entrance next to a slab so that diners can view the butchering of the raw meat, has certainly generated a hearty response. Some are disgusted by the spectacle, and have expatiated at length on various food blogs, even going so far as to draw a parallel with the public slaughter and the skinning of snakes that was once a popular attraction at the Huaxi Street (華西街) night market. There are others, myself included, who are attracted by the offer of fresh mutton that these carcasses promise.
There are many factors that distinguish Shangching from run-of-the-mill mutton hot pot establishments, which often use frozen meat taken from goats rather than sheep. The management emphasizes that it uses local sheep that are killed and delivered to the restaurant daily. Another factor is the absence of a broth heavy with Chinese medicinal herbs. Shangching uses a clear broth made from bones, rice wine and very little else.
Walking into Shangching is more like walking into a butcher's shop than a restaurant, which is a deliberate move that gives the meat pride of place. Customers place orders before a display of a huge variety of meats and animal parts. This process can be a bit bewildering for those unable to recognize the various cuts of meat and unfamiliar with how they should be incorporated into the meal. The servers are not particularly helpful in this regard, and given that often there are queues for a table, they probably feel little need to go out of their way to explain things to first-timers.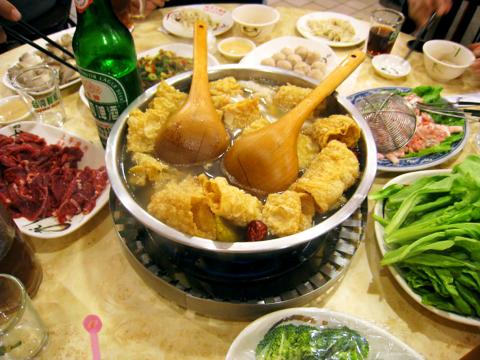 Shangching's hot pots separate the sheep from the goats.
Photo: Ian Bartholomew, Taipei Times
It is largely up to the customer to determine the flavor of the broth through the selection of meat. A good start is a plate of head meat (鍋底嘴邊肉, NT$450), and for those who want to enrich the broth further, a sheep's tail (羊尾巴, NT$250) or foot (羊腳, NT$250) can be recommended. A wide range of vegetables are available to add a little sweetness, and these are sold at NT$50 a plate. For those willing to splash out, a 300g plate of top quality loin (涮腰內肉, NT$700) provides some of the most tender mutton you're likely to find. Cartilage (軟骨肉, NT$500) and shank (腱子肉, NT$600) provide contrasting textures. For those who want to push the boundaries, sheep brains (羊腦, NT$150) and eyes (羊眼睛, NT$100 each) can be recommended both for their culinary interest and relative absence from conventional hot pot menus. Attention needs to be paid to developing the broth with judicious ordering, otherwise it will remain bland and unappealing.
Not everything on offer goes into the hot pot, and Shangching has a number of other methods of preparation. The fat belly meat (三層白切肉, NT$450), thinly sliced, is delicious, as is the intestine fried with ginger (炒薑絲羊腸, NT$150).
The hot pot and other dishes should be enjoyed with a plate of vermicelli in sheep's oil (羊油麵線), which is very tasty, but certainly not for those who don't like the smell of mutton.
Fans of British culinary legend Fergus Henderson, a man who has spent his career advocating the use of "the whole beast," rather than the few prize cuts available in the supermarket, are likely to find great interest in what Shangching has to offer.
With its roadside-stall atmosphere and commensurate level of comfort, Shangching will seem expensive for anyone who is not there specifically for the food, but as a destination for culinary adventure, it's hard to beat.
Publication Notes
Shangching Sheep Hot Pot Restaurant (尚青ㄟ羊肉爐)
Address: 6, Chongyang Rd Sec 1, New Taipei City (新北市重陽路一段6號) Telephone: (02) 8985-3166 Open: 4pm to 2am Average meal: NT$400 per person Details: Chinese menu only, no credit cards
Comments will be moderated. Keep comments relevant to the article. Remarks containing abusive and obscene language, personal attacks of any kind or promotion will be removed and the user banned. Final decision will be at the discretion of the Taipei Times.