The beat of a different drum
Athletic performers pound out the thundering beats of wadaiko in the meticulously choreographed displays of intensity. They do the splits, leap, toss their arms, legs and torsos about in perfectly synchronized routines slicked up by the stylized stage design, lighting and special effects, which give each section a different look and feel. It's the exciting blend of wadaiko sound and movement from the Japanese drumming ensemble Tao that will storm the capital with their show this weekend at Taipei Arena (台北巨蛋).
Based in the tranquil town of Kuju in Kyushu's Oita Prefecture, Tao has aimed to create modern spectacles built on the traditional drumming art that can speak to a global audience through its electrifying and entertaining productions, since it was established in 1993.
They polished their skills, built up their strength and studied their innovative presentation in the highlands of Kuju. In 1995, Tao initiated a "Kyushu one million mobilization plan" to spread the new wadaiko art through touring performances in Kyushu. It accomplished its goal of one million tickets sold in seven and half years.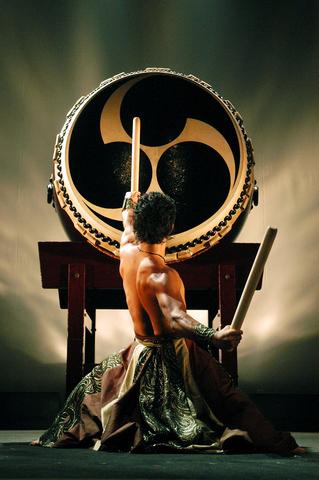 Japanese drumming ensemble Tao have kept the ancient art form alive by making it appeal to contemporary audiences.
PHOTO COURTESY OF TAO
The company's international breakthrough came at the 2004 Edinburgh Fringe Festival as their performances caught the eyes of international performance art scouts. Its dynamic mixture of dance, percussion and human voices often enhanced by Western and Eastern musical instruments such as cymbals, the flute, erhu (二胡), violin and even synthesizers has since garnered global recognition and applause in its annual tours in Europe, Asia, Australia and the US.
"I think what separated us from other wadaiko groups in Japan is that we attempt to modernize the traditional art form with the look of Western musicals. We branch out and bring in all kinds of contemporary music elements that attract new generations while preserving the ancient Japanese spirit," said the founder and director Fujitaka Ikuo.
Indeed, the contemporary look of Broadway-style musicals and Las Vegas shows is the new face of wadaiko Tao seeks to achieve. Several principle performers fly to Las Vegas every year to study the staged productions in order to further the process of modernization, according to Ikuo.
But Tao goes far beyond the superficial flashiness of a Las Vegas show. Living in a remote commune, the wadaiko players have to endure years of hard work to train body and mind, a regimen similar to that of Taiwan's own acclaimed U Theater (優劇場).
The days begin at dawn as the trainees warm up with a daily 15km marathon followed by two hours of physical training. The rest of the day is spent on practicing wadaiko for over 10 hours. It takes three years of such rigorous discipline before the members can stand on the stage and join the performances.
"Three years are enough to train the body, but the more important task is to build up the mental strength," said Ikuo, who believes that solid training in the traditional skills of wadaiko is essential to their art.
But since one of the company's missions is to keep the ancient art form alive and attractive to a global audience, every year the performers are dispatched to every corner of the world from Africa, Indonesia, China to the US and European countries to absorb different rhythms while martial arts and dance forms from both the East and West are also listed on the syllabus in the members' foreign education.
"I believe jazz is one of the prominent elements in our music as we believe it can greatly enrich the rhythms of wadaiko and together they will create a new kind of modern music," Ikuo said.
As for their Taiwan debut, the director said the troupe has been working with local artists and theater professionals in order to present something very "Taiwanese." "Different from our current performances in Europe, we will have new things added to the Taipei shows," said Ikuo, adding that the troupe can only make two to three new numbers a year.
For more information on the drumming ensemble, visit its bilingual site at www.drum-tao.com
Publication Notes
Performance notes:
What: Tao's World Tour 2007 (Tao 日本太鼓世界巡迴台北場)
Where: Taipei Arena (台北巨蛋), 2 Nanjing E Rd Sec 4, Taipei (台北市南京東路四段2號)
When: Tonight and tomorrow at 7:30pm
Tickets: NT$800 to NT$2,500, available through ERA ticket outlets
Comments will be moderated. Keep comments relevant to the article. Remarks containing abusive and obscene language, personal attacks of any kind or promotion will be removed and the user banned. Final decision will be at the discretion of the Taipei Times.