John J. Tkacik On Taiwan: Three Pillars of America's Taiwan policy, or maybe four
As all are aware by now, United States policy toward Taiwan is guided by three canonical texts: the Taiwan Relations Act, the Three Joint Communiques, and the Six Assurances. But the State Department now seems to be working with a fourth document which goes by the bland name of "state telegram number 87604" of June 26, 2007, regarding "UN references to Taiwan." Long dormant, "07 State 87604" seems to have been rediscovered at State Department headquarters in Foggy Bottom. I doubt it will ever be enshrined with the three holy texts, but it now seems to influence American diplomacy toward Taiwan more than ever before.
I expected some sign of "07 State 87604's" presence over the past month at the Southeast Asian summits, but saw little. It wasn't apparent at the mid-November Biden-Xi (習近平) summit at the G20 leaders' meeting in Bali, Indonesia, although there was something else new; Chinese Communist leaders have begun to declare that Taiwan is not simply "a" core interest but, in fact, that "the Taiwan Question is the core of China's core interests" (台灣問題是中國核心利益中的核心), the reddest of red lines. Over the past decade or so, Washington has become inured to Beijing's hyperbole over Taiwan. And as such, it is hard to tell what China's "core interests" really are.
Indeed, in December 2022, one can see that "Taiwan" cannot possibly be China's "hardest-core of core-interests." No, that title must instead, go to "Covid-19." Otherwise, China's leadership wouldn't be sacrificing trillions and trillions of yuan to keep Covid-19 deaths at 3.0 per 1.4 billion people over six months. Yes, that's right. The news last month was that there were three Covid-19 fatalities in China from May through October 2022 and a total of 595 deaths year-to-date. And those three unfortunate patients were all over 87 years old.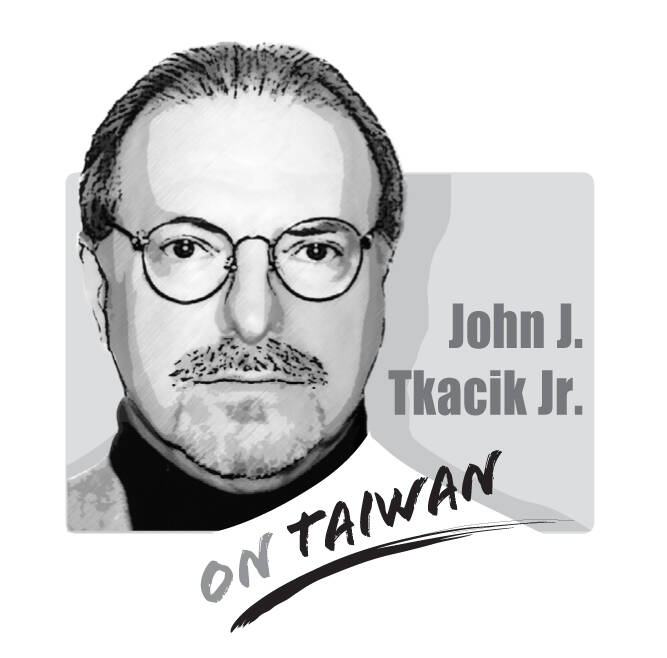 Nonetheless, I was on the lookout for any new wording in US policy toward Taiwan that may have slipped from G20 reportage. I found none. Both China and Russia intensively lobbied for G20 "leaders' statement" language that recommended ending, or at least relaxing, sanctions on Russian food, fertilizer and energy exports. Russia even accepted language "deploring" the "war" against Ukraine just to avoid sanctions on its major exports. So, Chinese diplomats at the Bali G20, and at several other ASEAN and APEC summits in the region last month, weren't really concentrating on the "Taiwan Question."
I did happen onto something else last week quite by accident. It was a protest by the Chinese delegation at the "19th Conference of Parties" (CoP19) to the UN "CITES" endangered species treaty in Panama from 14-25 November.
There, hidden amid vast fields of routine environmental and conservation reports, was "Proposition 10" submitted by the American delegation.
I promise this isn't going to be as boring as it sounds. "Prop 10" was a scholarly proposal to amend the status the short-tailed albatross (Phoebastria albatrus), that nests in "the Senkaku Islands of Japan" and "Agincourt 彭佳嶼 and Pescadore [sic] Islands 澎湖列島 of Taiwan."
Moreover, the US delegation's "Prop 10" twice footnoted "Taiwan's National Plan of Action for Reducing Incidental Catch of Seabirds in Longline Fisheries" and included "Taiwan" in a list of "countries" with active management plans — between "Japan" and "United States."
It is unknown if the US delegation scientists ran their draft by the State Department. State Department officers were members of the American CoP19 delegation. And the US has had a clear mandate to support Taiwan in international organizations. Indeed, last year, on the fiftieth anniversary of Taiwan's expulsion from the United Nations, October 25, 2021, Secretary of State Antony Blinken formally urged other UN member states to support "Taiwan's robust, meaningful participation throughout the UN system and in the international community." The State Department spokesman was questioned intensively on October 26th about the "meaning" of the term "meaningful participation": does it mean "participation separate from Beijing"? The spokesman, on camera, seemed to smile as if gratified that this secret State Department policy had been deciphered without necessitating his formal explication of its mystical arcana.
Back at CoP19, the Chinese delegation demanded that the following statement be included in the record:
"The US proposals have a large number of incorrect descriptions that list Taiwan as a country and fail to correctly indicate that Taiwan Province is part of China. What US [sic] has done violates the US government's repeatedly declared position of adhering to the 'One China' principle [sic] and constitutes a gross violation of China's sovereignty and territorial integrity."
This, China said, "violates international law," citing neither chapter nor verse to support the claim.
Nonetheless, this episode at the CITES CoP19 meeting in Panama indicated a new overtness in the US approach to Taiwan in international organizations. Listing "Taiwan" under "countries"; citing two island groups as belonging to "Taiwan"; footnoting a "Taiwan National Plan of Action," all indicate that the State Department has rediscovered a stern US protest to the United Nations Secretary General from long ago in the George W. Bush administration.
On March 28, 2007, the new Secretary General of the United Nations, Ban Ki Moon, dispatched a formal letter to the Nauru representative to the UN. The Secretary General would "like to draw the attention" of the Nauru ambassador "to General Assembly resolution 2758 (XXVI) of 25 October 1971. In that resolution, the General Assembly decided "to recognize the representatives of the People's Republic of China as the only legitimate representative of China to the United Nations." In accordance with that resolution, the United Nations considered Taiwan for all purposes to be an integral part of the People's Republic of China. It was wording crafted, no doubt, in Beijing. This verbiage eventually found its way to the Secretary of State.
The wheels of diplomacy grind exceedingly fine and after three months there was action. On June 26, 2007, Secretary Condoleezza Rice dispatched telegram 07 State 87604 to US acting permanent representative at USUN mission, Alejandro Wolff, with orders to clarify US policy regarding Taiwan and to demand that the United Nations Secretariat refrain from taking sides in politically-charged debates about Taiwan. The demarche was not lengthy but its legal argumentation was nuanced. Ambassador Wolff presented the United States' protest to the UN undersecretary general for political affairs, which stated, inter alia, "there is no mention in Resolution 2758 of China's claim of sovereignty over Taiwan." The demarche concluded by warning, "if the UN Secretariat insists on describing Taiwan as 'a part of the PRC,' or on using nomenclature for Taiwan that implies such status, the United States will be obliged to disassociate itself on a national basis from such position."
In 2007, this language marked a startling turn in Taiwan's international status. For the first time in a quarter century, the United States Department of State was obliged to reiterate its "long standing" position that the United States has "not formally recognized Chinese sovereignty over Taiwan and [has] not made any determination as to Taiwan's political status."
On August 13, 2007, Secretary General Ban met with US Permanent Representative Zalmay Khalilzad to discuss "the issue of UN language on the status of Taiwan, Ban said he realized he had gone too far in his recent public statements, and confirmed that the UN would no longer use the phrase 'Taiwan is a part of China'."
But that was 15 years ago. Telegram 07 State 87604 now has an entirely new influence on US policy regarding Taiwan in international organizations. State Department spokesman Ned Price said September 26, 2022, that "our 'one China' policy has not changed, we don't take a position on sovereignty [over Taiwan], but the policy that has been at the crux of our approach to Taiwan since 1979 remains in effect today."
The strong language of Telegram 07 State 87604 that "if the UN Secretariat insists on describing Taiwan as 'a part of the PRC' … the United States will be obliged to disassociate itself on a national basis from such position" presumably remains on the State Department's books. It clearly is something that has to be said, and it guided the CoP19 "Prop 10" submission. The United States ought not to be shy about rolling it out as often as needed.
John J. Tkacik, Jr. is a retired US foreign service officer who has served in Taipei and Beijing and is now director of the Future Asia Project at the International Assessment and Strategy Center.
Comments will be moderated. Keep comments relevant to the article. Remarks containing abusive and obscene language, personal attacks of any kind or promotion will be removed and the user banned. Final decision will be at the discretion of the Taipei Times.