Nuclear reactors to shut at end of designed lifespans
Taiwan plans to maintain its energy policy of operating nuclear power reactors until the end of their desinged lifespan, and by using other energy sources to fill gaps in the energy supply, the Ministry of Economic Affairs said yesterday.
"Taiwan will stick to its nuclear power plant timeline. Despite differing opinions, we do not plan to shut down those reactors before of the end of their designed life cycles," Minister of Economic Affairs Wang Mei-hua (王美花) told reporters in Taipei.
The state-run Taiwan Power Co (Taipower, 台電) has drafted several measures to secure a stable power supply, including electricity allocation plans to manage water shortages caused by climate change and surging energy costs resulting from the war in Ukraine, Wang said.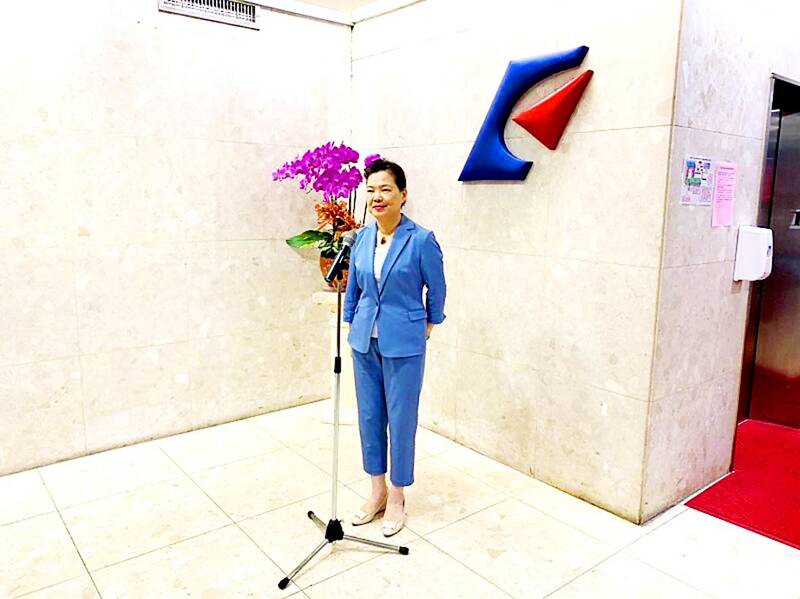 Minister of Economic Affairs Wang Mei-hua speaks to reporters in Taipei yesterday.
Photo: Ching Lin, Taipei Times
Japanese Prime Minister Fumio Kishida on Wednesday said that its government is considering using nuclear reactors beyond their designed lifespans along with restarting idled nuclear power reactors to manage a power crisis.
"My understanding is that Japan plans to make some arrangements about the idled reactors that were shut down following the Fukushima disaster in March 2011," Wang said.
The government has decided to shift from nuclear power and move toward green power to cut carbon emissions.
The No. 2 reactor at Guosheng Nuclear Power Plant is set to stop operation in March next year, while the No. 1 and No. 2 reactors of the Ma-anshan Nuclear Power Plant are to close in 2024 and 2025 respectively, when they are due to reach the end of their operational lives of about 40 years.
Regulations stiputate that any adjustment to nuclear power operations be applied five years in advance, Taipower spokesman Wu Chin-chung (吳進忠) told the Taipei Times.
"The timing has passed," he said.
Comments will be moderated. Keep comments relevant to the article. Remarks containing abusive and obscene language, personal attacks of any kind or promotion will be removed and the user banned. Final decision will be at the discretion of the Taipei Times.