Pope Francis says no to legalization of drugs
Pope Francis has warned Latin America against legalizing drugs, saying in sharply worded and highly political remarks that liberal policies under consideration in his home region will not reduce the problem.
The Argentine-born pontiff delved into the hot topic on Wednesday after celebrating the first public mass of his week-long visit to Brazil, in which he has sought to deliver a message of hope to the poor and vulnerable.
He drew a line against drugs as he met crack addicts and inaugurated a rehabilitation ward at a Rio de Janeiro hospital run by Franciscan monks.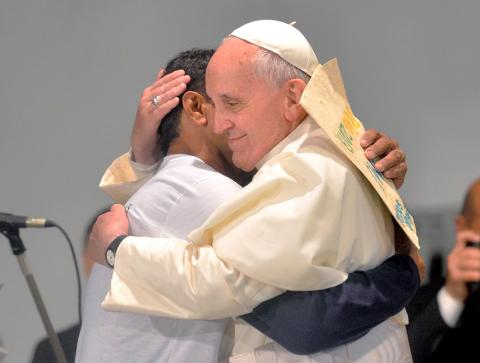 Pope Francis embraces an unidentified patient at the St Francis of Assisi hospital for rehabilitation of drug addicts in Rio de Janeiro, Brazil, on Wednesday.
Photo: EPA
"The scourge of drug trafficking, which favors violence and sows the seeds of suffering and death, requires of society as a whole an act of courage," Francis said as rain fell on the Saint Francis hospital.
"A reduction in the spread and influence of drug addiction will not be achieved by a liberalization of drug use, as is currently being proposed in various parts of Latin America," he said on the third day of his trip.
The pope said society must fight the underlying problems of drug use by "promoting greater justice, educating young people in the values that build up life in society, accompanying those in difficulty and giving them hope for the future."
Guatemala's president has called for legalization, a vision shared by ex-presidents in Brazil, Mexico and Colombia, but opposed by the US and Mexican governments. Uruguayan President Jose Mujica has proposed legalizing marijuana in his country.
Hours earlier, the 76-year-old pope, in Brazil for a Catholic youth festival, urged Catholics to reject "ephemeral idols," such as money, power and success as he led Mass at the country's most revered shrine.
More than 200,000 people braved the cold rain to greet him at the Shrine of Our Lady Aparecida in neighboring Sao Paulo State. After entering the basilica, the pontiff held a statue of the dark-skinned Virgin of Aparecida, Brazil's patroness, whom Francis himself reveres.
"It is true that nowadays, to some extent, everyone, including our young people, feels attracted by the many idols which take the place of God and appear to offer hope: money, success, power, pleasure," he said.
"Often a growing sense of loneliness and emptiness in the hearts of many people leads them to seek satisfaction in these ephemeral idols," he added.
After the Mass, the pope stepped out to bless the crowd and announced he would return in 2017 on the 300th anniversary of the statue's discovery by three local fishermen.
Comments will be moderated. Keep comments relevant to the article. Remarks containing abusive and obscene language, personal attacks of any kind or promotion will be removed and the user banned. Final decision will be at the discretion of the Taipei Times.