Indonesian flood toll rising quickly
THE UNACCOUNTED Nearly 200 were confirmed dead, meanwhile road access to an estimated 10,000 people has been severed, preventing immediate rescue assistance
The death toll after floods and landslides in Indonesia's South Sulawesi province earlier this week approached 200 yesterday as workers trawled through mud and scoured nearby islands for more bodies and survivors.
Most deaths occurred on Tuesday across five districts in the province, but search and rescue operations have been recovering bodies since then and struggling to reach some of the most isolated affected areas.
"The latest reports now show the death toll to be at 190, 175 of which came from Sinjai district alone," said Ruslan Effendi, an official at the provincial disaster management center in South Sulawesi's capital Makassar.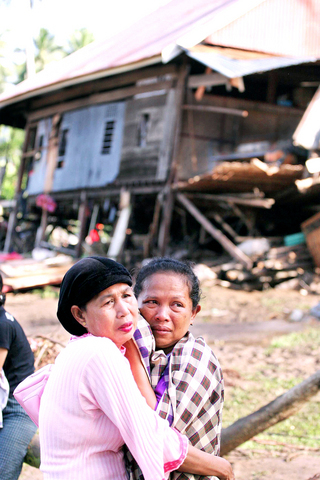 Flash flood survivors comfort each other in a devastated neighborhood in Sinjai, South Sulawesi, Indonesia, on Wednesday.
PHOTO: AP
He said eight people were reported killed in Bulukumba district, two in Bantaeng, four in Jeneponto and one in Bone.
Searching offshore
"Search and rescue teams continue to be deployed, mostly in Sinjai to look for the some 128 people still reported to be missing," Effendi said.
R. Harsono, who heads the search and rescue agency's operations in Sinjai, told reporters as he oversaw work in the waters of the Bay of Bone off North Sinjai that most of the search efforts were now focusing offshore.
"Most of the bodies have been swept to the sea and our search efforts are focused here. The number of bodies buried under rubble inland is relatively small," Harsono said.
He said a second rescue team, composed of marines, was combing the area around the Pulau Sembilan (Nine Islands), a district composed of scores of islands off the coast of Sinjai.
Harsono said rain-swollen rivers swept victims and debris into the Bay of Bone and the currents had carried them to Pulau Sembilan.
As he spoke, an ambulance left the coast carrying the body of a victim found by a team searching by rubber boat.
South Sulawesi Vice Governor Yasin Limp, who heads the province's disaster control task force, left the town of Sinaji by helicopter with other officials to visit isolated villages, the state Antara news agency said.
"There are dozens of villages with a total population of over 10,000 in the two subdistricts [to where they were traveling] whose fate remains unknown as there is no longer any land access to those areas," Sinjai district spokesman Budiman was quoted as saying.
"The roads have been buried by landslides," he said.
Teams of soldiers, police and search and rescue workers, assisted by villagers and volunteers, used excavators to reopen roads blocked by landslides around Sinjai, ElShinta radio reported.
The weather, cloudy in the morning, had cleared over Sinjai by noon. But Harsono said big seas were hindering his workers.
Sinjai lies about 1,600km northeast of the Indonesian capital Jakarta.
Flash floods and landslides in Indonesia are not unusual. Environmentalists say repeated disasters have occurred largely because of unchecked deforestation.
In January more than 150 Indonesians lost their lives in two separate landslides on Java.
Meanwhile, rescue vessels picked up 73 people from a ship that sank off Sumatra Island yesterday, but were still searching for at least 43 people still missing, a navy spokesman said.
The accident occurred around 40km off the port of Sibolga on western Sumatra, said Lieutenant Colonel Jaka Sentosa.
"The information we have received is that the boat sprang a leak and that the weather was very bad," he said.
He said two navy vessels dispatched to the scene and a passing freighter picked up 73 survivors, but that 43 others were still unaccounted for.
He said at least three foreigners were believed to be on the boat, which left late on Wednesday for the island of Nias, a popular spot for foreign surfers. It was unclear whether they had been rescued.
The first group of survivors arrived at Sibolga port and were taken straight to a hospital.
Hundreds of worried people waiting for news of relatives flocked to the boats and hugged their loved ones.
Accidents at sea are common in Indonesia, a vast archipelago where boat travel is the only way to reach many islands. Safety measures are poorly enforced, and many crafts lack sufficient life jackets and other safety equipment.
Comments will be moderated. Keep comments relevant to the article. Remarks containing abusive and obscene language, personal attacks of any kind or promotion will be removed and the user banned. Final decision will be at the discretion of the Taipei Times.