CHINESE FOOD SCANDAL: ANALYSIS: Pundits criticize plan to send team to China
Premier Liu Chao-shiuan's (劉兆玄) plan to send a team of food safety experts and physicians to China because of the melamine scare was criticized by some political observers yesterday.
Lin Tze-luen (林子倫), an associate professor of politics at National Taiwan University, said the government should pay more attention to raising food safety test standards than trying to ferret out the source of the melamine contamination in China.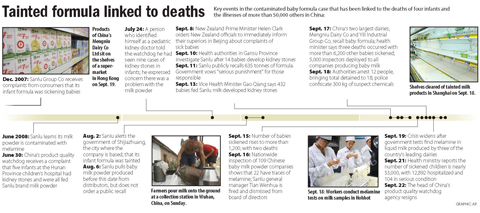 "Since China has just started its investigation [into the melamine scare], it's questionable how much understanding we can get by sending our people there," he said. "It's likely that we would only obtain second-hand information from Chinese authorities."
Lin suggested the government employ the social clauses in WTO agreements to tighten the country's food-safety standards, which were loosened in the wake of Taiwan's WTO entry.
The problem stemmed from a package of concessions offered by Taiwan in negotiations on its accession into the WTO alongside China in January 2002, on concern that Beijing would have blocked Taiwan's entry into the world body if it gained WTO accession before Taiwan. WTO social clauses give legitimacy to a country seeking to ban imports of goods produced in another country in violation of international standards for basic labor and environmental rights and food safety.
"The concessions made by Taiwan didn't mean that it is not covered by the social clauses and most countries won't argue with the WTO when it comes to food safety concerns," Lin Tze-luen said.
Kenneth Lin (林向愷), a professor of economics at National Taiwan University, doubted Liu's motives, saying the premier may be trying to help China recover from its embarrassing food safety problem.
"Sending a Taiwanese group to China means that Taiwan would like to hear China's explanation and that will give China more time to tackle the problem," he said.
Liu's proposal proved one again that "President Ma Ying-jeou's (馬英九) administration attaches more importance to smooth cross-strait relations than anything else, including health, the fundamental right of citizens," Kenneth Liu said.
"It is out of the question that a totalitarian state will ever disclose all relevant information," he said, adding that sending the team of experts would not solve the problem of Chinese-made tainted food imported into Taiwan.
The only way to end the problem is to list all the kinds of banned food imports from China, but the government has been hesitant to impose such a ban, he said.
"South Korea suspended the import of US beef over mad cow disease. It didn't send its officials to the US to see how it [the contamination] happened," he said. "The EU immediately suspended the imports of groupers from Taiwan after finding out that the fish was contaminated with malachite green."
The government did not extend its initial ban on brands of contaminated products to all brands of milk power, dairy products and plant proteins until King Car Industrial Co discovered over the weekend that the powdered non-dairy creamer it imported from China to use in the production of instant corn soup and coffee drinks also contained melamine, prompting a massive recall of this items.
Tung Chen-yuan (童振源), an associate professor at the Graduate Institute of Development Studies at National Chengchi University, said the government should demand China provide transparent information about the melamine contamination rather than send a team of experts to China.
"It would take quite some time for China to find all the sources of the contamination, not to mention the difficulties Taiwanese experts would encounter. We don't have the administrative power to launch an investigation in China," Tung said.
Comments will be moderated. Keep comments relevant to the article. Remarks containing abusive and obscene language, personal attacks of any kind or promotion will be removed and the user banned. Final decision will be at the discretion of the Taipei Times.