More materials tainted with melamine
CRISIS Officials said that it will confiscate and destroy contaminated raw materials and that it has instructed local health authorities to track down all tainted products
Five raw materials tested positive for melamime, the Department of Health (DOH) announced last night, adding that it was still in the middle of tracking down products that were made from tainted materials.
Of the five tainted raw materials, four were powdered non-dairy creamers while one was a malt extract. The five, a total of 165.3 tonnes, were among the seven sent by five Taiwanese companies that imported non-dairy creamers from China's Zhongshi Duqing (Shandong) Biotech Co for test for melamime, the DOH said. The two others tested negative, it added.
This Chinese company is the same one that supplied King Car Industrial Co (金車) with tainted non-dairy creamer in December.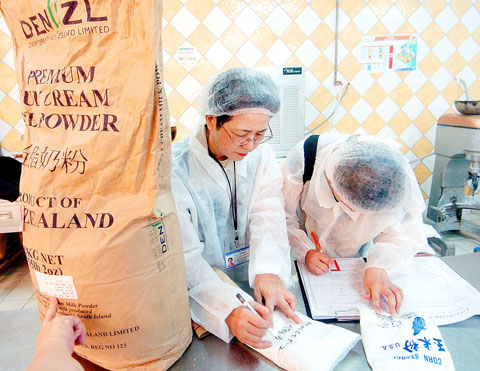 Inspectors from the Taipei City Government Department of Health yesterday test samples of milk powder, corn flour and other bread ingredients at the bakery of an RT-Mart hypermarket in Neihu District.
PHOTO: CHANG CHIA-MING, TAIPEI TIMES
On Sunday, King Car asked stores to pull eight of its products from store shelves after they tested positive for melamine.
The DOH is still unsure of the reason why malt extract would be affected as well.
The DOH said it will confiscate and destroy contaminated raw materials and that it has instructed local health authorities to track down all tainted products that might have found their way into a variety of food products such as instant coffee, instant soup, oatmeal and chocolate.
The DOH said the number of products that needed to be recalled "is a very large number," with an estimated value of NT$1 billion.
"We hope the entire market can start anew," Deputy Health Minister Sung Yen-jen (宋晏仁) told a press conference last night.
Companies must voluntarily pull questionable products off the shelves, and if any products are found to be contaminated, the companies will be fined, he added.
If companies fail to pull products off shelves that later tested positive for melamime, the companies could be fined NT$30,000 to NT$150,000, said the DOH.
Also late last night, the Cabinet announced that it will pull products containing plant protein imported from China until they are proven safe.
The decision was made at an emergent meeting called by Premier Liu Chao-shiuan (劉兆玄) last night, said Executive Yuan Spokeswoman Vanessa Shih (史亞平).
Liu assigned Department of Health Minister Lin Fang-yue (林芳郁) to head a cross-department task force to deal with the impact of the contamination incident.
Shih said the government will cover the expenses needed for the examination.
Businesses that refuse to send their products for examination will have their names published online and will be punished by the government, she added.
The Department of Health yesterday said that anyone experiencing physical discomfort or who has health concerns after consuming dairy products can receive a physical examination free of charge.
The examinations are available at 24 hospitals nationwide for six months from today.
"[The hospitals] have set up special outpatient services for kidney stone examinations," said Lin Shoei-loong (林水龍), chairman of the North Regional Alliance of DOH Hospitals and superintendent of Taipei Hospital.
Examinations will include urine analysis. Children will also undergo creatine and calcium tests.
Anyone believed to have kidney stones can then request an ultrasound.
Meanwhile, tests of products from all 18 companies that have imported dairy products from China since Jan. 1 were negative for melamine. The DOH has permitted the companies to resume sales.
RT-Mart (大潤發), the second-largest hypermarket chain in Taiwan, said yesterday it would have all of its dairy and bakery products tested amid growing concern that one of its suppliers may have used tainted milk powder.
Tai-jye Taiwan Inc (台威食品), which supplies RT-Mart, submitted documents to the DOH showing that 6,100kg of Sanlu brand milk powder had been distributed to RT-Mart.
RT-Mart said in a statement yesterday that the milk powder it bought from Tai-jye Taiwan for its bakeries was Platina Brand Full Cream Milk Powder (白美娜特級全脂奶粉).
The company said it sent the milk powder to be tested on Sept. 15 after local media reported on the melamine illnesses in China. The results on Monday were negative for melamine.
RT-Mart said, however, that it would offer full refunds to concerned consumers and that it would take full responsibility if any consumer became ill from its products.
ADDITIONAL REPORTING BY SHIH HSIU-CHUAN
Also See: CHINESE FOOD SCANDAL: Local milk brands free of melamine
Also See: CHINESE FOOD SCANDAL: Pundits criticize plan to send team to China
Also See: EDITORIAL: Is the DOH doing all it can?
Comments will be moderated. Keep comments relevant to the article. Remarks containing abusive and obscene language, personal attacks of any kind or promotion will be removed and the user banned. Final decision will be at the discretion of the Taipei Times.