Restaurant review: Borracho & Work (酒鬼與鐵鍋)
Cubanos, or Cuban sandwiches, have become somewhat of a thing in Taiwan ever since Jon Favreau served them from a food truck in the 2014 winter movie Chef.
Few places seem to get it right, though, usually going too heavy or sweet with the sauces (it's said that a true cubano should only contain mustard) or using the wrong type of bread. But really, authenticity should not be something to dwell on as even US restaurants often suggest their own take on the prototypical version that Cuban workers in Florida ate. The point is, that I have yet to sample a cubano in Taiwan that is up to par.
This quest brought my friend and me to Borracho & Wok, a small gastropub tucked into an alley behind Zhongxiao E Rd, which is rumored to have excellent Cuban sandwiches. The restaurant also exercises its creativity, as its offerings include a spicy peanut butter and bacon version (NT$180) and a raw beef and truffle (NT$250) invention.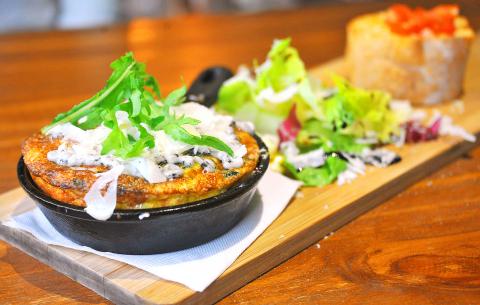 The frittata with spinach and chorizo is topped with truffle mayonnaise and padano cheese.
Photo: Han Cheung, Taipei Times
I later find out that it's actually owned by celebrity chef Chen Wei-kang (陳偉剛), but that's really irrelevant for people who don't watch local television shows. As borracho means "drunk" in Spanish, the place has a pretty extensive alcohol menu (Alpenkaiser Weizenbier or red wine for brunch, anyone?), and the wok part refers to the many dishes that are served in cast iron skillets. To get the full experience, we order the raw beef cubano and a spinach frittata with truffle and chorizo (NT$260) in a skillet. You can add NT$90 for a salad, chips and a drink to go with the sandwich.
For appetizers, we chose the deep fried squid ink and risotto balls (NT$230), which were filled with melted cheese, squid bits and lots of garlic. They are perfectly fried with just the right amount of crispiness and the rice is sticky yet firm, creating layers of textures when paired with the runny cheese and squid. The garlic is the main flavor here, with a touch of saltiness. The distribution of squid is a bit uneven, however, as one of the balls only contained one tiny piece.
The frittata was fluffy in the inside, balanced with the bits of chorizo and spinach. It's topped with the slightly sharp padano cheese, which pleasantly melts into the egg. The dish leans toward the sweet side again as the top is coated with truffle mayonnaise — fortunately the chef shows restraint and keeps it light.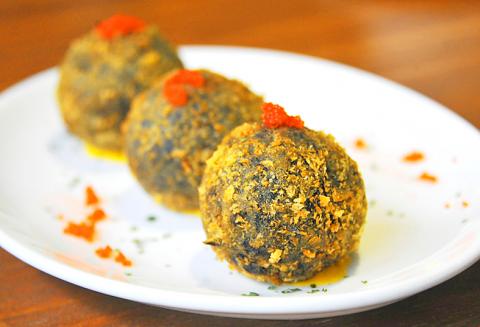 The fried risotto balls contain copious amounts of melted cheese and garlic.
Photo: Han Cheung, Taipei Times
The cubano was expectedly not authentic, but it did not disappoint. As most Taiwanese versions of foreign food go, it featured a sweeter palate with the truffle relish. There's lots of cheese, which contains both the stringy and liquidy type — personally I would have just preferred stringy as there is already the relish that softens the bread, which was developed by the Japanese executive chef while he was training in South America. It does resemble Cuban bread (which is similar to French bread) despite being slightly crunchier, and pairs well with the rest of the ingredients. Even though the beef did not come exactly raw, it didn't matter as it was tender and flavorful. And it does contain ham — which is the staple of a cubano and cannot be omitted.
The side salad was refreshing — many local establishments tend to overdo the dressing and toppings, but this one treaded lightly, featuring only with raw mozzarella bits, thin slices of padano and dashes of olive oil and vinaigrette.
Overall, it was not exactly the cubano I was looking for, but I did leave Borracho and Wok satisfied as the food was intricate and not too heavy. Maybe this is good enough, and if I want a real Cuban sandwich I should head to Miami.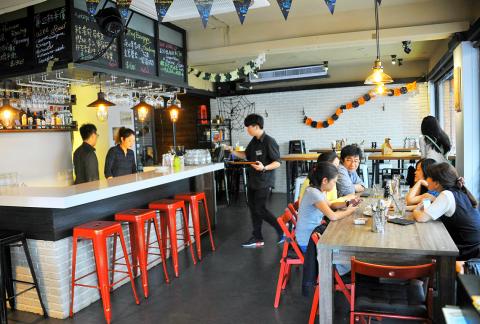 The interior of Borracho and Wok, with Halloween decorations.
Photo: Han Cheung, Taipei Times
Publication Notes
Borracho & Work
(酒鬼與鐵鍋)
Address: 7, Aly 10, Ln 223, Zhongxiao E Rd Sec 4, Taipei City (台北市忠孝東路四段223巷10弄7號 )
elephone: (02) 2752-3151
Open: Daily from 11:30am to 4pm, 5:30pm to 12:30am
Average meal: NT$300 toNT$500
Details: Menu in English and Chinese, credit cards accepted
On the Net: www.facebook.com/pg/borra
chowok27523151
Comments will be moderated. Keep comments relevant to the article. Remarks containing abusive and obscene language, personal attacks of any kind or promotion will be removed and the user banned. Final decision will be at the discretion of the Taipei Times.