Taipei braces for the 'Bomb(-itty of Errors)'
The LAB Space's season finale begins this weekend with a spoof on Shakespeare's 'Comedy of Errors'
For many, Shakespeare's language may be tough and sophisticated, but the folks at the LAB Space are serving the Bard up hip-hop style with the award winning Bomb-itty of Errors, which opens in Taipei tomorrow.
Airy Liu (劉怡伶), Meg Anderson, Steve Coetzee and Charlie Storrar take on multiple roles (some 20 or so) to bring you the hip-hop version of Shakespeare's Comedy of Errors. This season finale of LAB promises to be a real tour-de-force show replete with constant costume changes, no intermission and DJ Cross Cutz to keep the beat going.
This is a play where you definitely have to be alert from the get-go. The prologue provides background on how "Betty" gave birth to two sets of identical twins. However as fate would have it, they are split up and given up for adoption. One set goes to Syracuse and the other to Ephesus. Hillarity ensues when Antipholus (master) and Dromio (servant) of Syracuse, now grown up, travel to the city of Ephesus, where, unbeknownst to them their identical twins, Antipholus and Dromio of Ephesus, live. To complicate matters Antipholus of Ephesus is married to Adriana and all is not going well, so her sister Luciana wants to set it straight.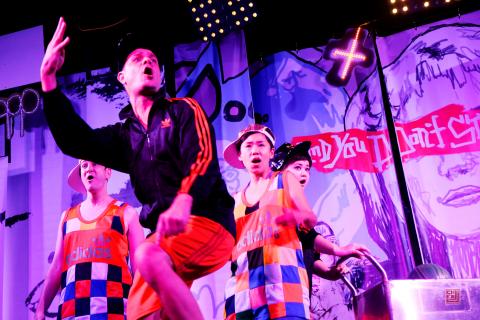 From left to right, Charlie Storrar, Steve Coetzee, Airy Liu and Meg Anderson perform in the LAB Spaces's Bomb-itty of Errors.
Photos courtesy of JJ Chen
With two sets of double identity, the Syracuse two are quickly mistaken for their Ephesus counterparts and confusion and hilarity follow.
More and more characters are brought into this cauldron, including MC Hendelberg (a Hasidic rapper), a wacky cop, a Rastafarian herbal doctor, a Californian bike messenger and a Sports Nun.
With a hot soundtrack of original beats, all are tossed to and fro by the tumultuous tides of mistaken identity, betrayal and love. It is Shakespeare at his witty and irreverent best.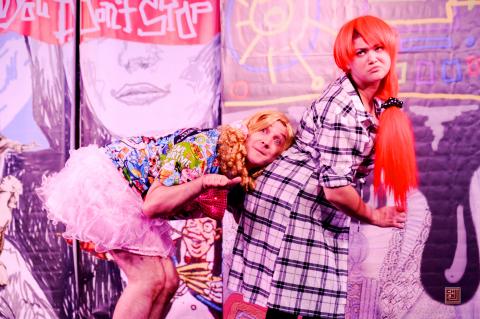 Charlie Storrar, left, and Meg Anderson perform in the LAB Spaces's Bomb-itty of Errors.
Photos courtesy of JJ Chen
Written and originally performed by Jordan Allen-Dutton, Jason Catalano, GQ and Erik Weiner, this show has been performed all over the world.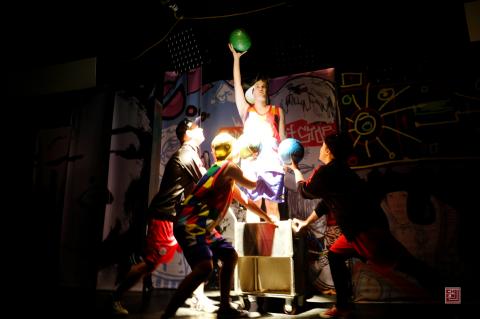 Clockwise from top, Charlie Storrar, Meg Anderson, Airy and Steve Coetzee perform in the LAB Spaces's Bomb-itty of Errors.
Photos courtesy of JJ Chen
Publication Notes
Performance Notes
What: Bomb-itty of Errors
Where: The LAB Space (實演場), 3F, 9, Beitou Rd Sec 1, Taipei City (台北市北投路一段9號3樓), a 5-minute walk from the Qilian MRT station
When: Tomorrow, Saturday and Sunday, Nov. 25 to Nov. 27 and Dec. 2 to Dec. 4. All performances are at 8pm
Tickets: NT$700, available through www.tiny.cc/get-bombitty
Comments will be moderated. Keep comments relevant to the article. Remarks containing abusive and obscene language, personal attacks of any kind or promotion will be removed and the user banned. Final decision will be at the discretion of the Taipei Times.