The Vinyl Word
Last week, hip-hop was sucker punched with the announcement that Phife Dawg (real name Malik Taylor) of A Tribe Called Quest died at the young age of 45 due to complications from diabetes.
Hip-hop heads had known Phife had been sick as he even referred to himself as the "funky diabetic" in 1994's Oh My God. Tributes flowed on the Internet like Old E being poured out to mark the passing of a corner soldier and anyone who loves hip-hop was affected.
Fortunately, life and love is about the passing of a torch. Last Friday night, the melancholy that surrounded Phife's death was replaced by the soulfulness of Illa J's show at The Wall (這牆). Chily Tee, Illa J's DJ, had the right vibe by dropping some Tribe gems to get the crowd warmed up right before the headline act.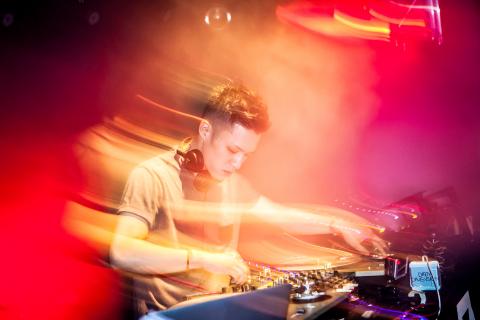 Shintaro headlines Spring Break on the Beach on Monday night.
Photo courtesy of Spring Break on the Beach
Then, Illa J came out and basically blew the crowd of real school hip-hop aficionados away. On his second song, he asked the crowd, "Does anyone in here like D'Angelo?" and proceeded to sit down at the keyboard and churn out one of the most soulful renditions of Brown Sugar that I have ever heard.
In many parts of his set, he paid tribute to his brother, J Dilla, by playing his songs, sharing stories of growing up together, or talking about their group, the Yancy Boys. The most poignant moment came when Illa J started talking about A Tribe Called Quest, a group J Dilla had produced.
"Tribe put my brother on the map, so I've got a lot of love for them. Without Tribe, my brother wouldn't be here [in spirit], and without my brother, I wouldn't be here. Rest in peace, to the legendary Phife Dawg."
BREAKING IT ON DOWN
Notorious destinations for spring break include Fort Lauderdale, Florida, South Padre Island, Texas and Cancun, Mexico. With a line-up of Top 100 DJs, a Red Bull Thre3style winner and a performance by a heavy metal singing, cross-dressing wrestler-turned-Japanese Internet sensation, Spring Break on the Beach, in Kenting, Taiwan might just have to be added to that list.
Tujamo, who will perform at the annual music festival, has the perfect anthem for spring break called Booty Bounce, a four-minute ode to the many ways the derriere can move up and down and around and around.
Danny Avila, 21, is a rising star in the electronic music scene, and Ladybeard last performed his heavy metal in Taipei in 2012 in a dress, and has since recorded a video on a selfie stick in Japan that has more than 13 million views.
Shintaro (real name Shintaro Iwamiya) won the Red Bull Thre3style world championship in 2013 and has been touring the world ever since. He came to judge the Taiwan finals in 2014 and had a good time by playing back-to-back with 2012's champion, Four Color Zack.
In an e-mail interview, translated by his manager, Shintaro said that he had a lot of fans in Taiwan and always looks forward to performing here. He was impressed with the contestants in the Thre3style battle and is excited to see a lot of the local DJs do their things.
"Taiwanese DJs have a unique way of expressing their DJ skills and I love it," Shintaro said.
2016 Spring Break on the Beach (2016夏都春宴) featuring DJs Tujamo, Danny Avila, Shintaro, Ladybeard and more is tomorrow through Monday from 3pm to midnight at the Kenting Chateau Beach Resort (墾丁夏都沙灘酒店), 451, Kenting Rd, Hengchun Township, Pingtung County (屏東縣恆春鎮墾丁路451號). Admission at the door is NT$1,300 for a one day pass and NT$2,500 for a three day pass and includes an open bar from 6pm to 9pm.
Comments will be moderated. Keep comments relevant to the article. Remarks containing abusive and obscene language, personal attacks of any kind or promotion will be removed and the user banned. Final decision will be at the discretion of the Taipei Times.