Art exhibition listings
Currently on display at Art Issue Projects is China New Wave (四點四色:中國當代藝術聯展), a joint exhibition featuring four emerging Chinese artists. Though each artist paints in a different style, all of them challenge the way in which we view the world. Peng Bo (彭博) paints dust particles up-close from the point of view of looking into a microscope. Dust for him is a metaphor for how miniscule human life must look like across vast stretches of time. Li Qing's (李青) paintings of cracks and holes in old, dilapidated buildings have more of a photo-documentary feel. Some of the cracks have sunlight shining through them, representing the artist's own state of mind of wanting to share to the world her innermost thoughts but still holding back a little. Also on display are Huang Kun-xiong's (黃坤熊) paintings of sleek, geometric shapes and Zheng Hong-xiang's (鄭宏祥) paintings which critique historical figures and social structures with a touch of black humor.
■ Art Issue Projects (藝術計劃), 32, Ln 407, Tiding Blvd Sec 2, Taipei City (台北市堤頂大道二段407巷32號), tel: (02) 2659-7737. Open Tuesdays to Sundays from 11am to 6pm
■ Until April 10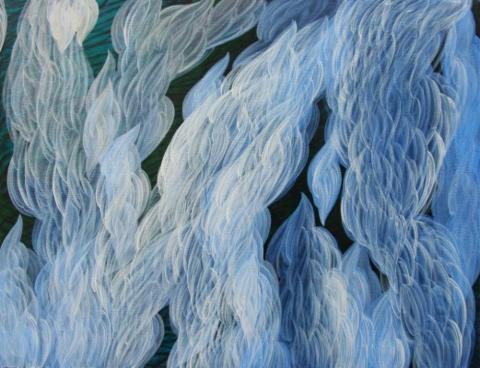 Peng Bo, Empty Landscape 13 (2013).
Photo courtesy of Art Issue Projects
A gymnast's life is tough. Chang Yu-chia (張育嘉) understands this as he trained as a gymnast growing up. Held at Frees Art Space, Chang's solo exhibition, Gymnast Daily (體操選手的日常), is a farcical take on the life of a gymnast. Gymnasts are always being judged — not just by the referees who hold up scorecards, but by society at large who expect them to conform to a certain image, notably that of being fit, trim and perfectly put together. For Chang, a gymnast's life is simply a microcosm of life at large in the sense that we strive to work hard and put our best foot forward with the vague hope that other people will recognize our achievements.
■ Frees Art Space (福利社), B1, 82, Xinsheng N Rd Sec 3, Taipei City (台北市新生北路三段82號B1); tel: (02) 2585-7600. Open Tuesdays to Fridays from 11am to 7pm, Saturdays 1:30pm to 9pm, closed Sundays and Mondays
■ Until April 23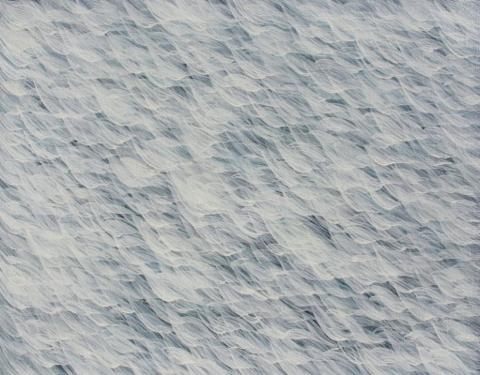 Peng Bo, Tiny Dust 24 (2014).
Photo courtesy of Art Issue Projects
Nunu Fine Art is currently featuring Controlled Coincidence (受控下的偶然), an exhibition of abstract paintings done by artists from around the world. Though these artists have also dabbled in other mediums, the gallery deliberately showcases their paintings. In the past, Nunu has featured some kooky installations and interactive art where the audience must solve a murder. This time, they felt the need to revert to the basics — showcasing kooky, abstract paintings which elude meaning. Included in the lineup are Danish artist Siri Kollandsrud's colorful abstract paintings of overlapping shapes, squiggles and blotches, as well as Irish artist Rodney Dickson's highly texturized and distressed oil paintings which allude to times of political strife, especially The Troubles in Northern Ireland. Also watch out for Iabadiou Piko's colorful, convoluted paintings which are a blend of Nyoman Gunarsa and Picasso. The Indonesian artist takes memories of everyday life and portrays them in abstract form. Finally, while Japanese impressionist artist Toru Kuwakubo also paints everyday scenes, he does so in a manner that is whimsical and nostalgic and set against vast seascapes.
■ Nunu Fine Art (路由藝術), 5, Ln 67, Jinshan S Rd Sec 1, Taipei City (台北市金山南路1段67巷5號), tel: (02) 3322-6207. Open Wednesdays to Sundays from noon to 7pm
■ Until May 8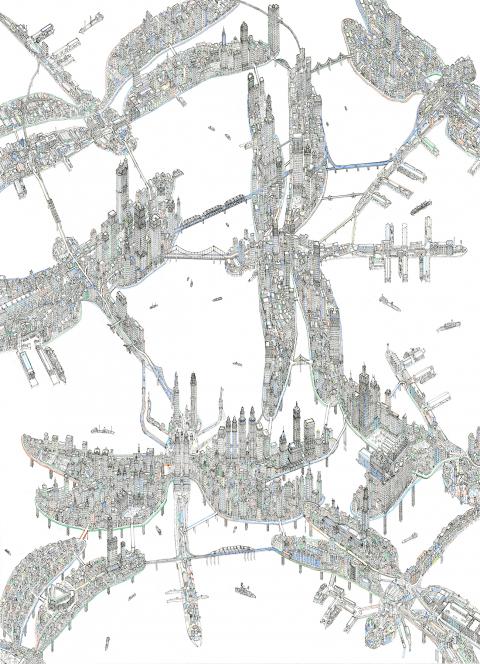 Tom Rook, Dragonflies (2015).
Photo courtesy of Tom Rook
Twenty-year-old El Salvadoran-born artist Sara Ferrufino has her first solo exhibition at the German vintage-themed bistro Cafe Vergismeinnich. Entitled Fesique: One Century of Female Physique, Ferrufino's portraits, done in graphite pencil and watercolor, traces the changing role of American women throughout the last century, from flapper girls of the Roaring Twenties to young, iconic celebrities of today. Drawing in a realist style, each subject represents what it means to be a woman during that particular time period. Their eyes in particular hold secrets, whether these are hopes or dreams, or feelings of happiness or despair. Each of these women are shaped by historical forces and social changes around them, and while some embrace these changes, others defy norms and fail to fit in.
■ Cafe Vergismeinnich, 92, Aiguo E Rd, Taipei City (台北市愛國東路92號), tel: (02) 3322-3036. Open Tuesdays to Thursdays from noon to 9pm, Fridays from noon to midnight, Saturdays from 11am to midnight and Sundays from 11am to 9pm
■ Until May 14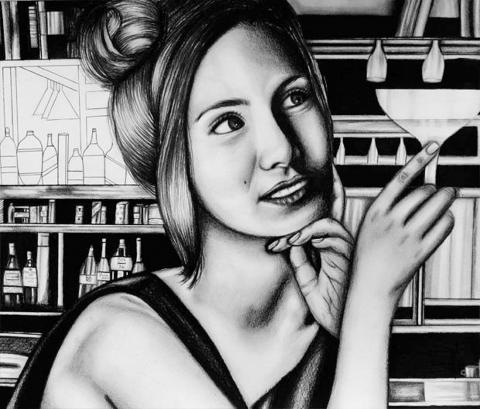 Sara Ferrufino, 1920: Consumption (2013).
Photo courtesy of Sara Ferrufino
Haohaus' latest exhibition, Alternative Vision (另一觀點), forces viewers to imagine life without the Internet and smartphones. Showcasing the works of four Taiwanese artists and three British artists, it poses questions to viewers such as: When was the last time you read a book? When was the last time you sent a handwritten greeting card to a friend? The premise of the exhibition is that when technological distractions are removed, we become hyper-aware of our surroundings, noticing details in buildings and becoming more perceptive to other people's thoughts. Jeng Chorng-shiaw (鄭崇孝) paints futuristic landscapes, throwing in the mix technological products that use renewable energy in an effort to seek balance between nature and technology. Chen Fei-hao's (陳飛豪) photography and video, which have a scientific feel, explore the importance of history in shaping the present. British artist Helen Kirwan combines painting, drawing, collage and photography with found objects, stickers, toys and other trinkets. Also on display are Tom Rook's historical map drawings of Taipei.
■ Haohaus (好思當代), 3F, 113, Chongqing S Rd Sec 1, Taipei City (台北市重慶南路一段113號3樓), tel: (02) 2311-0158. Open Tuesdays to Sundays from 11am to 7pm
■ Until May 22
Comments will be moderated. Keep comments relevant to the article. Remarks containing abusive and obscene language, personal attacks of any kind or promotion will be removed and the user banned. Final decision will be at the discretion of the Taipei Times.