Starting point for new year
Kaohsiung City Ballet founder Chang Hsiu-ru is bringing her best dancers to Taipei tomorrow for the start of a three-city tour of the company's annual Dance Shoe production
Kaohsiung City Ballet (KCB, 高雄城市芭蕾舞團) founder Chang Hsiu-ru (張秀如) has an enviable record as a mentor and cultivator of both dancers and choreographers over her decades-long career, having marked 40 years as a dance teacher last year, while her company is now in its 23rd year.
She is bringing her best dancers to Taipei tomorrow for the start of the company's annual Dance Shoe (點子鞋) production, with the three shows at the Experimental Theater at the start of a three-city tour.
The Dance Shoe productions are aimed at not only providing KCB members with more performing opportunities and the chance to dance under a variety of choreographers, but with giving choreographers born or working in southern Taiwan a platform for their creativity. It had done that and more. Since the first show in 2003, a total of 32 choreographers have created 71 works for the company.
Choreographer Chang Ya-ting's Murmur is one of the works in Kaohsiung City Ballet's Dance Shoe 2016 at the Experimental Theater in Taipei tomorrow and Sunday.
Photo Courtesy of Kaohsiung City Ballet
Several now work with other troupes or have founded their own, such as former KCB dancer Yeh Ming-hwa (葉名樺), whose Nordic was performed at the Songshan Cultural and Creative Park at the beginning of last month, and who has been collaborating with Horse (驫舞劇場), and Benson Tsai (蔡博丞), whose created more than half-a-dozen works for Dance Shoe shows, founded his B.DANCE (丞舞製作團隊) in 2014 and last year picked up three choreography awards at dance festivals in Europe.
This year's program features five works by choreographers that have been frequent contributors to previous editions. Wang Wei-ming (王維銘), a former Cloud Gate Dance Theatre (雲門舞集) dancer who teaches at Shu-Te University in Kaohsiung, and Wang Kuo-chuan (王國權), who spent 20 years working as a dancer in Europe before returning home, are probably the best known. The other three are Chang Ya-ting (張雅婷); Lai Hung-chung (賴翃中) and Dai Ting-ru (戴鼎如).
None of the pieces have been given "official" English titles, so the translations were worked out after some back and forth between the newspaper's translation team and the company.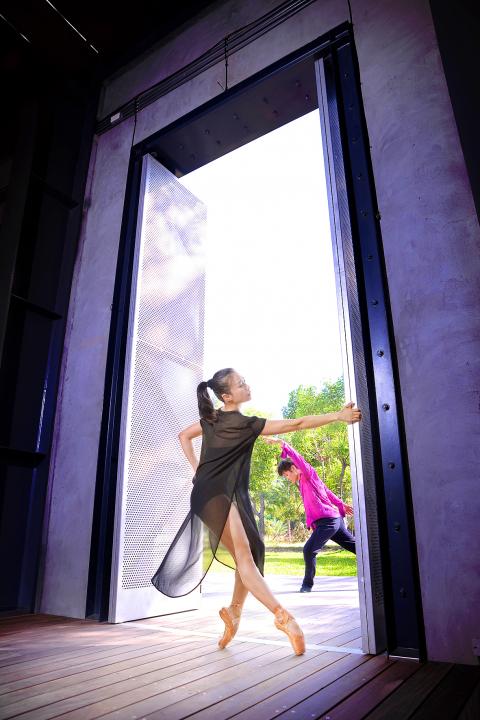 Wang Kuo-chuan has created a duet for himself and Ally Yeh, inspired by Spain and flamenco, for Dance Shoe 2016, which opens at the Experimental Theater in Taipei tomorrow afternoon.
Photo Courtesy of Kaohsiung City Ballet
Wang Wei-ming's piece The Stories They Told (她們在說故事) is set on five dancers and he said that he "stepped aside" in the creation of this piece, functioning more as an observer or co-author and letting the dancers have more of a hand in crafting the work.
Wang Kuo-chuan took Spanish flamenco as the starting point for his new work, Fragments of Madrid (馬德里的片段), a story about a wandering gypsy in which he will partner Ally Yeh (葉麗娟). He is the only choreographer who is also performing in the show.
Chang Ya-ting and Lai are both graduates of Taipei National University of the Arts (國立台北藝術大學) dance department, but their pieces show very different styles and outlooks.
Chang Ya-ting's Murmurs (喃喃) features four dancers and two rather large flower heads. The piece was inspired by the way humans often mutter to themselves — about things they notice, questions they have or the way they are feelings — seemingly innocuous moments, but ones that are not forgotten and that sometimes bloom into something more consequential.
Lai's duet for a man and a woman is entitled Grim Winter (凜凜) and centers on the emptiness and chill or winter and the hopes of the coming of spring.
Dai Ting-ru also created a duet, Waiting (從你的全世界路過), about life or the world passing a person by as they wait for something to happen.
After this weekend's shows in Taipei, the company will return home to perform at the Kaohsiung Cultural Center's Chihteh Hall next weekend and at the Tainan Municipal Cultural Center on Jan. 30.
Publication Notes
Performance Notes
What: Dance Shoe 2016
When: Tomorrow at 2:30pm and 7:30pm and Sunday at 2:30pm
Where: Experimental Theater (國家實驗劇場), 21-1 Zhongshan S Rd, Taipei City (台北市中山南路21-1號)
Admission: NT$500 for the Taipei performances, NT$400 for the others; available at NTCH box offices, online at www.artsticket.com.tw or at convenience store ticketing kiosks.
Additional performances: Jan. 23 at 7:30pm and Jan. 24 at 2:30pm at the Kaohsiung Cultural Center's Chihteh Hall (高雄市文化中心至德堂), 67 Wufu 1st Rd, Greater Kaohsiung (高雄市五福一路67號); and Jan. 30 at 2:30pm and 7:30pm at the Tainan Municipal Cultural Center (台南市立台南文化中心國際廳原生劇場) at 332 Zhonghua E Rd, Tainan City (台南市中華東路3段332號)
Comments will be moderated. Keep comments relevant to the article. Remarks containing abusive and obscene language, personal attacks of any kind or promotion will be removed and the user banned. Final decision will be at the discretion of the Taipei Times.