Can science explain why ABBA is so catchy?
ABBA's songs continue to endure as what scientists have dubbed 'earworms' 35 years after the band's first album was released
It only takes a single exposure, and in an instant, your whole day can change. The infection is rapid and feels potentially unending. One minute you're minding your own business and the next you find that you can't stop thinking, humming, or singing Dancing Queen.
"Friday night and the lights are low ..."
No matter what you try, you can't shake it. In fact, once you start thinking about ABBA, you're a goner. Next thing you know, you've moved to this: "If you change your mind/I'm the first in line ..."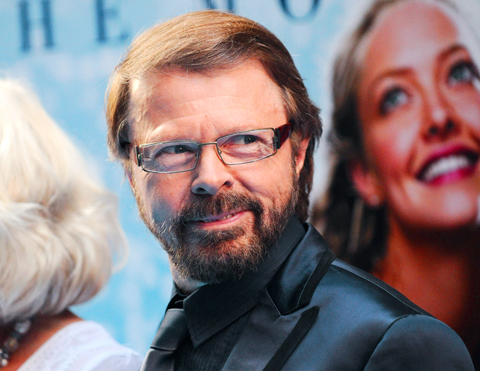 PHOTO: EPA
And like the lyrics to Waterloo remind us, you couldn't escape if you wanted to.
What triggers this phenomenon isn't always obvious, but it's no doubt about to happen on a widespread scale.
Mamma Mia! the film based on the Broadway musical built around ABBA songs, opened in theaters in the US on Friday. As people leave the cineplex belting out the tunes sung by stars Meryl Streep, Pierce Brosnan and Colin Firth, the ABBA invasion will begin anew.
"Mamma Mia, here I go again/My, my, how can I resist you?"
ABBA's songs continue to endure as what scientists have dubbed "earworms" 35 years after the band's first album was released. Like those little bugs, the tunes burrow into our brains and keep hitting the repeat button.
With all this renewed interest, we wondered if it was possible to break down scientifically why the music is so irresistible. Because even those who profess to dislike the cheery pop of the Swedish masterminds can't block its infiltration into their inner jukebox.
Of course, what makes ABBA songs catchy is to an extent what makes most music memorable, from Bach to the Beatles to the Bernie & Phyl's jingle. But, says Daniel Levitin, author of This Is Your Brain on Music: The Science of a Human Obsession and associate professor at McGill University, there are some individual factors.
"For one thing, the way their songs are performed and produced, quite apart from the underlying composition, gives them an overall catchy sound," says Levitin, a musician and former producer whose forthcoming book, The World in Six Songs: How the Musical Brain Created Human Nature, further explores the music-mind connection.
ABBA AND OUR INNER CAVEMAN
The multitracked harmonies of singers Agnetha Faltskog and Frida Lyngstad awaken the part of our brains in which our inner caveman is still enjoying a Paleolithic hootenanny with the rest of his clan.
"If you look at the evolutionary biology of the species and the chemical reactions we have to events in the world, for tens of thousands of years when we as a species heard music we heard groups singing it, not an individual and not an individual standing on a stage," says Levitin. "So the ABBA model of the multiple voices or the Edwin Hawkins Singers singing Oh Happy Day is much closer to stimulating these evolutionary echoes of what music really is, fundamentally — closer than, say, Frank Sinatra or Miley Cyrus."
In other words, if a caveman encased in ice were to be thawed out, revived, and immediately given a full iPod, he would respond more immediately to ABBA or a gospel choir than, say, free jazz. He might eventually dig Ornette Coleman, too, but the presentation of Knowing Me, Knowing You would sound more familiar.
The glossy production and compositional patterns of Sweden's fab four (or shall we say fabelns fyra?) also set off different neurological reactions that have medicinal powers. In the most upbeat of the group's songs, like Money, Money, Money the simplicity of ABBA's lyrics makes them easy to sing along to. In addition to the fizzy melodies, that participation, says Levitin, gives listeners "an even more powerful hit of happy juice in the brain from dopamine."
With sad songs in general, and in ABBA's case specifically with tracks like the more contemplative The Winner Takes It All, listeners' brains produce an opposite but equally enjoyable reaction.
"You get the comfort hormone of prolactin when you hear sad music," says Levitin. "That's the same hormone that's released when mothers nurse their babies. It's soothing. And sometimes it's lyrics and sometimes it's music. I think it's most powerful when the two are well matched and you get what I would call an emergent property where the whole is greater than the sum of its parts."
Structurally, ABBA's songs, like most enduring pop songs, generally offer a straightforward verse-chorus format that satisfies our need for order.
"Whether they sat down and counted and said, 'This can't be nine measures; it has to be eight,' they probably didn't, but they probably wrote eight because in Western music we are used to that balance," says Jon Aldrich, associate professor and founder of the songwriting department at Berklee College of Music. To illustrate, Aldrich hums the melody of the sing-songy "shave and a haircut," leaving out the "two bits" conclusion. "Don't you want to hear the rest of it? You want to finish it, so with an eight measure or a 16 measure or even a 12 or a 24, the listeners feel balance and resolution."
And the main piece of the brain puzzle is the simplest of all: repetition, repetition, repetition. In the grand tradition of everyone from Beethoven (and his hook-filled Fifth Symphony) to the dude who wrote Who Let the Dogs Out?, ABBA songwriters Benny Andersson and Bjorn Ulvaeus recognized the power of telling us something as often as possible. Like the Beatles before them — think "She loves you/Yeah, yeah, yeah" — they also recognized the importance of making that something not so complicated: "Gimme, gimme, gimme a man after midnight ..."
"If you really want to know what makes a song powerful, I would say look at how the memory works," says physiologist Harry Witchel, a senior research fellow at the Medical School of the University of Bristol who ranked Waterloo as the all-time No. 1 Eurovision song contest winner for the BBC. "Memory works either through strong emotions or through repetition — that's how we normally teach. And ABBA songs allow for both of those things to occur."
We hear the words repeatedly, start to sing along, relate to the words and tunes emotionally with either a happy or sad reaction, and thus an earworm is born. He adds that the simplicity of the lyrics, the small number of syllables in the hooks, and the consistent backbeat all factor into the insidious nature of the tunes. That's how they extend their tentacles into a large swath of the public.
OVER AND OVER
In Musicophilia, his new book about music and the brain, Oliver Sacks supports this claim. "There are, of course, inherent tendencies to repetition in music itself," he writes. "Our poetry, our ballads, our songs are full of repetition; nursery rhymes and the little chants and songs we use to teach young children have choruses and refrains. We are attracted to repetition, even as adults; we want the stimulus and the reward again and again, and in music we get it."
All of these elements are in no way unique to ABBA says Levitin. Berklee's Aldrich, who's written or sung such regionally memorable jingles as "It's time to Stop & Shop" and "Tweeter, for times like these," agrees. "If you study it intimately, you will find there's a tremendous amount of repetition in song style and form that really hasn't changed much at all in 70 years," says Aldrich, citing Tin Pan Alley scribes like Cole Porter and even classical composers like Handel as using similar approaches.
Phyllida Lloyd, director of Mamma Mia! and a veteran opera director, doesn't need a scientist to explain why ABBA songs are so infectious.
"I think it's a combination of things," says Lloyd. "I think it's genius melodies by Benny Andersson and really quite deceptively complex and intricate orchestration. They were sort of masters of studio production, and they used every gizmo in the book at that time available to man, including a very ornate use of vocal harmony and words used partly as orchestration."
Lloyd is living proof that an inability to shake ABBA has no long-term side effects. Having had one or another of the songs in her head for the past 10 years as she shepherded Mamma Mia! onto both Broadway and the big screen, Lloyd says her sanity is perfectly intact.
"You wouldn't think so, would you? Questions ought to be asked," she says with a laugh. "I find that you just don't tire of them."
Comments will be moderated. Keep comments relevant to the article. Remarks containing abusive and obscene language, personal attacks of any kind or promotion will be removed and the user banned. Final decision will be at the discretion of the Taipei Times.