'Business climbers' scale new heights
There are so many charity events and parties that virtually anyone can be called a socialite if she has the right connections. The knack is being able to turn that fame into a marketable product
It was 9pm on Halloween and already a crowd of A-list revelers and the photographers who love them were inside the West Side lounge Bungalow 8. Stepping through the club's velvet ropes, Fabiola Beracasa, the sexy, voluble socialite who is the Venezuelan-born daughter of Veronica Hearst, was dressed as Medusa in a made-to-order serpentine headdress, glittery body paint, freaky white contact lenses and gold-sequined hot pants.
As the photographers sprung into action, Beracasa, one of the party's six hosts, gamely struck a variety of poses, momentarily jumping atop a leather banquette in her 15cm platform heels.
After descending from her perch, she slinked through the crush of bodies to chat with her friend Tinsley Mortimer, another much-photographed girl-about-town, who was dressed as Raggedy Ann in red-and-white-striped stockings.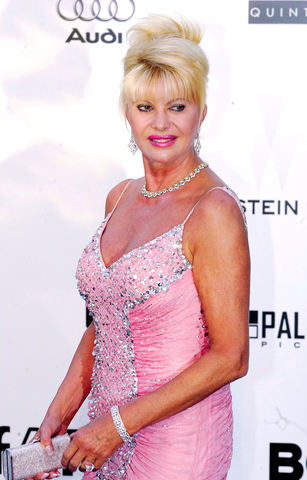 Ivana Trump.
PHOTOS: AGENCIES
A few hours later, the photographs were up on Web sites about Manhattan party life, providing fodder to bloggers and glossy magazines that document the social set's every clothing change. It was another night in the life of the ambitious post-deb set, during a week that included a host of similar photo ops: the Met museum Young Friends Benefit Dance, the Princess Grace Foundation gala, parties at the Jimmy Choo boutique and the Gramercy Park Hotel.
So many parties, so many party pictures. Yet to hear the newest wave of socialites tell it, the businesslike grind of going out nightly is increasingly a platform for creating a business.
Women like Beracasa (creative director of an estate jewelry company), Mortimer (designer of her own handbag line) and many others are exploring a new socialite end game — one in which they become a brand with mainstream recognition (extra points awarded for an actual logo).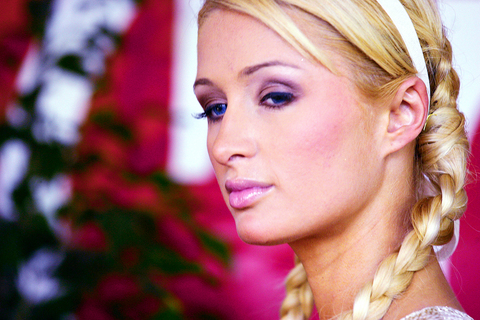 Paris Hilton.
Aggressively milking the fame they acquire through their irrepressible urge to dress up and be photographed, they are spinning off businesses that may one day provide nest eggs for the time an inherited fortune runs dry or a Palm Beach marriage goes down in flames, or simply as a means of personal fulfillment.
"The idea is to turn this all into something," said Beracasa, who has a bombastic beauty reminiscent of Rita Hayworth and a platinum pedigree (her late stepfather was Randolph A. Hearst, and her father, Alfredo Beracasa, is a banking scion). "You get to a point where you've created a brand, and you can branch out from there."
The gold standard for the self-branding socialite is Tory Burch, 40, who developed a line of sportswear and accessories inspired by her Main Line-meets-Southampton life into a mini empire, now with five stores, in just over two years. And this despite the collapse of her marriage to Christopher Burch, a venture capitalist who helped finance her label initially.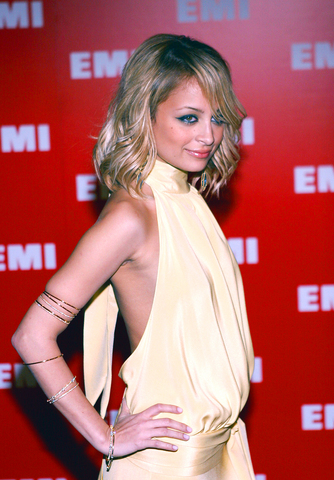 Nicole Richie.
"The model that everyone points to is Tory Burch," said Marshall Heyman, a senior editor for W magazine. "Tory was on Oprah and that was a huge thing. Now everyone wants to be on Oprah."
Other players in the game include Celerie Kemble, an interior designer who married a money manager in a socialite-studded wedding in Palm Beach last year, and is building a namesake line of furniture; Lucy Sykes, a former fashion editor whose Lucy Sykes New York collection is sold at Barneys and Saks Fifth Avenue; and Nicole Young, a former limelight-loving publicist for clients like Jacob the Jeweler whose line of dresses are sold at Intermix and other stores.
"All my clients would send me clothes and say, 'Wear this when you are out. It's the best kind of publicity,"' Young said. "People for all these years have been capitalizing on my visibility for their own gain. Why shouldn't I be able to capitalize on it?"
Mortimer, whose blond curls and patrician looks have made her a darling of designers and the fashion press, recently agreed to create a line of handbags for the Japanese accessories brand Samantha Thavasa. Like Burch, she created a logo out of her initials. The "Samantha Thavasa by Tinsley Mortimer" line will be introduced at a new boutique on Madison Avenue tomorrow.
Mortimer is well aware that her appearance — not just her beauty but her signature hairstyle and taste in clothes — is key to her appeal to society photographers, a kind of brand in itself. Invited to a dinner by Valentino not long ago, she awaited a house call from her hairstylist in her apartment. "About two years ago I started curling my hair and wearing it pinned to the side," she said. "I became associated with that and with a certain kind of overly girly style: baby-doll dresses, pouf skirts and Mary Janes. Right now my hair is straight. I have to get it curled so I can leave the house."
A new Web site perfectly captures the era of the self-branding socialite: famegame.com, which is dedicated to charting the ups and down of rich, partygoing young women (and a few men) as if they were listings on the New York Stock Exchange. Like a Bloomberg machine, the site generates charts for social figures' VIP status (a ratio of pictures per party). There is a moving "ticker" of names scrolling across the home page with upticks or downticks in status (Tory Burch, plus 29; Aerin Lauder, plus 13; Euan Rellie, plus eight).
"We know a lot of people depend on their social appearances for what they do or what they sell; it's a business," said Jose Serrano, a founder of the site, who used to trade US bonds and currency for the Federal Reserve in New York.
This is not the first time high-society women have capitalized on their taste and demi-celebrity to put their names on clothing and other products. Lilly Pulitzer, Diane Von Furstenberg and Carolina Herrera all crossed over from the gala circuit to the boutique.
But never have so many women — inspired, maybe, by the entrepreneurial spirit of the age or their mothers' feminist mantras — been so focused on leveraging social exposure for commercial gain.
"The girls today are more aggressive," said Catherine Saxton, a New York publicist, citing their willingness to hop onto the red carpet and preen for photographers. Tracy Paul, another publicist, for clients like the fashion label Arden B., said that this year was the first she noticed socialites requesting that the bills from their hairstylists, makeup artists and car services be paid by the company sponsoring an event that they are asked to act as a host for or attend.
"All the rules of society are being broken," said David Patrick Columbia of newyorksocialdiary.com, a Web site devoted to covering the privileged set.
The aggressiveness is partly a reflection of the high stakes of today's social environment, where virtually anyone who can slip into a sample size and charm her way through a party can earn the not-always-coveted title of socialite. "It used to be that the old guard would hand-pick the next crop of girls that would come up," said Coralie Charriol, vice president and art director for her father's fine-jewelry and watch company and a chairwoman of some of the city's most popular charity galas. "Today you go out a few times and have your picture taken and you become a society girl."
Some hire publicists to help decide which events to attend. Although using a personal publicist to advance one's social rank is not exactly new — Babe Paley is believed to have had one — publicity agents have become ubiquitous. Although having a publicist was once looked down upon as the mark of a true social climber, today's socialites are able to avoid the stigma by hiring the publicist to promote their businesses. If their personal profile ascends in the process, so be it.
Beracasa persuaded her boss at Circa, the estate jewelry company where she works, to hire the publicist Nadine Johnson, whose clients have included IMG Models and Larry Gagosian. "There isn't much I do without asking for Nadine's advice," Beracasa said. That includes drawing up the guest list for parties, like one she gave over Labor Day weekend in Bridgehampton with Chris Del Gatto, the chief executive of Circa, at which she dressed as a glamorous acrobat.
Beracasa, 30, has stock in Circa, which Del Gatto said he hoped to take public in a couple of years. He said that as the company positions itself as a luxury brand, "it's important to have someone like Fabiola who is representative of our clients, someone who is international, very smart and may have inherited or have jewelry that they no longer use."
In fact, Beracasa first came to the company as a client, seeking to unload a Rolex watch. (Circa buys from the public and sells to private clients, unlike other estate jewelry companies, which do the opposite.)
Given her background, why does she bother to work? "Life can be very vapid if you have everything," she said. In her early 20s she may have been content to travel and shop full time, but that gets old. "I think a grown-up can understand you need to accomplish things in life to feel good about yourself," she said.
"I see myself building an empire," she said, emphasizing that she hopes always to work with Circa in some capacity. And though it's unclear exactly how one builds an empire out of tweaking the image of an estate jewelry company, that doesn't seem to matter at this point, when there is still an endless round of parties to dress up for. Some skeptical observers of high society doubt the seriousness of today's self-branding players. Zani Gugelmann, an oft-photographed jewelry designer of Filigrana by Zani, said that women who go out nightly and say it is to promote their businesses are a bit disingenuous. "People can say it is work-based," she said, "but many times that's just an excuse."
Columbia doubts that women who are truly privileged really understand the demands of the workplace. "Rich girls find ways of getting someone to do everything for them," he said.
Comments will be moderated. Keep comments relevant to the article. Remarks containing abusive and obscene language, personal attacks of any kind or promotion will be removed and the user banned. Final decision will be at the discretion of the Taipei Times.