Restaurant: VVG Table 好樣餐桌
Address: 14, Alley 40, Ln 181, Zhongxiao E Rd Sec 4, Taipei (台北市忠孝東路四段181巷40弄14號)
Telephone: (02) 2775-5120
Open: Weekdays from 12pm to 11pm; weekends 11am to 11pm
Average meal: NT$600 per person (entre only) plus 10 percent service charge
Details: Chinese and English menu, major credit cards accepted
The Taipei Times has twice reviewed VVG (Very Very Good) Bistro, of which VVG Table is a down-the-street offshoot. It was good then, and it remains good now. The original's cozy chaos contracts strongly with the design-conscious good-looks of the new joint.
The staff members, many of whom have studied in Europe, eschews a practice common to European-style restaurants in Taipei, which might generously be called "fusion." This is to say, instead of castrating their food to make it "conform to local taste," they spend considerable time and energy to do each dish properly.
In fact, be prepared to wait a bit for your food, because chances are that most of your order is going to be made from scratch. Past the semi-open porch and the rusticlassy wooden interior full of heavy wooden tables and an entire wall of wine, there is a beautiful open kitchen where you can see the chefs' heads bobbing over piles of fresh ingredients.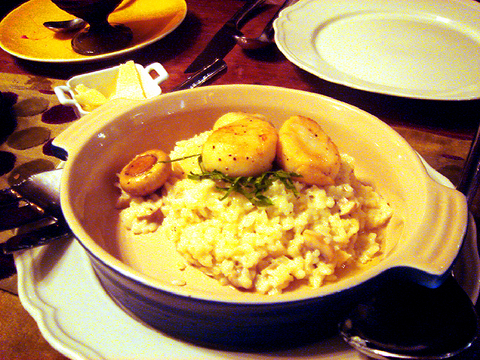 Why mess with a winning formula? VVG Table doesn't.
PHOTO: CHRIS PECHSTEDT, TAIPEI TIMES
The same thoughtfulness that goes into preparation and decoration goes into the menu. As I indiscreetly cast longing glances at my pumpkin soup (NT$180) and rocket salad with prosciutto, capsicum, and parmesan (NT$340), chef Vicky Huang (黃惠淇) explained in detail the laborious process by which the simple-looking soup is made, and the rationale behind each ingredient of my impending fillet steak and onion confit with truffle marsala sauce (NT$750).
The long prep-time for the main dishes makes it the sort of place where couples or larger groups with time to kill and money to burn can easily spend a long and comfortable summer evening.
Another big draw is the elaborate weekend brunch (NT$560, 11am to 4pm). This includes, but is not limited to, homemade bread, roast smoked salmon, chicken and zucchini skewers, and a dish described as "egg cups of crab and shrimp with quail egg and caviar." Cool drinks are served at strategic points through the meal, which ends with desert and cafe au lait or peppermint tea.
VVG Table is in a quiet maze of alleyways off the Zhongxiao-Dunhua intersection. It's not easy to find, but since it's made somewhat of a name for itself, most shopkeepers in the area should be able to provide directions.
Comments will be moderated. Keep comments relevant to the article. Remarks containing abusive and obscene language, personal attacks of any kind or promotion will be removed and the user banned. Final decision will be at the discretion of the Taipei Times.