Patrick Lee goes 'east and west'
The former club owner, and artist, is holding his latest solo exhibition which is titled `Simply Symbols'
The farewell party for Club 75 yesterday marked the end of Patrick Lee's (李紹榮) days as a club proprietor, freeing up his schedule to pursue art full time. Only a few hours before he closed the bar on Saturday night Lee held an opening for his latest solo exhibition, Simply Symbols at Jeff Hsu's gallery in Taipei.
He studied finance at University and worked in the bar and restaurant industry for over a decade. Never formally trained in art, Lee has been painting since he was 10 years old. Although he treats it more like a hobby, his work generates a sizeable revenue. It is especially popular in Europe where his most recent exhibit at a gallery in Copenhagen, Denmark sold every piece.
The 25 works on display are a continuation of a style Lee has been working with in the last five years. In his words it's a combination of "east and west." In this case the east is illustrated by calligraphy and Chinese symbols while the nude female silhouettes represent the west, or more accurately the western influence on his work.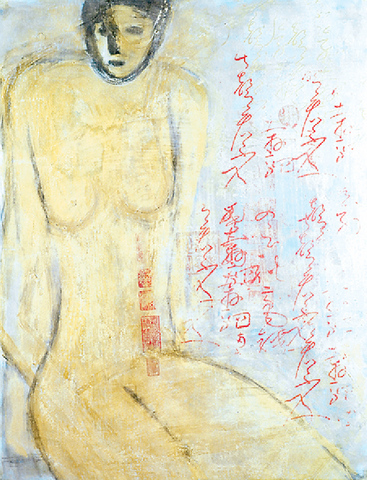 An untitled work from Simply Symbols, an exhibition of paintings by Taiwanese artist Patrick Lee.
PHOTO COURTESY OF THE ARTIST
The ink stokes used to paint the female figure and the choice of red, black, white and gold colors are characteristic of Chinese brush painting. The calligraphy and chop markings that cover the body compliment the figure. A few of the images invoke memories of Peter Greenaway's The Pillow Book, in which a woman seeks lovers who will use her body like a canvas to write on. The women in Lee's paintings are often without any facial features, and sometimes even without heads. The anonymity gives them a nondescript yet indisputably feminine shape.
The larger pieces are completed on canvases while the smaller pieces use a wooden surface. Both utilize acrylic and oil paints together with metallic powder, silk-screening and calligraphy. The combination is not excessive and the paintings retain a minimalist appearance. The layers of materials create depth and texture, which is more visible in the wooden canvases.
Lee's new work is a major departure from his earlier paintings in the early 1990s that focused on abstract western landscapes. The introduction of Chinese motifs into his work is more recent. Neither the symbols nor the images are imbedded with hidden explanations, according to Lee, who described them as a blend of Chinese and European influences. "There are simply symbols with no hidden meaning," he said.
Each of the works is aesthetically pleasing to look at on its own, but overall the exhibition has a commercial feel. Strong impressions from an individual painting are weakened by the fact that there are 20 other similar ones surrounding it.
What is exceptional, however, is the way Lee made use of the space. An otherwise plain cement room has been transformed with a few Buddhist relics and four large standing red lamp tables to look like a lounge bar. It's possible to assess how and why these artworks would be popular in a club space. Likewise, it's easy to see Lee's interest and eye for interior design.
Exhibition notes:
What: `Simply Symbols: The Solo Exhibition of Patrick Lee'
Where: Jeff Hsu's Art (觀想藝術有限公司) at 1, Lane 200 Songde Rd, Taipei (臺北市松德路200巷1號)
Telephone: (02) 8780 8181
When: The exhibition runs until March 27. The gallery is open daily from 11am to 7pm but closed on Mondays.
Comments will be moderated. Keep comments relevant to the article. Remarks containing abusive and obscene language, personal attacks of any kind or promotion will be removed and the user banned. Final decision will be at the discretion of the Taipei Times.