Philippines AirAsia set to launch flights to Taiwan
GROWING MARKET? Philippines AirAsia will be the 20th low-cost carrier operating in Taiwan, indicating the closure of V Air has not deterred carriers from entering the market
Philippines AirAsia Inc, a low-cost carrier based in Manila, is scheduled to start regular flights to Taiwan next month.
Philippines AirAsia, an affiliate of AirAsia Bhd, a low-cost airline based in Malaysia, is planning to launch its services between Manila and Taipei on Nov. 1 with seven flights per week.
The Philippine carrier, which is a joint venture between three Philippine investors and AirAsia International Ltd, is also planning to provide three flights between Taipei and Cebu per week, starting on Nov. 4.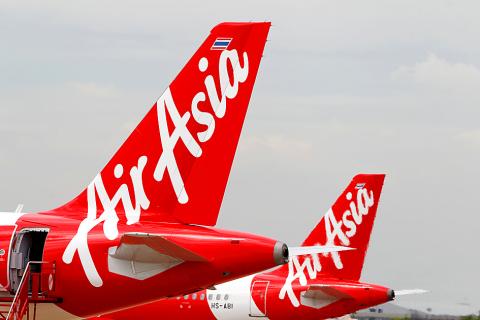 AirAsia planes prepare for takeoff at Don Mueang International Airport in Bangkok, Thailand, on June 29.
Photo: Reuters
Meanwhile, Hong Kong Express Airways Ltd, a low-fare airline based in Hong Kong, is planning to launch regular flight services between the territory and Hualien on Dec. 6, with three flights a week.
Hong Kong Express currently provides regular flights between Hong Kong and Taichung.
Nineteen budget carriers operate in the Taiwanese market after V Air (威航), a subsidiary of Taiwanese mid-sized international carrier TransAsia Airways (復興航空), ended its services on Oct. 1 as a result of massive losses.
In Taiwan, only one Taiwan-based budget airline — Tigerair Taiwan (台灣虎航), a joint venture between Tiger Airways Singapore Pty Ltd and Taiwan's China Airlines (CAL, 中華航空) — remains operational, but it is struggling financially, while the other 18 competitors are based overseas.
CAL chairman Ho Nuan-hsuan (何煖軒) confirmed that the parent company has set up a task force to study the future of Tigerair Taiwan. The joint venture agreement between Tigerair Taiwan and Tiger Airways is scheduled to expire in April next year.
With the arrival of Philippines AirAsia, the number of low-cost carriers operating in Taiwan will rise to 20, indicating that the closure of V Air has not deterred foreign budget carriers from entering the market.
V Air launched its services in December 2014, three months after Tigerair Taiwan was launched. Both eyed the booming budget carrier market, but V Air posted accumulated losses of about NT$900 million (US$28.59 million) and Tigerair Taiwan incurred losses of about NT$1.1 billion in less than two years, with the losses more than half the two carriers' paid-in capital.
The budget airline business in Taiwan has continued to grow since budget carriers first began operating locally in 2004.
Budget airlines last year transported 4.7 million passengers, almost 13.5 percent of the total number of passengers handled by carriers operating in Taiwan, up from about 3 percent in 2012.
However, the losses incurred by V Air and Tigerair Taiwan indicate that Taiwanese budget carriers are unable to compete with their foreign counterparts.
Yeh Wei-chien (葉文建), an associate professor at Kainan University's Department of Air Transport, said that the operating costs of locally based budget carriers have been higher than those of their foreign counterparts due to their relatively smaller size.
Market sources have expressed concern about the future of Tigerair Taiwan, because if the only remaining Taiwanese budget carrier closes, the local low-cost airline market will be dominated by foreign players.
Comments will be moderated. Keep comments relevant to the article. Remarks containing abusive and obscene language, personal attacks of any kind or promotion will be removed and the user banned. Final decision will be at the discretion of the Taipei Times.