Global VR market could be US$13.5bn by 2020
The development of the virtual reality (VR) industry is still in its early stages, but the potential global market could reach US$13.5 billion by 2020 from this year's US$2.54 billion, JPMorgan Securities Ltd said.
Apart from the anticipated fourfold increase in the overall market, gaming and entertainment applications are likely to take off faster than other VR applications, the brokerage said in a report.
"We think VR is promising and that it innovates the ways humans interact with machines," JPMorgan analysts led by Narci Chang (張恆) said in the report issued on Thursday.
A man tries 3Glasses D2 Vanguard by China's Virtual Reality Technology Ltd at Softex Taipei at the Taipei World Trade Center's Exhibition Hall 1 yesterday.
Photo: Tyrone Siu, Reuters
At the Taipei Spring Computer Show (Softex Taipei), which opened on Thursday and runs until Monday at the Taipei World Trade Center's Exhibition Hall 1, VR products have drawn the most attention.
Swarms of VR fans lined up at a booth where they could experience a virtual roller-coaster ride by wearing a VR headset and sitting in a specially designed chair.
JPMorgan analysts forecast that the VR industry could register a compound annual growth rate of 43 percent in shipments, from an estimated 21.6 million units this year to 89.3 million units by 2020.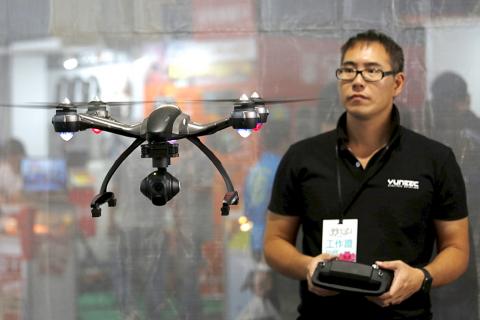 A Yuneec member of staff flies the company's Typhoon Q500 4K drone at Softex Taipei at the Taipei World Trade Center's Exhibition Hall 1 yesterday.
Photo: Tyrone Siu, Reuters
Gaming is one of the major applications and an important growth driver for the industry, as many hardcore gamers are willing to spend money on VR products, the report said.
Entertainment would be the second application to blossom in the VR industry, the report said. That is because VR could work well for sport and entertainment events, allowing viewers to feel the excitement and mood of the crowd, it said.
At Softex Taipei, for instance, local golf course operator Beckhan (貝克漢運動健康世界) displayed a VR simulator that can recreate 100 golf courses around the world, such as the one in Pebble Beach, California, so that golfers can practice.
While VR applications could also be used in several other areas, such as education, healthcare and the military, development might be limited to gaming and entertainment applications in the first few years, while other VR applications remain immature for the time being, the report said.
Among hardware devices, JPMorgan said smartphone-based VR would grow faster than PC and console-based VR products, due to cheaper prices and a cable-free user experience.
However, processors and the graphics processing units in smartphones are not as powerful as those in high-end PCs and gaming consoles, the report said.
In light of this, JPMorgan analysts forecast that smartphone-based VR would account for between 30 percent and 35 percent of VR revenues of US$2.54 billion this year, but the contribution would drop to between 15 percent and 20 percent by 2020.
Despite this seemingly promising trend in the longer term, efforts to "meaningfully monetize" VR businesses are still uncertain at the moment, the report said.
HTC Corp (宏達電), the Taiwanese smartphone company that is aiming to become a VR leader with its Vive headset, might generate 14 percent of its revenue from Vive this year, but it would still fail to offset its loss-making smartphone business, JPMorgan said.
The revenue contribution from the VR business at Everlight Electronics Co (億光), which supplies infrared LED and LED products for HTC's VR headset, would be less than 1 percent of the firm's total revenue, the report said.
Taiwan Semiconductor Manufacturing Co (台積電) would be the "ultimate" beneficiary in the VR industry, as strong demand for powerful chips and sensors would benefit GPU vendors and chipmakers, it said.
Comments will be moderated. Keep comments relevant to the article. Remarks containing abusive and obscene language, personal attacks of any kind or promotion will be removed and the user banned. Final decision will be at the discretion of the Taipei Times.