Woman kills security chief in Iraq blast
A female suicide bomber killed the head of a local security group northeast of Baghdad yesterday, the targeted leader's brother and provincial police said. A child and a security guard were also killed.
The woman, wearing an explosives belt, entered the house of Sheik Thaeir Ghadhban al-Karkhi in the predominantly Sunni town of Kanaan, 20km east of Baqubah in Diyala Province, and blew herself up, said Duraid Mahmoud, the sheik's brother.
A provincial police official, speaking on condition of anonymity as he was not authorized to release the information, confirmed the attack.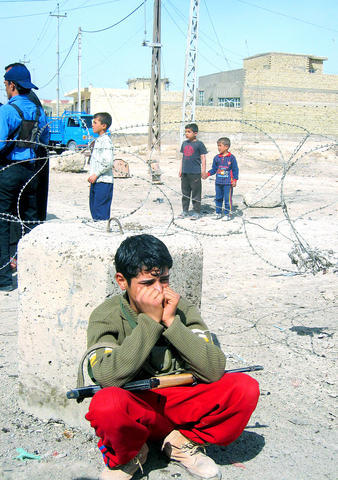 An Iraqi youth cradling an AK-47 machine gun weeps as he sits on the ground at the site of a suicide bombing in Kanaan, Iraq, yesterday.
PHOTO: AFP
There was no immediate claim of responsibility, but al-Qaeda in Iraq has been targeting fellow Sunni Arabs who have taken up arms against the militants and joined the so-called awakening councils like the one al-Karkhi led.
The councils are made up of US-backed former insurgents who have risen up against al-Qaeda's brutality and the strict Islamic codes of conduct it was trying to impose on local populations.
Mahmoud, the sheik's brother, said the bomber had visited the sheik's house on Sunday, claiming that her husband had been kidnapped and asking for help.
Mahmoud said his brother told the woman to return yesterday.
"She came back this morning and nobody checked her. She had an appointment with the sheik and the guards told her to go and knock on his door," Mahmoud said.
The woman was ushered into the house and blew herself up once she got close to the sheik, Mahmoud said.
Meanwhile, anti-US cleric Moqtada al-Sadr will remain in overall charge of his Shiite radical movement even as he steps back from its day-to-day operations to pursue his religious studies, aides said yesterday.
Sadr has no intention of quitting Iraqi politics despite the widespread perception that he was withdrawing after he admitted on Friday that there were splits within his movement, the aides said.
Sadr has "not ceased his contact with us and he remains in control of strategic decisions," said Liwa Sumaysim, the head of the movement's political bureau.
On Friday, the cleric admitted that some of the movement's leaders had broken away after he ordered a six-month extension to a freeze on the activities of its Mehdi Army militia which he first announced last year.
"Many of my close companions have departed for worldly reasons, some of them want to be independent," Sadr said.
"The fact that a number of people did not return to their hawza [religious school] and the fact that many are meddling in political lives while we thought they were loyal has made me isolate myself," he said.
Sadr's spokesman in Najaf, Sheikh Salah al-Obeidi, said the cleric's statement should not be seen as a decision to quit politics.
"The letter does not mean that Sadr wants to isolate himself from the political sphere," Obeidi said.
He has "found a new way to deal with day-to-day issues, focusing on the essentials, which is knowledge and religion, and following the events from a distance," Obeidi said.
Also see: Passing on the cost of conflict to future generations
Comments will be moderated. Keep comments relevant to the article. Remarks containing abusive and obscene language, personal attacks of any kind or promotion will be removed and the user banned. Final decision will be at the discretion of the Taipei Times.