Liu Xiaobo petition delivered to Ma
A NOBEL ACT: The DPP said not only should President Ma Ying-jeou forward the petition to have Liu Xiaobo released to Beijing, but he should also sign it himself
As part of a globally coordinated effort to have imprisoned Chinese dissident and Nobel laureate Liu Xiaobo (劉曉波) released, exiled Chinese democracy activists Wang Dan (王丹) and Wuer Kaixi, accompanied by Taiwan Association for China Human Rights chairman Yang Hsien-hung (楊憲宏), delivered a petition signed by more than 600 Taiwanese to the Presidential Office, asking the office to forward it to the Chinese government.
Initiated by Nobel laureate Desmond Tutu in December last year, more than 400,000 people worldwide have signed the petition urging the Chinese government to release Liu immediately, and yesterday was the date set for delivery of the petitions to Chinese diplomatic posts around the world, Wuer Kaixi told a press conference in front of a monument to commemorate victims of the White Terror era on Ketagalan Boulevard in front of the Presidential Office yesterday morning.
"Today, people who are concerned about Liu and about the democratic movement in China are turning in petitions to Chinese consulates and embassies in their own countries, calling on China to release Liu," Wuer Kaixi said. "Since there's no Chinese representation here in Taiwan, we are turning in our petition to the Presidential Office, hoping that it will forward it to Beijing."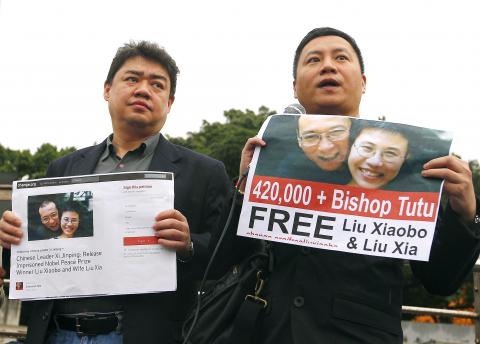 Chinese dissidents Wang Dan, right, and Wuer Kaixi hold placards in front of the Presidential Office in Taipei yesterday. Activists are urging President Ma Ying-jeou to help free jailed Chinese Nobel laureate Liu Xiaobo and his wife, Liu Xia.
Photo: Pichi Chuang, Reuters
Wuer Kaixi said that while President Ma Ying-jeou (馬英九) had once urged Beijing to set Liu free, it was unfortunate that no Chinese Nationalist Party (KMT) lawmakers had accepted his invitation to attend the event.
"However, this is an opportunity for Ma to show he really means what he said," Wuer Kaixi said. "The difference between Taiwan and China is that we're giving Liu our support, while China threw him in jail."
Wang, who is a personal friend of Liu, said that Liu has always been concerned about Taiwan's development and considers himself a friend of Taiwan, although he has never set foot in the nation.
"As a nation that stands behind the universal values of human rights, I hope that Taiwanese will not forget their obligations to help promote human rights protection around the world, including in China," Wang said. "It's especially important for Taiwan, because it would not be good for cross-strait exchanges if China remains a superpower in human rights violations."
Yang said that human rights advocates were looking to push for legislation on political asylum and to amend the Act Governing Relations Between the Peoples of the Taiwan Area and the Mainland Area (台灣地區與大陸地區人民關係條例) to include clauses on human rights protection.
Separately yesterday, the Democratic Progressive Party (DPP) urged Ma to sign the petition demanding Beijing release Liu.
"Ma, as well as anyone who upholds the values of freedom, peace and democracy, should join more than 400,000 people from about 130 countries and support the petition drive," DPP spokesperson Lin Chun-hsien (林俊憲) said.
Additional reporting by Chris Wang
Comments will be moderated. Keep comments relevant to the article. Remarks containing abusive and obscene language, personal attacks of any kind or promotion will be removed and the user banned. Final decision will be at the discretion of the Taipei Times.