Has the age of the pocket arrived?
Centuries after men began carrying items in their clothes, women are still shackled to their bags. Now activists are changing that
Small things can mean a lot, and all revolutions start somewhere. So it is that the humble pocket, a repository for small things and once a minor consideration in clothes design, has become big news.
A growing movement decrying the lack of proper pockets in women's clothing has begun to find disciples in the world of high fashion, as well as among mainstream chains.
A new study of the feminist question of pockets, published on Sept. 14, has already made a sizeable impact, despite the modest aims of the author, American academic Hannah Carlson.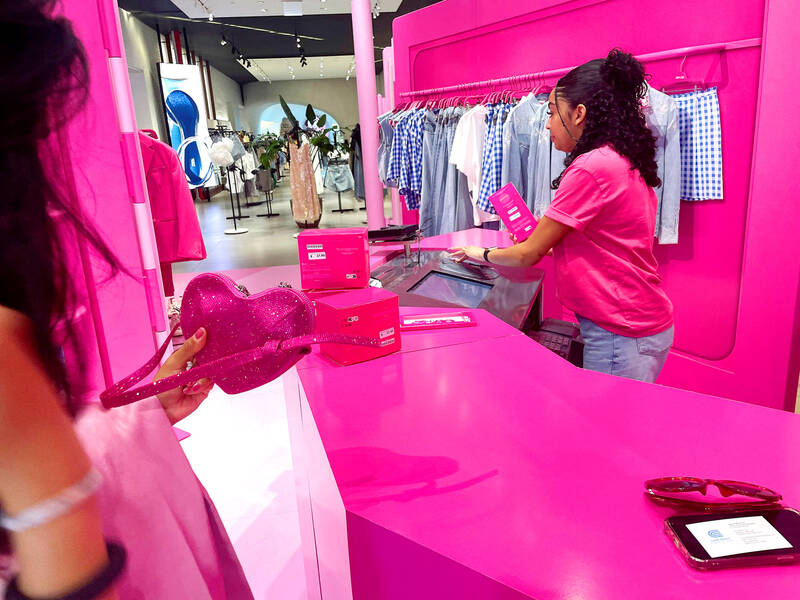 A shopper in July holds a pink Barbie-themed purse while a shop assistant works during the Barbie pop-up in Zara's Soho store in New York City, US.
Photo: Reuters
"I was very careful to make each chapter fun, because I thought nobody was going to read a whole book about pockets. So I've been surprised by the attention," she says.
When planning her book, Pockets: An Intimate History of How We Keep Things Close, Carlson says she kept in mind that similar "micro-histories" — studies purporting to explain the world through the analysis of, say, the development of the paperclip — have been the object of parody. But she was sure of her ground.
It is even possible, she suggests, that the true "age of the pocket" has now arrived, because everything necessary for daily life has become so small. Cash is of limited use, and address books, diaries and maps are all dead. Phones, and perhaps a lipstick, a key or a comb, are really all a woman needs, and this might mean we are not lumbered with bags any more.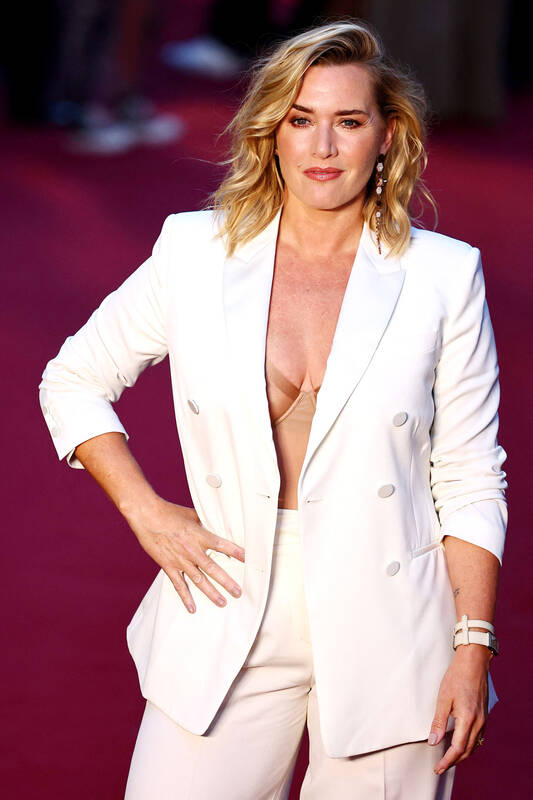 British actress Kate Winslet on Sept. 14 poses upon arrival to attend the "Vogue World: London" event at the Theatre Royal Drury Lane in central London on the eve of London Fashion Week.
Photo: AFP
BIG POCKETS IN
Carlson, who lectures on apparel at the Rhode Island School of Design, will be heartened by some of the images emerging from London fashion week, where bulky jackets with big pockets are evident on male and female models. Vogue World, the sparkly red carpet event in the West End on Sept. 14 also featured bits of bold pocketry, including on Kate Winslet, who wore a white trouser suit. And on the high street, the nostalgia for the 00s looks has led to an outbreak of low-slung pockets on cargo pants.
The ingrained unfairness of the issue has rankled with Carlson for some time.
"It was the subject of my original dissertation, and although I left it behind, it has been bothering me for a while," she says. "Happily, it was an issue I could approach this time with more lightness."
Yet the politics of pockets has history, ancient and modern. Throughout medieval Europe, purses were worn on everyone's belts. Then, when the first pockets were sewn into men's trousers 500 years ago, the trouble began.
In the nearer past, Carlson explains that when the arch-fashionista Diana Vreeland took over at Vogue, she wanted to express her dislike of handbags, which she said were "a drag," and devote an issue to celebrating pockets. But she was not allowed to do it: the publishers are said to have pointed out how much was riding on sponsorship from the handbag industry.
It is not all a commercial conspiracy though, Carlson concedes.
"Part of it is just laziness. It's easier not to design pockets if they are not expected."
RUINED LINES?
Although women's outerwear has generally improved, fashion designers continue to argue that a pocket ruins the line of a dress.
"Wouldn't we really like to see more inside breast pockets in a jacket though? Wouldn't it make life easier?" Carlson asks, adding that childrenswear is a problem. "There are no pockets in girls' dresses, despite the fact they are not bothered about the line of their clothes. There are still areas where it's all very retrograde."
Schoolboys naturally need pockets for the tools of boyhood, such as catapults and dead beetles. And men, of course, mean business and carry wallets and car keys. A popular Instagram account GCS, or Girls Carrying Shit, displays images of women who are forced to carry their possessions.
And there are a few hard facts lurking at the bottom of the pocket debate. Five years ago, a survey of jeans published on the Web site The Pudding found that, on average, women's pockets were 48 percent less deep and 6.5 percent slimmer than men's and that only 40 percent of women's front pockets could fit a smartphone. Less than half could fit a wallet.
A couple of years later, a YouGov study — What Women Pant: Pockets They Can Use — revealed that many women wanted to find more pockets in jackets and trousers.
Other key campaign texts include Barbara Burman and Arianne Fennetaux's
The Pocket: A Hidden History of Women's Lives, 1660-1900, which came out in 2020.
This study is inspirational, according to Sheffield's own pocket warrior, Mandy Fletcher, who started a shopping Web site called Pockets For Women in March last year.
"I found that book really interesting — looking at what we can tell from the contents of women's pockets, particularly poorer women, for which there is little written history," she said.
Fletcher's site, which selects brands offering the best pockets, has gone from strength to strength. "Some bigger manufacturers and brands weren't so keen to be involved at the beginning, but Marks & Spencer is on the site now, along with White Stuff," she says. "I don't pretend to know about fashion, but I can see more of the key labels are including pockets in their descriptions of their clothes."
FAKE POCKETS
Fake pockets are the enemy of these campaigners.
"I have to work out whether they are proper pockets, or just for show," Fletcher says. "My customers told me they regard a functional pocket as one you can fit a phone into."
But things are getting better, with less obvious difference in the number and size of pockets offered to men and women.
"It's great it's happening, with the trend for cargo pants. Designers seem to pay more attention to it," says Fletcher, while acknowledging that fashion could always swing back the other way again.
Her site lists all the best things about pockets, including a reference to the danger for mothers of big tote bags leading to back problems.
A handbag may have been a status symbol for Margaret Thatcher, but for Carlson and Fletcher it is just an encumbrance: expensive and a temptation to thieves, as well as attracting the judgment of others. You also don't have to regularly display the contents of a pocket to a security guard or bouncer.
Whether interest in Carlson's book will lead directly to a film version seems doubtful, but the author hopes that in the wake of the forthcoming Polly Pocket doll movie, Hollywood may soon be reconsidering what pockets really mean.
Comments will be moderated. Keep comments relevant to the article. Remarks containing abusive and obscene language, personal attacks of any kind or promotion will be removed and the user banned. Final decision will be at the discretion of the Taipei Times.