Strength in numbers
A Taiwanese organization aims to foster international communication between Aboriginal communities throughout the globe
ATAYAL aims to launch a new online communication platform to increase dialogue and relations among Aboriginal communities across the globe through media projects, cultural exchanges and tourism, while creating sustainable economic opportunities.
The nonprofit will change their name later this year to "Indigenous Bridges" as a rebranding strategy to emphasize the creation of this digital networking platform, said Tony Coolidge, director of ATAYAL.
Coolidge, whose mother is of Atayal descent, is no stranger to building digital networking platforms. In 2005, after Hurricane Katrina brought much devastation to the US gulf coast, he created the site, KatrinasAngels.org, a database of over 500,000 people that connected victims to volunteers offering housing and aid. A similar approach will be employed in ATAYAL's online network.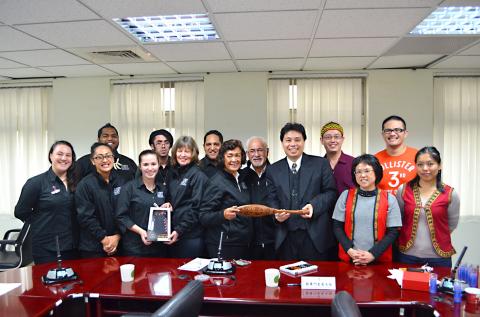 Maori students from Aukland University of Technology in New Zealand in 2013 visited the Council of Indigenous Peoples in Taiwan.
Photo courtesy of Tony Coolidge
"The creation of a system of information management and resource management is something I have been doing for years with other companies and projects. Applying it to indigenous cooperation and development, which is my mission in life, should have been done long ago," Coolidge said.
SOLVING PROBLEMS
With better online communications and international cooperation among Aboriginal communities, it is possible to solve the problems they face, including discrimination, marginalization and extreme poverty. Aboriginal culture, languages, belief systems and ways of life are under threat, and in some cases have become extinct.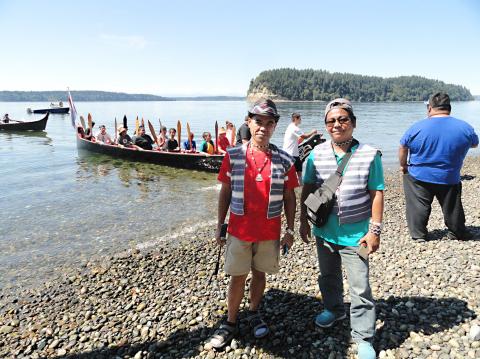 Syaman Manaralay and Syaman Lamuran, two Tao from Lanyu, joined the Nisqually tribe in July of last year in Washington for their annual canoe journey where they shared maritime cultural traditions while also conversing about environmental issues the tribes both face.
Photo courtesy of Gary Smoke
Even though each Aboriginal communities throughout the globe have their own unique concerns, they share similar historical experiences and contemporary issues of how to balance tradition and modernity, said Daya Dakasi, an Atayal and National Chengchi University associate professor of ethnology. He added that through cross-cultural collaboration, Aboriginal communities can share their experiences and learn from others to help them adopt new practices.
"Even if there are no successful cases, we can establish supporting systems for each other," Daya said.
In order to alleviate these problems, ATAYAL's database will feature a user-friendly interface where users can find each other and in turn, more projects can be achieved.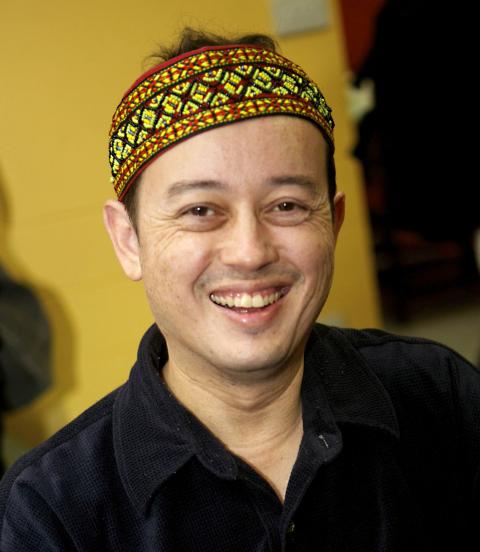 Founder of ATAYAL, Tony Coolidge, plans to establish an online digital networking platform for connecting Aboriginal people worldwide.
Photo courtesy of Tony Coolidge
"There will also be regular online newsletters and online forums to encourage regular communication between the tribal representatives," Coolidge said.
Members will be able to look for performers for cultural events, academics and specialists for conferences, tourism opportunities and Aboriginal representatives.
"Our hopes are that by tribes working together they can further their own personal relationships and their own culture," said Gary Smoke, director of international relations at ATAYAL.
ATAYAL will also continue various side projects that focus on strengthening and establishing relationships with other Aboriginal communities. The organization's side projects include an annual canoe journey with Native American tribes of the US Pacific Coast, collaboration with other organizations to increase tourism to local Aboriginal villages in New Taipei City's Wulai District (烏來) and Chiayi County's Alishan Township (阿里山) and inviting delegations from other nations to visit and participate in cross-cultural exchange with Taiwanese Aboriginal communities.
In particular, the canoe journey has been beneficial to ATAYAL because it has strengthened relations between Taiwanese Aboriginal communities and Pacific tribes of the US, said Smoke. The Native Americans were willing to share their resources and knowledge to help Taiwanese Aborigines solve problems surrounding governmental support and environmental policies, he added.
Tana Yagu, an Atayal who is the nonprofit's cultural ambassador and canoe journey organizer, said the journey can start a cross-cultural dialogue.
"The benefit to meeting in person ... is to learn really deeply, but also build the connections and relationships that make it possible for coalition building, for advocating on each other's behalf and to highlight our issues."
ENVIRONMENTAL ISSUES
Native Americans face similar environmental issues as Taiwan's Aboriginal community and have been able to share their advice in regards to protesting and pressuring the government to uphold environmental policy promises as well as honoring the rights of indigenous peoples, Tana said.
Residents of Orchid Island (Lanyu, 蘭嶼), for example, are still waiting for the removal of 100,000 barrels of nuclear waste, which was deposited by state-run Taiwan Power Co (Taipower) in the 1980's, Tana said.
There is also the potential that the Native Americans could partner with Taiwan in creating a cable TV channel to highlight indigenous issues around the globe.
"With the support of the Native Americans, it would be quite possible for them to put together their own channel," Smoke said.
Native Americans are able to generate income from casinos, tourism and government grants, so they have already established their own Native American television channels, Smoke added.
OBSTACLES
Though ATAYAL has ambitions to increase dialogue among Aboriginal communities, there have been some obstacles causing the fruition of these goals to be slow and tedious. First, funding is limited, as ATAYAL does not receive any financial support from the government.
Second, there was also an instance of promises not being upheld, as Taiwan Indigenous Television dropped plans to feature Coolidge's media projects after a change in management occurred last year.
Coolidge said that though there have been some setbacks, he "hopes there can be a breakthrough. We are going to keep doing what we do, such as sharing our projects with other people."
Comments will be moderated. Keep comments relevant to the article. Remarks containing abusive and obscene language, personal attacks of any kind or promotion will be removed and the user banned. Final decision will be at the discretion of the Taipei Times.