Young voyagers
Now in pre-production and seeking fundraising, documentary "Beyond Hawaiki" will follow Maori and Taiwanese Aboriginal students as they explore the connections between their cultures
In Maori mythology, their ancestors lived in a land called Hawaiki before migrating across the Pacific Ocean and settling in Aotearoa, the Maori word for New Zealand.
Hawaiki's location — and even its existence — is the subject of debate, but some scholars speculate that "Hawaiki" may actually refer to Taiwan. Now a new film, currently in pre-production and seeking fundraising, will explore what this academic theory means for young Maori and Taiwanese Aboriginal people in search of their roots.
Developed by the ATAYAL Organization, a non-profit, the film will follow a group of Maori students as they meet people of indigenous descent in Taiwan. Scheduled to be completed next January, Beyond Hawaiki still needs to raise 75 percent of its NT$13,886,700 budget.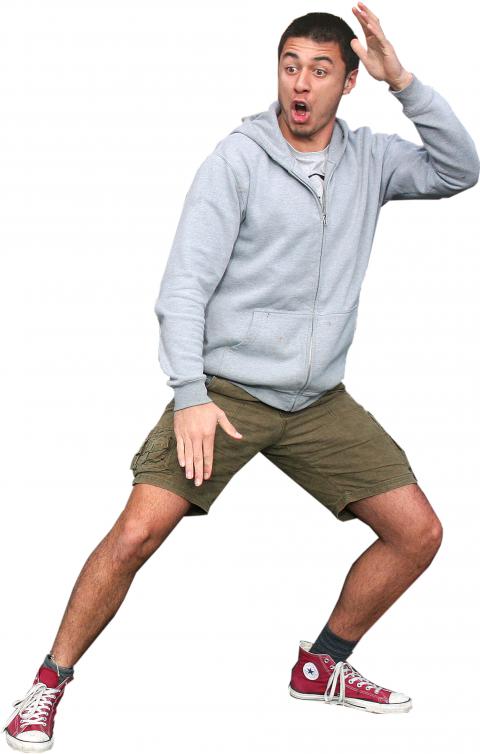 Beyond Hawaiki, a documentary, follows Maori university students as they meet with Taiwanese aboriginal tribes in Hualien and Taichung.
Photo courtesy of Tony Coolidge and Tobie Openshaw
"What I would like to do is allow these students to interact with indigenous students, share their language and culture and look for similarities," says ATAYAL Organization founder Tony Coolidge (陳華友).
Coolidge also hopes the film will increase exposure for the ATAYAL Organization's Tap Root Cultural Exchange Program, which will bring together people from indigenous communities throughout the Austronesian region.
Raised in the US, Coolidge did not learn about his Atayal roots until his Taiwanese mother died in 1994. Coolidge's quest to reconnect with his maternal family's Aboriginal heritage — and find out why it had been hidden from him — was the subject of the 2010 documentary Voices in the Clouds (眾族同聲).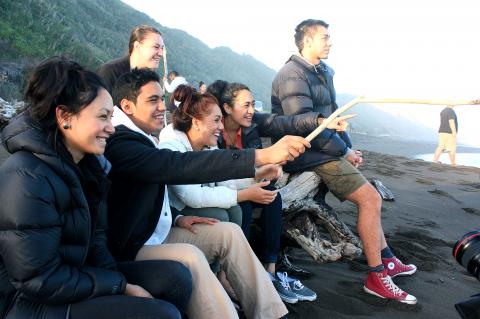 Beyond Hawaiki, a documentary, follows Maori university students as they meet with Taiwanese aboriginal tribes in Hualien and Taichung.
Photo courtesy of Tony Coolidge and Tobie Openshaw
While learning about his background, Coolidge also became fascinated with Maori culture and began to brainstorm ways to facilitate connections between Austronesian tribal groups.
"Learning about Austronesian theory made [that goal] even more concrete and gave it an academic foundation," says Coolidge. "It's more than just bringing tribes around the world together. It's also an opportunity to create a family reunion."
Coolidge and filmmaker Tobie Openshaw met with Maori students and potential "Beyond Hawaiki" subjects from the Auckland University of Technology when they traveled to New Zealand in July to attend the Wairoa Maori Film Festival.
During their trip, Openshaw filmed interviews with several young Maoris.
"I asked them what does being Maori actually mean to you personally? How do you straddle traditional culture with having to make your way in the world of today?" Openshaw says.
Openshaw plans to incorporate footage shot by the students, who have learned how to combine Maori storytelling traditions with digital filmmaking techniques, into "Beyond Hawaiki." Some of the young people he interviewed said they became closer to their families while reconnecting with their heritage, but others were met with opposition when they decided to study Maori culture.
"There is this one guy who looks white. His father is white and his mother is Maori, and he had to overcome a whole bunch of things," says Openshaw. "He said his father asked him 'Why do you want to go do that nigger stuff for?' His family grew up white and it was at a great personal sacrifice that he decided to go on a four-year Maori course."
Beyond Hawaiki's NT$13,886,700 fundraising goal will cover travel, production, marketing and legal expenses. A complete breakdown of the project's budget is available at www.atayal.org/beyond-hawaiki.php. There will also be volunteer opportunities for people who want to participate in the making and distribution of the documentary.
Coolidge hopes Beyond Hawaiki will help the Tap Root Cultural Exchange Program expand.
"We'll start with the Maori coming to Taiwan and bringing Taiwanese to New Zealand, and we will expand to new countries every year," he says. "If all goes well, we'll have a movie with each country added."
Coolidge adds: "So many people in Taiwan have an Austronesian background and they don't know it. I'm hoping that by creating an exchange between people, kids can see more opportunities for the future."
■ For more information about Beyond Hawaiki and the Tap Root Cultural Exchange Program, visit www.atayal.org
Comments will be moderated. Keep comments relevant to the article. Remarks containing abusive and obscene language, personal attacks of any kind or promotion will be removed and the user banned. Final decision will be at the discretion of the Taipei Times.