Connections in 140 characters or fewer
Twitter's critics deride the banality of its content, but 'Twittamentary' director Siok Siok Tan says relationships formed on the microblogging platform can be surprisingly rich and meaningful
Since its launch in 2006, Twitter has become one of the most important and influential social networking sites, with over 140 million users. It played a key role in last year's Arab Spring uprisings and gives notable figures ranging from Chinese artist and dissident Ai Wei-wei (艾未未) to Britney Spears a platform.
But many people still view Twitter with derision, says Siok Siok Tan, the Singaporean director of Twittamentary, which premiered in Taiwan at the Urban Nomad Festival last month.
"It's hard to convey what Twitter really is because it is so ephemeral. What people struggle with is that they look at the text of what people tweet about and they think it is very trivial, very dumb sometimes," says Tan.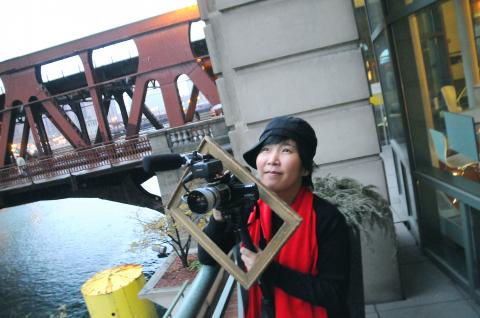 During the filming of Twittamentary, director Siok Siok Tan asked her diverse interview subjects to pose with a frame to represent their Twitter avatars.
Photo courtesy of Twittamentary
Tan first signed onto Twitter after moving to China in 2007. After making a documentary about the Beijing Olympics, she was struck by how eagerly her Twitter followers helped her promote it. Tan began to brainstorm how she could turn her Twitter experience into a documentary.
"I was challenged by the impossibility of not only making [a documentary about Twitter] visual, but also so that when people watch it, they get a little bit of what happens in terms of the connection between people," says Tan, who met almost all of her crew and interview subjects on Twitter.
In the film, she talks to a diverse group of Twitter users. Tan followed AnnMarie Walsh (whose Twitter handle is padschicago) as Walsh prepared to speak to a conference about sharing her experiences with homelessness on Twitter. Another subject, Janis Krums (jkrums), entered the spotlight when he posted the first photo of US Airways Flight 1549 after its emergency landing on the Hudson River. Porn actress and legal prostitute Mika Tan discusses how Twitter has helped her gain notoriety and clients, but also hindered her from building a normal life.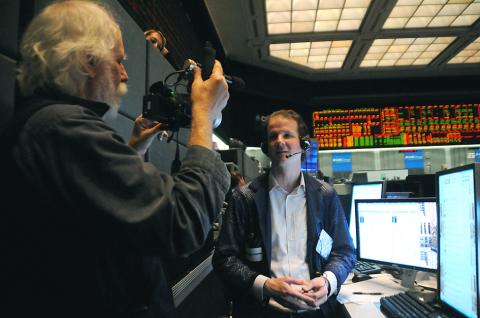 Camera operator Geo Geller, who Siok Siok Tan met on Twitter, talks to trader Richard Regan, who used Twitter to track financial news.
Photo courtesy of Twittamentary
Director Tan hopes the film will allow viewers to appreciate the unique ability of Twitter to form meaningful relationships, even if they don't launch their own accounts.
"I always say that I can't make a documentary about Facebook by crowdsourcing. Facebook is about a closed circle of friends. Twitter is open," says Tan. "It's okay to talk to strangers and they follow you all the time. The relationship can be bilateral or unilateral."
Read on for more of Tan's thoughts about Twitter. For more information about the film and how you can arrange an in-person or online screening, visit www.twittamentary.com.
Taipei Times: While working on the film, what was the most surprising use of Twitter that you encountered?
Siok Siok Tan: There was a porn star in the film, Mika Tan, and at one point she used Twitter as a GPS because she was going to a strip club and got lost. She shared her distress on Twitter and of course five or six men immediately turned into her GPS and gave her detailed directions to the strip club.
There were also a lot of stories that I found very interesting that I wasn't able to include because they are not visual. For poker players at the professional level, it used to be very difficult to document their games. Now every player documents their own hand on Twitter after they have played it and they've turned Twitter into a giant wiki of poker games.
Police constables also use Twitter to solve crimes. We reveal a lot about ourselves on social media without knowing it and there are police officers that are using that to help their investigations.
TT: A lot of social media experts insist that in order to build a follower base on Twitter, you have to maintain a consistent online persona. Do you feel that it is really necessary to "brand" yourself in order to use Twitter successfully?
ST: I am not a social media marketing person, so I don't have a standard set of advice for how to get more followers, but while working on the film, what I found fascinating about Twitter is that it is a public/private space. It's private because you are sharing your thoughts only to your followers but at the same time, you have to be aware of what you are putting out there.
When I first got on Twitter at the end of 2007, there were a lot of early adopters. They had to find this balance between being self-aware and at the same time coming across as real and being themselves. It is the same way as how you interact socially in a way. The most charming people seem to be naturally that way, but at the same time, it is a skill. Charisma is a skill and there is some amount of conscious effort.
One of my favorite stories from the film is about a young man who was from Kansas City, Missouri, called Mac Tonnes. He wasn't very well accepted in his physical location because he had very unusual interests. He believed in UFOs and transhuman technology, but he was very, very well loved on the Internet. He passed away suddenly and in the way his Internet friends grieved for him, you could see that he was very beloved.
So when people ask how you can get more Twitter followers or how you should represent yourself, you can go for the more formulaic way of sharing useful quotes every day or be an expert on Chinese current affairs or things like that. Or there is the other way, in that what you are interested in may be quite niche, but by being yourself you draw unexpected friendships to you.
I find that when Twitter does become a little tedious is when everyone is angling for something. One of the things I find as I spend more and more time on Twitter is that I spend less time broadcasting and spend more time talking to people, responding to what they tweet and asking them questions.
TT: In one of your trailers, you feature people who said that they either "loved" Twitter and were addicted to it or hated it. Why do you think Twitter elicits such strong emotional reactions?
ST: I think that there are two reasons. One is that there is a misunderstanding about Twitter, I think, and the reason is that really people focus on the text. If you look at what is being tweeted, a lot of it seems like fluff, very trivial, a lot of banality. I feel that people who are into Twitter are into Twitter because of the emotional subtext and hypertext.
The best example I have ever come across is imagine two neighbors. Every day before they go off to work they learn over the fence and talk about their day and what they are planning to do.
If you tweeted that conversation, it would seem very mundane: "I'm taking out my trash," "I'm picking up my car from the workshop." But if you do it day after day for three years, I'm going to know you pretty well. You develop that emotional connection that comes from being able to finish each other's sentences.
I think people who feel strongly against Twitter are people who keep focusing on the text, that he's tweeting about what happens for lunch or she's tweeting about her latest haircut. But that isn't a waste of time. People who argue for Twitter are people who have had moments of emotional connection or unexpected encounters.
I once shared a link to a book about manhole covers in Japan that were very beautifully decorated. They are art pieces. I thought it was one of the most esoteric things I have ever shared, but people responded to it and one of them showed me a whole collection on Flickr of photos he'd taken of manhole covers all over the world. That's one example of a moment when someone has an unexpected connection with you. The guy ran a PR agency in Beijing and I thought that if we had sat in the same office for five years, I might not have known about that.
Twitter is less intuitive to use than Facebook. It's like a cult language, with things like re-tweets. There is a whole language that involves hashtags, a whole language that has evolved around Twitter.
I remember there was a story about how tweets would be archived by the Library of Congress and I was thinking about how difficult, in 20 or 50 years, it will be to decipher all these tweets with the hashtags, acronyms, short forms of everything. It will be literally like archeology.
This interview has been edited and condensed.
TAIWAN TWEETS
In Sinophone countries, Twitter faces competition from microblogging platforms like Plurk and Sina Weibo. There are still plenty of Twitter users (including many who tweet in English) to follow if you want to learn more about Taiwanese culture and news. Read on for how some Taiwan-based tweeters use their accounts.
Hungry Girl
Joan H, aka the author of popular food blog Hungry Girl in Taipei (hungryintaipei.blogspot.com), posts links to her latest articles on Twitter, but also uses her account (@hungryintaipei) to share photos of things she eats with her readers. "On Twitter, with one photo and short sentence, I often get more feedback than I do on a post," Joan said in an e-mail interview with the Taipei Times.
She also keeps busy responding to questions from other Taipei residents. Not all inquiries are about food. Last week Joan answered questions about restaurants near Zhishan MRT Station (芝山捷運站), where to get a MacBook repaired in Taipei and the current state of Shida (師大) night market.
Joan, who requested anonymity because she reviews restaurants, says readers rarely comment on her blog and while many "like" her posts on Facebook, they often don't leave other feedback. Twitter, however, is a "two-way street — you can see what others are thinking, eating, feeling or tweeting, as they can see about you."
A few of Joan's favorite Taiwan-based Twitter accounts:
@Taiwanderful is the Twitter account of a Web site about living in Taiwan (www.taiwanderful.net)
Michael Wang (@chungiwang) frequently posts about food and restaurants he has visited
Jess Nielsen (@jesslnielsen) writes about exploring Taiwan as an expat
GigGuide.tw
Steve Leggat (@gigguidetw) uses Twitter to track music news and update users of his Web site GigGuide.tw (gigguide.tw) about the independent music industry in Taiwan. An unexpected benefit of Twitter is seeing which high-profile foreign bands follow GigGuide, which Leggat says is sometimes a clue that they are planning to tour to Taiwan.
Though less than one percent of his Web site traffic comes from links on Twitter (compared to about 40 percent for Facebook links), Leggat says that Twitter's simple, straightforward interface is easier to use than Facebook's newsfeed for tracking breaking industry news.
"GigGuide is always concerned with being on top of what bands will be coming soon and being among the first to announce that. [Twitter] definitely helps a lot," says Leggat. "You can do it through FB, but there is just so much crap on Facebook that it is hard to figure out what is going on."
Some of Leggat's recommended Twitter accounts:
@2Taichung focuses on Taichung information and news. It is updated by David Reid (@davidonformosa), who tweets about Taiwanese politics, human rights and environmental issues
Top indie music venue The Wall (這牆) frequently tweets @TheWallMusic (feed is mostly updated in Chinese)
White Wabbit Records posts about new releases and promotions at its record stores @wwrecords (mostly Chinese)
Chthonic (閃靈) vocalist Freddy Lim (林昶佐) tweets about music and Taiwanese politics @FreddyLim
My Several Worlds
Since opening her Twitter account five years ago, writer Carrie Kellenberger (@globetrotteri) has used it to meet other travel writers, host discussions and promote her travel Web site My Several Worlds (www.myseveralworlds.com).
"I was getting a lot of stuff happening [in the comments section of] my blog and then things seemed to shift sideways to discussions on Twitter and Facebook and that is what prompted me to get more interested in social media," says Kellenberger.
Though she now prefers to use Facebook to interact with her readers, Kellenberger still uses Twitter to check up on her Internet friends and logs onto it whenever there is a breaking news event in Asia.
Here are some of her favorite Twitter accounts:
Kyle Chu (@kyle_chu) and Jesica Lin (@JesicaLin) were among Kellenberger's first followers and tweet in Chinese and English about life in Taipei
Popular tech blogger Sascha Pallenberg (@sascha_p) splits his time between Taiwan, the US and Europe
Culture and travel photographer Craig Ferguson is @cfimages
DJ Marcus Aurelius, founder of Waakao.com and a Taipei Times contributor, is @DJMarcusA
Lonely Planet guidebook author Joshua Samuel Brown (@josambro) tweets about traveling through Asia
TaiwaneseAmerican.org
TaiwaneseAmerican.org founder Ho Chie Tsai (蔡和杰) uses Twitter (@taiwaneseam_org) as part of a strategy to promote the Web site about Taiwanese American issues. Tsai says Tweetdeck, a social media dashboard application, is helpful for keeping up with the latest tweets about Taiwanese American and Taiwanese news.
In 2010, TaiwaneseAmerican.org used Twitter to encourage followers to write in "Taiwanese" on that year's US census form. Tsai says the social network is also useful for reaching out to higher profile people and celebrities in the Asian American community. The TaiwaneseAmerican.org Twitter account frequently helps promote the work of actors and filmmakers, including Michelle Krusiec (@michellekrusiec) and musician Dawen (@dawenmusic).
"We use it to connect with people who are more famous or celebrities, folks of interest. It's nice to get a filtered conversation about what they are doing," says Tsai.
Some of Tsai's recommended Twitter accounts:
@itasa is the Twitter account of the Intercollegiate Taiwanese American Students Association
Georgetown doctoral candidate Julia Famularo posts about US-East Asia relations @keepTWfree
Blogher editor Grace Hwang Lynch writes about parenting, Asian American identity and food @hapamamagrace
@actTaiwan is the Twitter account of American Citizens for Taiwan
A few other Taiwan-based Twitter accounts:
German reporter Klaus Bardenhagen tweets @taiwanreporter
@taiwanews aggregates news, blogs and commentary about Taiwan
University of California Los Angeles graduate student Calvin Ho tweets about Asian diasporas, immigration and other topics @calvinhyj
Taipei-based TechOrange (www.techorange.com) writer Jeremy Brand Yuan posts about the Asian tech market at @jeremybrandyuan
Comments will be moderated. Keep comments relevant to the article. Remarks containing abusive and obscene language, personal attacks of any kind or promotion will be removed and the user banned. Final decision will be at the discretion of the Taipei Times.