Mapping the History of Taiwan's Student movements
A documentary series now airing on Public Television Service looks at the history of campus activism
More than a decade after the March Student Movement (三月學運), where have the former student leaders who led thousands of college students in a two-week, pro-democracy sit-in at Chiang Kai-shek Memorial Hall (中正紀念堂) gone? Are they still fighting for the idealism of that time? And is there a students movement to speak of now in Taiwan?
With these questions in mind, directors Yang Yi-tse (楊一哲) and Sung Ying-ying (宋穎鶯) began to seek out people former student-movement leaders, such as former Government Information Office director Lin Chia-lung (林佳龍), director of Council of Hakka Affairs Luo Wen-chia (羅文嘉) and legislator Lee Wen-chung (李文忠), asking them to recount their experience of those heady days. The interviews, conducted over three and a half years and with help from seven filmmakers, have been compiled into an eight-hour documentary retrospective on the history of protest movements in Taiwan.
Titled the Stormy Times -- Taiwan's Student Movements (狂飆的年代), episodes are currently playing on PTS every Tuesday.
Chen Ku-ying, a philosophy scholar, was fired from his job as a professor at National Taiwan University for his participation in a student movement in 1971.
PHOTO: TAIPEI TIMES AND COURTESY OF PTS
"It was like cooking a pot of soup with stones -- a long process where you have to keep adding water and ingredients," Yang said.
A history of protests
He originally had planned to make a film about the March Student Movement featuring only Lin Chia-lung, Luo Wen-chia and Lee Wen-chung, but later broadened the time-span to almost a century, starting in the Japanese colonial period and extending to last year's post-presidential-election demonstrations.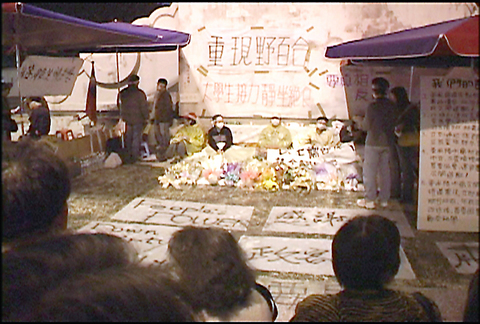 In 1910, a group of Taiwanese students studying in Japan started a publication titled Taiwan Youth (台灣青年) in which they wrote about anti-feudalism and rebellion against Japanese colonialist rule in Taiwan. The founders of the magazine went on in 1921 to establish the Taiwan Cultural Association (台灣文化協會), which became one of the main organizations working against Japanese colonial rule in Taiwan. Their actions are now viewed as the fountainhead of the Taiwanese student movement.
According to Yang Tu (楊渡), a senior journalist and author of two books about Taiwan's student movements, the period from 1910 to 1950 saw student movements leaning heavily to the left politically, especially in the wake of the 228 incident and an incident on April 6, 1949, when 10 demonstrating students were shot by police. Protests at the time were aimed primarily against the KMT and identified with socialist or communist ideas.
"Students groups here were seeking allies with mainland Chinese student groups. Campus upheavals spread like wildfire in Taiwan and China from 1947 to 1949," Yang said at the premiere of the documentary series this week.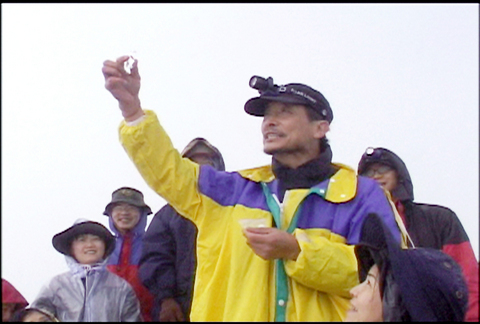 But the sprouting leftist movement was silenced by the so-called "white terror" beginning in 1950 when the ruling regime sought to consolidate its power by eradicating left-leaning dissidents through imprisonment and executions.
One of the directors of the series, Chang Chao-wei (張釗維), calls this period "the vanishing left eye."
It wasn't until 1970, when a movement arose to defend claims to the Tiaoyutai island group, did Taiwan's campuses resume political activism. Taipei Mayor Ma Ying-jeou (馬英九), then a student at Harvard Law School, was one of the active students in the movement.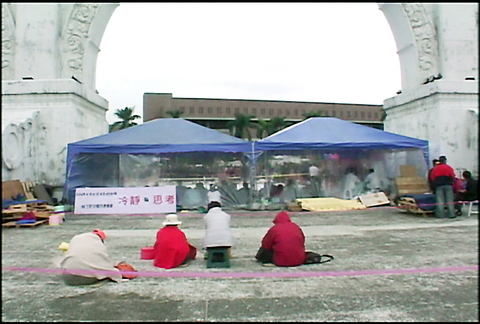 Student activists and professors are showin in four photos and in the photo above demonstrating at Chiang Kai-shek Memorial Hall last year against the result of the presidential election.
Originally a patriotic movement to back Taiwan's claim to the islands and denounce Japan's assumption of sovereignty over the uninhabited rocks in the ocean, the movement also gave voice to calls for freedom of speech and democratic reform in Taiwan.
By the 1980s, student clubs at National Taiwan University began to organize demonstrations led by Lin Chia-lung and Lee Wen-chung advocating free speech on campus.
These student clubs eventually established a united student movement with different universities culminating in the March Student Movement, which was the largest student rally in Taiwan in 20 years.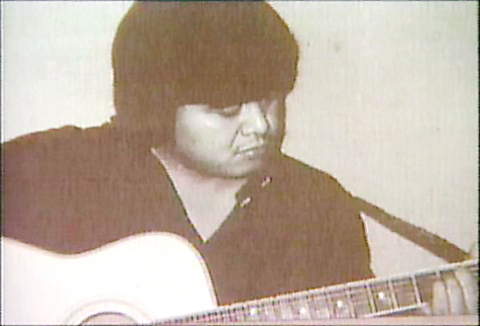 Activist and folk singer Hu De-fu is shown in the 1970s.
In March 1990, two college students began a demonstration to protest the National Assembly, which at that time was filled with representatives who held their posts for life. As more students joined, the protest expanded to 5,000 students and 100 professors, lasting 16 days and eventually forced a series of reforms in the legislature and National Assembly.
"We wanted to recapture the passion and spirit of those student actions and re-position those incidents in the history of Taiwan," said producer Yang.
"Many of the past incidents have been buried in each individual's memories. I am very glad to see them being discussed anew and contextualized historically," said philosophy scholar Chen Ku-ying (陳鼓應), who in 1971 lost his job along with 12 other professors at National Taiwan University for criticizing the government in class.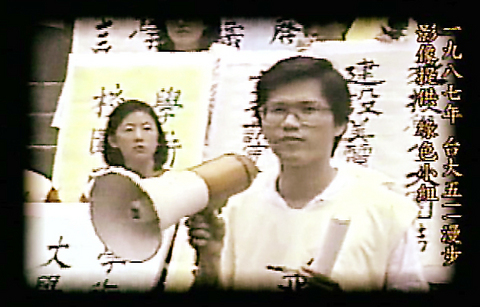 Former Government Information Office director Lin Chia-lung is shown during his college years at National Taiwan University when he was an active student protest leader.
New questions
The retrospective series also stirred new questions among the former activists that speak to Taiwan's current political situation.
"Back then, we advocated the principles of science and democracy. But society now is still filled with superstition and selfish ideas," said Lin Hsiao-hsin (林孝信), founder of Science Monthly (科學月刊) and a former activist in the Tiaoyutai movement.
Filmmaker Chang, a participant in the March Student Movement, took the Korean student movements of the 1980s as a counterexample to Taiwan's student-led democracy movements. The former student leaders in Korea have now become the leading members of that country's government and are the key persons behind its flourishing cultural and creative industries, he said.
"But looking at Taiwan, did the March Student Movement really liberate anything? Have we really experienced a revolution?" he said.
Looking at more recent times, only sporadic student protests have taken place, and not always in support of the lofty principles of the former pro-democracy movement. Three years ago, students at National Chiao-tung University protested to demand better food and service in the campus cafeteria. Two years ago, National Cheng-kung University students gathered to protest the arrests of students for illegally downloading MP3 files.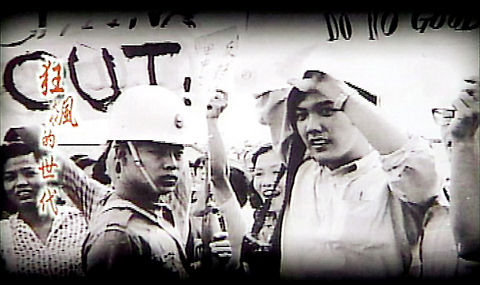 Current Taipei Mayor Ma Ying-jeou is shown participating in demonstrations over claims to the Tiaoyutai island group in 1970.
Most recently, about 100 students protested the result of last year's presidential election and what they called the suspicious circumstances of the election-eve assassination attempt on the president and vice president. But the action lost steam after 10 days.
The apparent lack of political consciousness among Taiwan's youth has given rise to the expression "Strawberry Generation" (草莓族) to identify young people born in the 1980s who are viewed as detached from politics and unfamiliar with hardship.
"Young people tend to have little concern about bigger issues in society and politics. And very few wish to run for government posts," said professor Lee Chia-tung (李家同).
The perceived indifference to politics of the Strawberry Generation worries many of the former student leaders, who say it reflects a problem in Taiwan's democraticization.
"It is not young people's fault. It's us adults who did not take the responsibility to teach them to be unselfish and to help the others," said Yang Tsu-chun (楊祖珺), a student-movement leader in the 1970s.
According to Yang and Chang, the series aims to inspire reflection instead of romanticizing past student movements.
"I no longer fantasize about the next large-scale social or cultural liberation movement. But I do hope that anyone who sees the films series can look to the future by reviewing the past, not just for Taiwan, but for his or her personal life," Chang said.
`Stormy Times - Taiwan's Student Movements' is now showing on the Public Television Service channel at 10pm every Tuesday.
Comments will be moderated. Keep comments relevant to the article. Remarks containing abusive and obscene language, personal attacks of any kind or promotion will be removed and the user banned. Final decision will be at the discretion of the Taipei Times.