An impostor Taiwanese gets unmasked
Michael Keevak gives a stirring account of George Psalmanazar's big lie: that he was a native of Taiwan
In 1703 a man arrived in London and announced he was a native of Formosa. His name was George Psalmanazar. European missionaries, he claimed, had so named him at school. He also proclaimed that he'd decided, after examining all the world's religions, to join the Church of England. He was blond-haired, blue-eyed, and of typically European appearance. Almost everyone believed him. \nHe was immediately received by the Archbishop of Canterbury and dispatched to Oxford to instruct the professors in his previously unknown language. This he did, writing out the Lord's Prayer in it, listing an alphabet of 20 letters, and speaking fluently in both "Formosan" and Latin (taught to him, he said, by the Jesuits). \nHe quickly became a celebrity. He ate his meat raw, claiming this was the custom at home. Jonathan Swift mentions him in his celebrated pamphlet A Modest Proposal as "the famous Sallmanaazor, a native of the island of Formosa, who came from thence to London above 20 years ago and in conversation told my friend that in his country, when any young person happened to be put to death, the executioner sold the carcass to persons of quality as a prime delicacy" and more in similar vein. \nAs for his fair hair and skin, Psalmanazar explained that he was from the unexplored east coast of the island, and belonged to the aristocracy who lived underground in caves, with the result that their skin never became darkened by the sun. \nThe reality was that Psalmanazar was a European, possibly from Gascony or Spain, who'd never been further east than Germany. From childhood he'd had a marked flair for languages and, having invented one, decided to pass it and himself off as Formosan. (He'd earlier considered claiming it was Japanese). \nMichael Keevak teaches at National Taiwan University and this is his second book. It's far better than his first, Sexual Shakespeare (reviewed in Taipei Times on Jan 27, 2002). The tone is more assured and the narrative pace swifter. The books are similar, however, in displaying an interest in forgeries, plagiarism and adopted personalities -- Sexual Shakespeare looked at faked portraits of the playwright as well as the career of the Shakespeare plagiarist William Henry Ireland. \nOne of Keevak's main points about Psalmanazar is that his driving force was his talent for languages. He not only invented one but made himself fluent in it, in the same way that he invented an identity and then inhabited it. \nAfter his Formosan hoax had been largely discredited, Psalmanazar remained in London as a hack writer, laboring away on book reviews and other such menial tasks, and also made himself an authority on Hebrew. Keevak sees him as a penniless linguistic genius who needed to find a role in life, and stumbled on his Formosan hoax as a means to that end. Earlier in life he'd successfully passed himself off in continental Europe as a fugitive from Ireland. \nKeevak has some interesting things to say about Psalmanazar's "regularity," his capacity for repressing his other impulses and working long hours at his penny-a-word journalism. It was this, together with the repentance for his fraud, that endeared him to Samuel Johnson who once described him as the best man he'd ever known. \nHe also admired the serene manner of Psalmanazar's death and despite Psalmanazar's earlier career as an impostor, he seemed to Johnson someone he'd never be able to equal. \nThe details of what Psalmanazar had to say about Formosa, or Taiwan, are not of great interest in themselves. Much of it was derogatory, describing mass child sacrifices and cannibalism. This gives Keevak the go-ahead to point to the prejudice among 18th-century Europeans against anything from beyond their borders, and their quickness to "construct" all non-Europeans as savages. He writes well on this, but it's hardly surprising to read that some of his Taiwanese students object to his displaying any interest at all in such a fraudulent and insulting figure as Psalmanazar, who had no first-hand knowledge of Taiwan. \nIn reality there was a certain amount of knowledge about Taiwan in 18th-century Europe gathered by the Dutch and others, and Psalmanazar was careful to integrate this with his own wilder fantasies (such as his claim that classical Greek was taught in the island's schools). \nKeevak doesn't claim to have unearthed major new material in The Pretended Asian -- there have been books on Psalmanazar before -- but he is astute in his analysis of the limited evidence about him that remains. He's also exceptionally meticulous in following up subsidiary references -- his footnotes are mines of information in themselves. \nAlso, the National Taiwan University Library contains copies of 18th-century books relevant to this subject and Keevak, as someone who has long labored sorting its oldest collections, has naturally been able to use material, such as original illustrations, held there. He dedicates his book to the library's staff.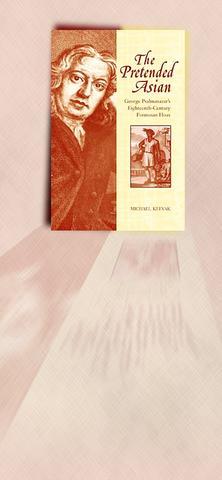 The Pretend Asian By Michael Keevak 182 pages Wayne State University Press
Comments will be moderated. Keep comments relevant to the article. Remarks containing abusive and obscene language, personal attacks of any kind or promotion will be removed and the user banned. Final decision will be at the discretion of the Taipei Times.