Wiggling a first for Taiwan
As the first international spin-off of the popular Australian kids' show, the Taiwan Wiggles are already worming their way into the hearts and minds of the nation's children
If you aren't the proud parent of a preschooler, then chances are you'll never have heard of The Wiggles, let alone Taiwan's very own Wiggle clones, Anni, Carlos, Danny and Arthur. If you are, then tunes such as The Wiggle Groove are, like it or not, probably deeply ingrained somewhere in your sub-conscious. \nNow a phenomena with an almost cult-like following, the original Wiggles act was formed in Sydney, Australia, by three students of early childhood education and a member of Aussie rhythm and blues combo, The Cockroaches, in 1991. The preschooler act caused a splash that same year with its self-titled debut album. Since then the group has become one of the most successful acts to come out of Australia since Kylie Minogue. \nThe group's catchy child-like tunes wax lyrical about items and actions such as food, animals and, of course, wiggling. The group has sold upwards of 10 million home videos, VCDs and DVDs worldwide as well as undertaking sellout tours of The UK, New Zealand and the US. \nPlans for a Wiggles global conquest first got underway in 2001, when the group signed a licensing agreement with Walt Disney International. And last June, Walt Disney Taiwan held auditions for the world's first Wiggle. \nAlthough Taiwan Wiggles is currently the only legally licensed version of The Wiggles, other international Wiggles are set to invade homes across Asia in the coming year. Auditions for a Japanese version will take place this month and plans for South Korean, Thai and Chinese Wiggle spin-offs are already underway. \nDebuting on the Disney Channel Taiwan on March 31, the Taiwan Wiggles have already begun mimicking the huge success of Australia's favorite colorful export, albeit in Mandarin. Recent TV ratings show that a staggering 3.2 percent of the population tune into the evening Wiggles show on a daily basis. Ratings for the show's morning and afternoon slots are somewhat lower, and presently stand at 0.69 and 1.04 percent of the population respectively. \nIn keeping with Wiggle tradition each of the four Taiwanese members has his own behavioral trait and sports a signature colored jersey in the same vein as their antipodean kin. Their sidekicks also remain the same and include Captain Feathersword, Dorothy the Dinosaur, Henry the Octopus and Wags the dog. \nThe Taiwan foursome is everything their Aussie cousins are and more, however. As Taiwan's Wiggles boast the first ever female Wiggle to waggle her stuff. \n"The addition of a female Wiggle gives Taiwanese children something homely and motherly to relate to," said the magical and Red Wiggle, Anni. "Traditionally it is the mother, or female relative at any rate, who spends more time with the child in Taiwan." \nAlong with introducing the world to the first female Wiggle, several, but not all, of the group's songs have been specially adapted to suit Taiwanese audiences. The original tunes remain the same, but the lyrics have been localized. \n"We obviously couldn't sing about hot potatoes, as children here wouldn't understand," continued the Red Wiggle. "Western food has been replaced by noodles and glutinous rice balls." \nIn order that the mannerisms of Taiwan's Wiggles remain as close to the original group as possible, Carlos, Anni, Danny, Arthur and stand-in, Kurt -- all five of whom are contractually bound by Disney Taiwan not to reveal their true identities -- were packed off to Sydney. There the group underwent six weeks of grueling basic training at Wiggle boot camp. \n "It was hard work. We spent the entire time learning how to be like the Wiggles. We had to learn to dance, sing and act just like the original group," recalled the sporty and Yellow Wiggle, Carlos. \nSince late February, the group has performed at over 60 kindergartens as well as appearing at shopping malls and department stores throughout Taipei City and County. Disney Taiwan's plans to take the group on a nationwide tour were sadly curtailed because of the recent SARS epidemic. \nWhile there are currently no fixed dates for appearances in the nation's other large metropolises, according to Taiwan Wiggle's manager, Jesse Tsao (曹昌傑), plans are in the pipeline for both a national tour and a large-scale gig at one of the capital's leading venues. \nLike the TV show, the Taiwanese Wiggles' debut DVD and CD boxed set, 大家來Wiggle! (Everybody Come and Wiggle), which was released by Forward Music (豐華) in late April, has also proven hugely successful. Taiwanese preschool audiences, or rather their parents have already purchased over 40 percent of the initial 20,000 copies to hit record and book stores nationwide. \nIn the coming months, the boxed set could also be available in Hong Kong and Singapore. Both Disney Taiwan and Forward Music have received numerous calls from stores in the Mandarin speaking ex-British colonies inquiring about the possibilities of selling the product. Regardless of their export potential, the group's members are already household faces at home. Even without their trademark colored jerseys, Carlos, Anni, Danny and Arthur regularly cause the heads of many a preschooler to turn. \n"So many children know us now that even if I wear sunglasses I still get kids looking at me and yelling my catch phrase, `Wake up Danny' in stores, walking down the street and so on," said the sleepy and Purple Wiggle, Danny. \nAnd it looks like Taiwan's Wiggles will be causing heads to turn for some time to come, as none has any intention to retire just yet, if at all. "Once a Wiggle always a Wiggle," laughed the hungry and Blue Wiggle, Arthur. \nAs for how Taiwan's Wiggles compare to their down-under brethren, five year-old Wiggles fan, Hanna Foreman, who became obsessed with the group two years ago and once watched nothing but her Wiggly, Wiggly Christmas video for two weeks, gave some expert Wiggle analysis. \nUsed to watching the Australian version, she was a little thrown off when she saw the blue, red, purple and yellow Wiggles uniforms filled with Taiwanese bodies. Her brow wrinkled up and she looked a bit perplexed for a few seconds, but all was well. \n"I like the Taiwan Wiggles. They're more fun. They dance better," said Foreman. "They're so funny!"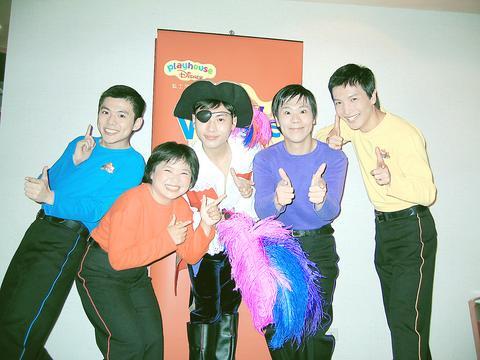 From left to right, the Wiggles, comprising Arthur, Anni, Captain Feathersword, Danny and Carlos.
PHOTO: GAVIN PHIPPS, TAIPEI TIMES
Comments will be moderated. Keep comments relevant to the article. Remarks containing abusive and obscene language, personal attacks of any kind or promotion will be removed and the user banned. Final decision will be at the discretion of the Taipei Times.