Escaping from the shadow of the bard
Beautiful Shakespeare (美麗的莎士比亞) is the fifth and final show in the Shakespeare in Taipei series that has been running through May despite SARS. Craig Quintero, the director of Riverbed Theater and of Beautiful Shakespeare, said that life must go on and that theater was part of that life.
Shakespeare's plays were created and performed at a time when pestilence was rife, but this did not put a stop to cultural life, Quintero said during rehearsals at the Experimental Theater in Taipei.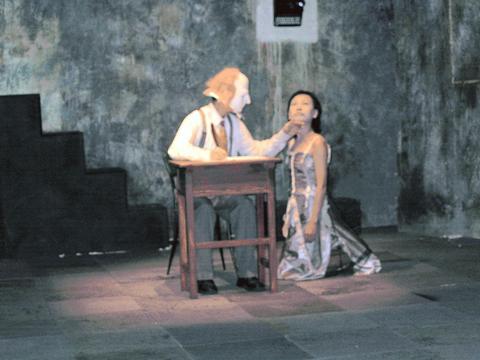 Beautiful Shakespeare by Craig Quintero takes an alternative look at how a playwright works.
PHOTO: IAN BARTHOLOMEW, TAIPEI TIMES
Although taking part in the Shakespeare in Taipei series of plays, Quintero questioned the relevance of Shakespeare's works for modern audiences. Unlike the other four groups who have performed at this event -- Shakespeare's Wild Sister (莎士比亞的妹妹們的劇團), Golden Bough (金枝演社), Off PW (外表坊) and Tainan Jen (台南人劇團) -- Riverbed Theater decided to sidestep putting on an alternative interpretation of any of Shakespeare's plays and has instead questioned the motivation that prompted the creation of these plays.
"There is so much death, murder, mutilation and suicide in the tragedies," Quintero said. "It leads one to ask why these are such prominent elements."
So instead of a play by Shakespeare, Riverbed presented a play about Shakespeare. "Shakespeare is not something I would normally do," he said. "If you gave me the opportunity to present a Shakespeare play, even in the National Theater, I would turn it down."
But given the freedom that the experimental nature of the presentations in the CKS Cultural Center sponsored series allowed, Quintero decided to tackle the iconic playwright, but approached him from a decidedly unexpected angle.
"I like to see the stage as a mirror," Quintero said. "You don't come away from the show saying how much you liked this or that, but rather that it makes you reflect on some part of yourself or your experience."
For Quintero, going to the theater is a journey of self-discovery rather than an escape into a theatrical world and this is probably what gives Beautiful Shakespeare its meditative quality.
In direct contrast to Sonata of the Witches, The Macbeth Verses, which premiered last week at this venue and in which director Lu Po-sheng sought to bring the language of Shakespeare to the Taipei stage, Quintero was dismissive of the canonical texts and has sought to create a play which is primarily a visual experience.
"The language of Shakespeare is so distant from us," he said. "Even as I read the words I must refer to notes. If we don't understand the words, then putting them onto the stage serves no purpose."
The play is predominantly staged without words, though there is piano accompaniment and some simple Chinese dialogue. Images are the driving force and great attention has been paid to the costume and set design. The remarkably familiar Shakespeare masks created out of latex by visiting sculptor Carl Johnson prove remarkably effective in creating a surreal mood.
Although the image of Shakespeare is present in the play, the connection to familiar tragedies is tenuous. Though one can easily recognize a sequence of bloody hand-washing as coming from Macbeth, the reference is probably not that essential to an understanding of Quintero's play.
"I don't feel like I am acting Shakespeare," said Isaac Lai (賴志成), a student of international business who has been with Riverbed Theater for one-and-a-half years. "It is about loss and death, discovering my own experience of these things."
It is probably not unfair to say that Quintero has sought to get as far away from the Bard as he could while still staying in the context of a Shakespeare in Taipei event.
But this is not to question the validity of Beautiful Shakespeare as theater, for the play certainly touches on interesting aspects of the creative process, and for those familiar with Shakespeare, does draw aside the veil of character, of time and of place to address some universal human experiences.
But is this theater as therapy? Rather than the escapist fantasy of alternative worlds that theater often offers? There is an uncomfortable suggestion that this is the case.
Quintero is dismissive of the intrusion of the Elizabethan playwright, taking the opportunity to focus on his own dramatic concerns. The result is interesting contemporary theater -- intimate, committed and occasionally playful but lets not pretend we are doing Shakespeare.
If so, the necessity of encumbering modern experimental theater with the presence of Shakespeare probably says more about the prevalent mentality of theater administrators than about the performers and directors who are eager to take advantage of the outstanding venue offered by the Experimental Theater.
Performance Notes:
Beautiful Shakespeare, by the Riverbed Theater, at the Experimental Theater of the National Theater Taipei. Today, tomorrow and Sunday, 7:30pm. Tomorrow and Sunday 2:30pm and 7:30pm. Tickets NT$400, available from CKS Cultural Center.
Comments will be moderated. Keep comments relevant to the article. Remarks containing abusive and obscene language, personal attacks of any kind or promotion will be removed and the user banned. Final decision will be at the discretion of the Taipei Times.