Asian stocks rise on US interest-rate hopes
Asian stock markets on Friday followed Wall Street higher after a US Federal Reserve official raised hopes the US central bank might not step up its anti-inflation fight as much as feared.
Taipei, Hong Kong, Shanghai, Sydney and Tokyo advanced.
Wall Street on Thursday rose for the first time in three days after Atlanta Fed President Raphael Bostic expressed support for raising the Fed's key lending rate less than many investors had been forecasting.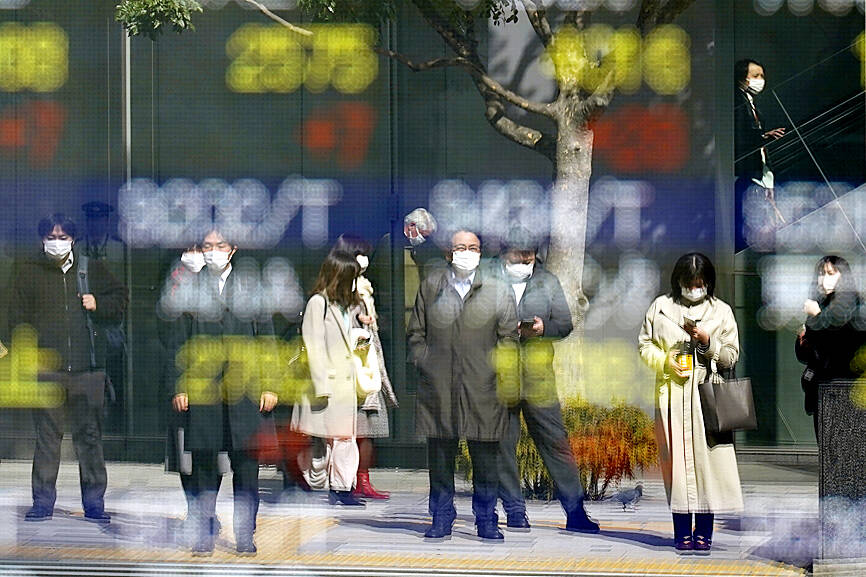 People waiting at a crosswalk are reflected on a glass window in front of an electronic stock board showing Japan's Nikkei 225 index at a securities firm in Tokyo on Friday.
Photo: AP
Bostic said that the Fed might be able to suspend additional rate increases by mid-year, sooner than some expect.
He said he supported raising the Fed's benchmark lending rate to a range of 5 to 5.25 percent.
That countered comments by other Fed officials who say rates might have to be raised more and stay elevated longer to extinguish inflation after job growth, consumer spending and price increases were stronger than expected.
Stocks advanced following those "dovish comments," Anderson Alves of ActivTrades said in a report.
In Taipei, the TAIEX on Friday closed up 9.7 points, or 0.06 percent, at 15,608.42, up 0.67 percent from a week earlier.
The Shanghai Composite Index rose 17.74 points, or 0.5 percent, to close at 3,328.39, up 1.87 percent for the week, after a central bank official said that China's vast real-estate industry was recovering from a slump triggered by debt controls that led to a wave of defaults by developers, rattling global financial markets.
People's Bank of China Deputy Governor Pan Gongsheng (潘功勝) mentioned Evergrande Group, the global real-estate industry's most heavily indebted developer, but he gave no update on government-supervised efforts to restructure its US$310 billion in debt.
China is today to begin its annual legislative session, where leaders are expected to affirm policies meant to spur economic growth after a slowdown worsened by COVID-19.
The Nikkei 225 in Tokyo gained 1.6 percent to 27,934.01 after Japan's unemployment rate edged lower in January. It was up 1.73 percent weekly. The broader TOPIX gained 1.25 percent to 2,019.52, rising 1.57 percent from the previous week.
The KOSPI in Seoul gained less than 0.17 percent to 2,432.07, up 0.35 percent weekly, while the Hang Seng in Hong Kong gained 0.68 percent to 20,567.54, up 2.79 percent from last week.
Sydney's S&P/ASX 200 added 28.2 points, or 0.39 percent, to 7,283.6, down 0.32 percent for the week, while India's SENSEX rose 1.53 percent to 59,808.97, rising 0.58 percent weekly.
Bostic's remark countered comments by other Fed officials who said rates might have to be raised more and stay elevated longer to extinguish stubborn inflation after job growth, consumer spending and price rises were stronger than expected.
Data on Thursday showed that fewer Americans applied for unemployment benefits last week despite interest rate hikes to cool business activity. That is positive for workers, but the Fed said it worries strong employment might fuel inflation.
Additional reporting by staff writer, with CNA
Comments will be moderated. Keep comments relevant to the article. Remarks containing abusive and obscene language, personal attacks of any kind or promotion will be removed and the user banned. Final decision will be at the discretion of the Taipei Times.