TSMC planning second plant in Arizona: report
BIDEN'S INCENTIVES: Even though chipmaking in the US is costlier than elsewhere, the situation is manageable with state support, TSMC said
Taiwan Semiconductor Manufacturing Co (TSMC, 台積電) aims to build a second chipmaking plant in Arizona, after it committed to building a US$12 billion complex in the state, the Wall Street Journal reported, citing people familiar with the plans.
The world's largest contract chipmaker would announce its intention to establish another facility north of Phoenix, adjacent to the factory under construction, the newspaper reported.
The new investment should be similar to the first project's, it added.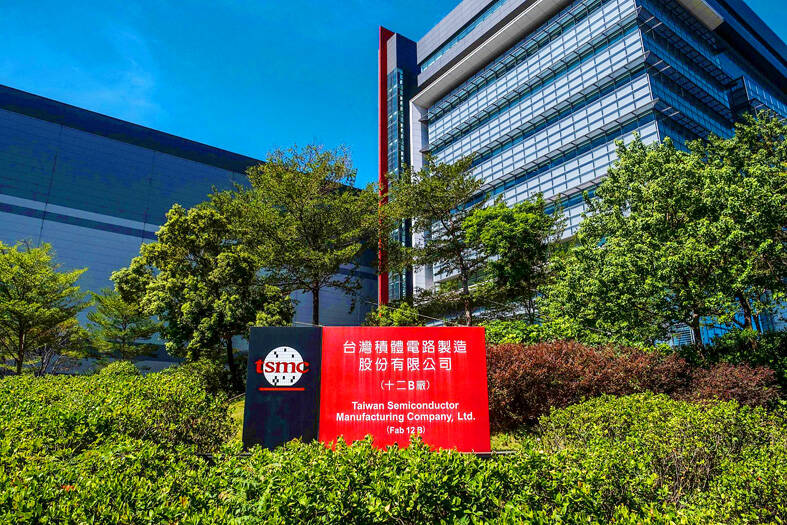 The logo of Taiwan Semiconductor Manufacturing Co is pictured at the company's headquarters in Hsinchu on Oct. 12.
Photo: Lam Yik Fei, Bloomberg
Representatives for the company did not respond to requests for comment.
The administration of US President Joe Biden is trying to attract investments in US chipmaking, part of efforts to counter China's ambitions and secure components vital to US national security. That effort accelerated after widespread shortages that began in late 2020 and last year drove home how chips were central to the production of everything from vehicles to smartphones.
Washington, which is dangling incentives of about US$50 billion for local projects, has hailed TSMC's Arizona expansion as a triumph in endeavors to bring advanced chipmaking to the US.
The Taiwanese company has said that it costs much more to produce semiconductors in the US, although higher expenses are manageable with state support.
TSMC, whose production sites are mostly in Taiwan, has started to diversify over the past few years to help meet demand in major countries seeking to bolster domestic semiconductor production. It joins rivals, including Samsung Electronics Co, which is establishing a US$17 billion fab in Texas.
TSMC is building a US$7 billion facility in Japan and is also in early talks with the German government about potentially establishing a plant in the country.
On Tuesday, TSMC's board of directors approved a budget of US$5.71 billion, with the vast majority to be spent on production involving specialty and advanced manufacturing processes.
TSMC said advanced manufacturing processes would receive about 70 to 80 percent of the funding, while 10 to 20 percent would be spent on specialty processes, with the remaining about 10 percent earmarked for advanced packaging and testing, as well as photomasking development.
TSMC last month said it would cut its capital expenditure for this year to about US$36 billion from the lower end of a range from US$40 billion to US$44 billion in the previous capital spending plan, citing short-term market uncertainty.
The global semiconductor industry is undergoing inventory adjustments at a time when major central banks have raised key interest rates to fight fast-growing inflation, which has hurt demand.
Additional reporting by CNA
Comments will be moderated. Keep comments relevant to the article. Remarks containing abusive and obscene language, personal attacks of any kind or promotion will be removed and the user banned. Final decision will be at the discretion of the Taipei Times.