Food and beverage sales drop 22.8%
Sales across Taiwan's food and beverage sector nosedived 22.8 percent year-on-year to NT$47.9 billion (US$1.59 billion) last month, the largest decline in 20 years, the Ministry of Economic Affairs said yesterday.
One of the first victims of the COVID-19 outbreak, the sector has posted double-digit annual declines in sales for three months in a row.
"Restaurants ... took the biggest hit, as the strict anti-epidemic measures implemented have had a notable impact [on revenue]," Department of Statistics Deputy Director-General Wang Shu-chuan (王淑娟) told a news conference in Taipei, referring to seating schemes spacing diners further apart. "Consumers are also less willing to eat out for fear of catching the virus."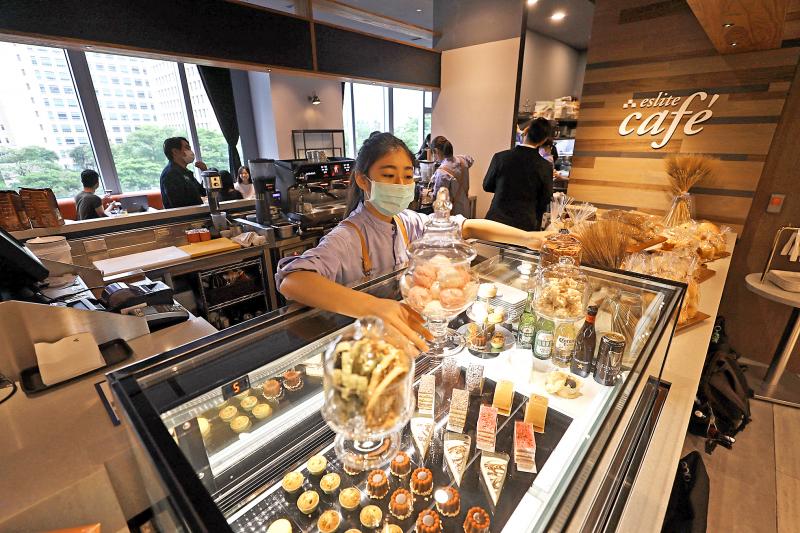 A server at the Eslite Cafe in the Xinyi branch of the Eslite bookstore chain in Taipei yesterday arranges a dessert display. Starting on Friday, the Xinyi store is to be open 24 hours a day, taking over from the Dunhua branch, which is closing at the end of this month. Warning: Excessive consumption of alcohol can damage your health.
Photo: CNA
The government's ban on international visitors, which has been in place since March, also dealt a heavy blow to restaurant sales, she said.
Total restaurant sales last month fell 23 percent year-on-year to NT$38.9 billion, ministry data showed. Tea stalls' sales faced a similar, albeit less severe, decline, contracting 16.6 percent year-on-year to NT$6.6 billion.
With the airline sector practically at a standstill amid a global lockdown, domestic catering services reported a 32.3 percent drop in sales to NT$2.5 billion.
"Hopefully the [food and beverage] sector will soon recover some momentum as the coronavirus situation comes under control," Wang said.
She forecast an 8 to 15 percent annual decline in food and beverage sales for this month, after taking into account sales linked to Mother's Day.
The retail sector posted a 10.2 percent year-on-year decrease in sales to NT$277.8 billion, the biggest decline in more than 11 years, ministry data showed.
The lackluster figure was partly due to dwindling sales of general merchandise, which fell 8.5 percent to NT$94.1 billion, as department store sales slumped nationwide.
The drop in international crude oil prices also drove sales of petroleum and chemical products down 39.9 percent year-on-year to NT$13.3 billion, the data showed.
"Most industries [in the retail sector] suffered declines [in sales] last month, with the exception of the e-commerce industry, which grew 19.1 percent year-on-year to a record high of NT$18.3 billion," Wang said.
Comments will be moderated. Keep comments relevant to the article. Remarks containing abusive and obscene language, personal attacks of any kind or promotion will be removed and the user banned. Final decision will be at the discretion of the Taipei Times.