Jets continue to pound eastern Aleppo
PEACE PUSH: US Secretary of State John Kerry and his Russian counterpart are to meet tomorrow in Lausanne, along with ministers from Turkey, Saudi Arabia and Qatar
Russian and Syrian warplanes yesterday again pounded Aleppo after two days of heavy bombardment that killed more than scores of civilians, as world powers prepared for last-ditch weekend talks on a ceasefire.
More than 20 air strikes hit the rebel-controlled eastern part of Aleppo at dawn yesterday, killing seven civilians, the Syrian Observatory for Human Rights monitoring group said.
On the northeastern outskirts of the city, advancing regime troops captured several hilltops overlooking opposition-held areas.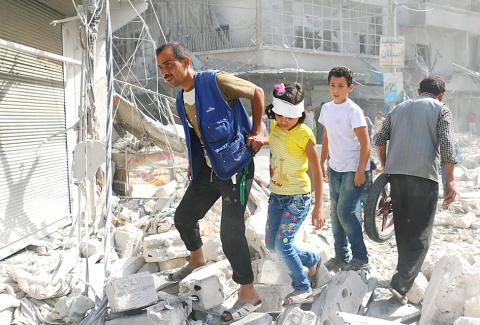 Syrians walk over rubble following air strikes on the rebel-held al-Fardous neighborhood of Aleppo on Wednesday.
Photo: AFP
Syrian state television said four children were killed by rebel rocket fire on a school in a Western regime-held neighborhood.
The bombing has killed more than 150 people this week, rescue workers said yesterday.
Airstrikes killed 13 people yesterday, when warplanes hit several rebel-held districts, including al-Kalaseh, Bustan al-Qasr and al-Sakhour, civil defence official Ibrahim Abu al-Laith said from Aleppo.
"The bombing started at 2am and it's going on till now," he said.
Seven children were among 71 civilians killed in strikes and regime artillery fire on eastern districts on Tuesday and Wednesday, observatory head Rami Abdel Rahman said.
At least eight civilians were killed in opposition shelling of government-held districts over those two days, according to the British-based monitor, which relies on a network of sources on the ground.
Since the army announced its assault on the city on Sept. 22, Russian and government bombardment on the eastern districts has killed more than 370 people, including 68 children, according to an observatory toll.
Shelling and rocket fire by myriad rebel and militant groups, meanwhile, has killed 68 people in government-held areas.
Several major international efforts have failed to secure a political solution to the war, which has killed more than 300,000 people.
Moscow has come under mounting international pressure over the rising civilian death toll from Syrian President Bashar al-Assad's Russian-backed campaign to take east Aleppo, including Western accusations of possible war crimes.
A new diplomatic push will take place this weekend. US Secretary of State John Kerry and Russian Minister of Foreign Affairs Sergei Lavrov are expected to be joined in Lausanne tomorrow by their counterparts from Turkey, Saudi Arabia and Qatar — all backers of Syrian opposition forces.
Neither side has confirmed an invitation to Iran, a key player in the conflict and an ally of al-Assad.
Kerry will likely meet up with his European counterparts from Britain, France and Germany in London on Sunday.
The UN said UN Special Eenvoy on Syria Staffan de Mistura had been invited to take part in the talks, but it was unclear if he would attend.
Lavrov on Wednesday told CNN in an interview that he hoped the discussions in Switzerland could help "launch a serious dialogue" based on the now-defunct US-Russian pact.
New Zealand on Wednesday presented another draft resolution to the UN Security Council demanding an end to air strikes on Aleppo.
In other developments, the government has partially approved a UN aid plan for this month, but not the UN's request to deliver assistance to eastern Aleppo, diplomats said yesterday.
Damascus has given a green light for convoys of 25 to 29 vehicles to besieged and hard-to-reach areas across Syria, they said.
Comments will be moderated. Keep comments relevant to the article. Remarks containing abusive and obscene language, personal attacks of any kind or promotion will be removed and the user banned. Final decision will be at the discretion of the Taipei Times.