UNAMID peacekeepers freed in Darfur
Four South African peacekeepers kidnapped in Sudan's conflict-torn Darfur region this month were released on Monday, the UN said.
The two men and two women from the joint UN/African Union UNAMID mission were kidnapped on April 11 from the region's main town Nyala, the latest in a wave of abductions of foreign workers by young men demanding ransoms.
"We are grateful to have our colleagues back with us," UNAMID chief Ibrahim Gambari said in a statement. "This day would not have been possible had it not been for the good cooperation of the government of the Sudan and the local authorities of South Darfur."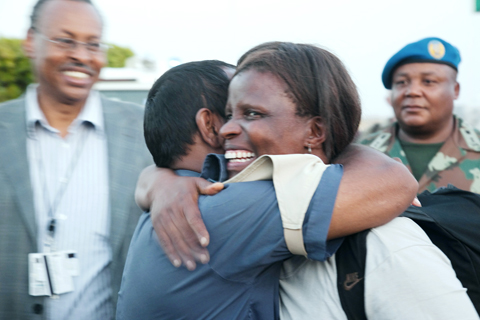 One of four freed South African peacekeepers smiles as she is greeted by an unidentified man in Nyala, South Darfur state, on Monday.
PHOTO: AFP/UN-AFRICAN UNION FORCE IN SUDAN
A spokesman for a group calling itself the Movement for the Popular Struggle said on April 20 that they were holding the four and had agreed with the government to release them. The spokesman said his group had not been paid the ransom of around US$450,000 it had originally demanded.
Abductions of foreigners rose last year after the International Criminal Court (ICC) issued an arrest warrant for President Omar Hassan al-Bashir for war crimes in the region, charges he denies.
The UN statement said Gambari held a meeting on Sunday with al-Bashir, who had "pledged to do everything possible to assist in bringing about the safe return of the UNAMID personnel."
Sudan's National Elections Commission confirmed on Monday that Bashir was elected president after five days of voting last week.
Comments will be moderated. Keep comments relevant to the article. Remarks containing abusive and obscene language, personal attacks of any kind or promotion will be removed and the user banned. Final decision will be at the discretion of the Taipei Times.