Micheletti may restore freedoms
CIVIL LIBERTIES While the interim Honduran president promised to discuss ending the 45-day ban, he said it did not mean the police were going back to the barracks
The coup-installed president of Honduras backed down on Monday from an escalating standoff with protesters and suggested he would restore civil liberties and reopen dissident television and radio stations by the end of the week.
Riot police ringed supporters of ousted president Manuel Zelaya who gathered for a large-scale protest march, setting off a daylong standoff. The government of interim President Roberto Micheletti declared the march illegal, sent soldiers to silence dissident broadcasters and suspended civil liberties for 45 days.
But in a sudden reversal, Micheletti said on Monday afternoon that he wanted to "ask the Honduran people for forgiveness" for the measures and said he would lift them in accordance with demands from the same Congress that installed him after a June 28 coup. He said he would discuss lifting the measures with court officials "as soon as possible," adding: "By the end of this week we'll have this resolved."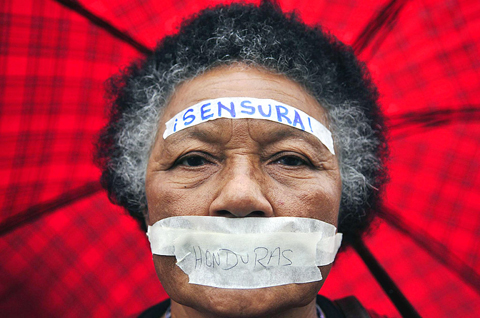 A woman with her mouth covered protests against the de facto government and its decision to shut down two local media stations, at Universidad Pedagogica, outside Tegucigalpa, Honduras, on Monday.
PHOTO: EPA
He also repeated his pledge not to attack the Brazilian embassy, where Zelaya has been holed up with 60 supporters since sneaking back into the country on Sept. 21. He even sent "a big hug" to Brazil's president, a day after giving him a 10-day ultimatum to expel Zelaya or move him to Brazil.
His government also said it would welcome an advance team from the Organization of American States (OAS) into the country starting on Friday, after expelling four members of a similar team on Sunday, and said an OAS commission of foreign ministers could visit next Wednesday.
The increasingly authoritarian measures by the government had prompted international condemnation, though the US representative to the OAS also had harsh words for Zelaya, calling his return to Honduras "irresponsible and foolish."
The Micheletti government says Zelaya supporters are planning a violent insurrection.
"Some radio stations, some television stations, were calling for violence, for guerrilla war, and that had us in the government super worried," Micheletti said.
So far, protests have seen little bloodshed — the government says three people have been killed since the coup, while protesters put the number at 10. Protest leader Juan Barahona said that could change.
"This mass movement is peaceful, but to the extent they repress us, fence us in and make this method useless, we have to find some other form of struggle," he said.
Micheletti made clear that even if the emergency measures were lifted, "that doesn't mean the police are going back to barracks."
Monday's march drew hundreds of people, many of whom covered their mouths with tape to protest government censorship. Protest leaders insisted that thousands more were trying to join but were stopped from leaving poorer neighborhoods or from traveling from the countryside.
"There is brutal repression against the people," Zelaya said in a telephone interview on Monday.
He later addressed the UN General Assembly by mobile phone, urging the world body to adopt a "firm position" against the "barbarism" of the government that deposed him.
The emergency decree issued on Sunday bans unauthorized gatherings and lets police arrest people without warrants, rights guaranteed in the Honduran Constitution. It also allows authorities to shut news media for "statements that attack peace and the public order, or which offend the human dignity of public officials, or attack the law."
In the late afternoon, police allowed the protesters to board buses and leave.
Government soldiers raided the offices of Radio Globo and the television station Channel 36, both critics of the Micheletti government, and silenced both.
Radio Globo employees scrambled out of an emergency exit to escape the raid that involved as many as 200 soldiers.
"They took away all the equipment," said owner Alejandro Villatoro. "This is the death of the station."
Two journalists covering the raid for Mexico's Televisa and Guatemala's Guatevision were beaten by security forces, who also took their camera, Guatemalan Ambassador to the OAS Jorge Skinner said.
Comments will be moderated. Keep comments relevant to the article. Remarks containing abusive and obscene language, personal attacks of any kind or promotion will be removed and the user banned. Final decision will be at the discretion of the Taipei Times.