Opposition critical of plan to apologize to Aborigines
The Australian government's plan to apologize to Aborigines for past injustices ran into trouble yesterday when the opposition indicated it might not support the move.
The failure of white Australia to speak with a united voice on the sensitive issue would weaken the attempt to heal the racial rift, Indigenous Affairs Minister Jenny Macklin warned.
"To move forward, we really do need the in-principle support of all parliamentarians across the political spectrum," Macklin said.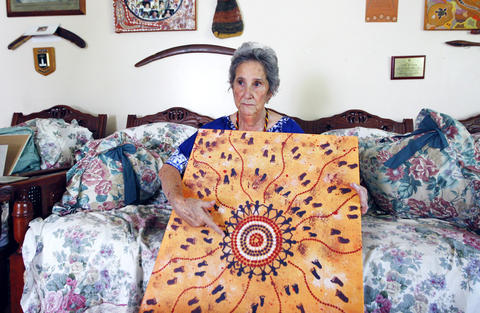 Mari Melito Russell shows one of her paintings during an interview in Mount Druitt, Australia, on Wednesday. Russell is among thousands of Aborigines who were forcibly removed from their families. Australia's government announced on Wednesday it would formally apologize to those taken.
PHOTO: AP
Prime Minister Kevin Rudd plans to formally apologize for the so-called "stolen generations" of Aboriginal children taken from their parents as the first item of business of the new parliament on Feb. 13.
Tens of thousands of children, mostly of mixed descent, were forcibly taken to be raised in white foster families or institutions under a policy of cultural assimilation officially scrapped in 1969.
The leader of the opposition Liberal Party, Brendan Nelson, has questioned whether Australians living now can take responsibility for injustices of the past.
"The question for me is, can our generation be responsible for that?" he said in a radio interview.
Nelson said he wanted to see the precise wording of the apology, which has long been sought by Aboriginal groups and their supporters, before agreeing to back it.
The former leader of Nelson's party, John Howard, refused to make the apology during his 11 years as prime minister before being ousted by Rudd and the center-left Labor Party in November elections.
Comments will be moderated. Keep comments relevant to the article. Remarks containing abusive and obscene language, personal attacks of any kind or promotion will be removed and the user banned. Final decision will be at the discretion of the Taipei Times.