Air India bombing inquiry begins in Canada
An inquiry began in Canada on Wednesday into the 1985 bombing of Air India Flight 182 to determine how Canadian authorities failed to stop or to prosecute all those responsible for one of the world's worst air attacks.
"[The inquiry] will help us determine how we can assure the families who have spent more than 20 years seeking answers that the Canadian system has been or can be fixed. The Air India tragedy or its like must never be repeated," retired Supreme Court justice John Major, who is leading the inquiry, said in his opening remarks.
"This massive murder was the most insidious episode of cowardice and inhumanity in our history, and it remains among the worst aviation disasters in Canadian and world history. Some 21 years later, Canada and the world cannot forget what took place," he said.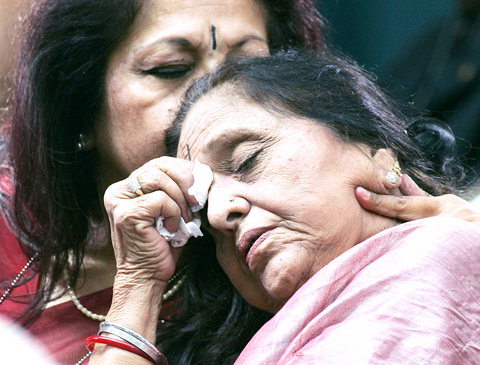 Sundra Arora, right, is comforted by her daughter Shipra Rana as the names of all the victims of Air India Flight 182 are displayed before Justice John Major's opening statement of the inquiry looking into the 1985 fatal bombing of Air India Flight 182, in Ottawa, Canada, on Wednesday. Arora's other daughter Shyla died in the bombing.
PHOTO: AP
The airliner was bombed off the coast of Ireland on June 23, 1985, by radical orthodox Sikh immigrants to Canada, according to prosecutors. The blast killed 329 passengers and crew members, mostly Canadians.
Less than an hour later, another bomb inside a suitcase blew up at Narita airport in Japan, killing two baggage handlers as they transferred it to another Air India flight.
Both bombs originated from Vancouver on Canada's West Coast and, according to prosecutors, were payback for the Indian government's 1984 army attack on the Sikhs' Golden Temple at Amritsar.
The only person jailed over the attacks is Inderjit Singh Reyat, who was denied parole in March.
Two other suspects -- Ripudaman Singh Malik and Ajaib Sing Bagri -- were acquitted last year in Canada's most complex and expensive criminal trial ever, which revealed a lack of cooperation between Canada's spy agency and national police that may have led to the destruction of key evidence.
The alleged mastermind of the plot, Talwinder Singh Parmar, was killed in a police shootout in India in 1992.
Major took over from former Ontario province premier Bob Rae who conducted a review of the failed criminal case against the two Vancouver men to determine if a judicial inquiry was warranted.
Rae, who is now vying to lead the opposition Liberal Party, recommended a probe with limited scope.
Major will not be able to find guilt or point to possible suspects in the case, which remains open.
However, he will recommend fixes to Canada's security, legislative and judicial systems that "failed the families of the Air India victims ... [and] all Canadians."
Specifically, Major will examine Canada's new anti-terror laws and airport security.
Canadian Prime Minister Stephen Harper noted last month that the inquiry "is not a matter of reprisal, nor is it intended to go back over the criminal trial," and added that the bombers may never be brought to justice.
"Unfortunately, for a variety of reasons, this has not yet been possible and, we must sadly admit, may never come to pass," he said.
On Wednesday, some 80 relatives of the victims who had lobbied for a public inquiry attended its formal opening in Ottawa.
They sat in silence for eight minutes, some holding back tears, as the names of the deceased scrolled on a giant video screen.
Hearings start on Sept. 25 and Major is expected to issue his final report in September next year.
Comments will be moderated. Keep comments relevant to the article. Remarks containing abusive and obscene language, personal attacks of any kind or promotion will be removed and the user banned. Final decision will be at the discretion of the Taipei Times.