Falun Gong lawsuits in foreign nations rile Beijing
When street demonstrations and mass telephone-call campaigns to protest Chinese government persecution fizzled, followers of the Falun Gong spiritual movement did what many aggrieved parties do: They sued -- in countries other than China. \nOver the past 18 months, followers of the group banned by the Chinese government as an "evil cult" have filed at least a dozen suits in foreign courts against Chinese officials they accuse of rights abuses. Their biggest target: former president Jiang Zemin (江澤民). \nIt's the latest tactic in an ongoing, high-profile campaign to draw attention to China's often brutal three-year-old crackdown on the group. If the object is to rile China's leaders, who are protected at home by the Communist Party's political monopoly, it seems to be working. \n"They are stigmatizing the leaders of China with invented charges. They're trying to tarnish our government, and they are trying to grab attention for themselves," Chinese Foreign Ministry spokesman Kong Quan (孔泉) said this week. \nRecent weeks have seen a flurry of new cases in Finland, Iceland, Belgium, France and Australia. The group says it has signed on high-profile lawyers such as British human rights attorney Geoffrey Robertson to represent them. \n"The purpose of these cases is simple and specific: to target those responsible for the persecution. This is not a political campaign against the Chinese government," said Levi Browde, a Falun Gong spokesman in the US. \nVirtually all Falun Gong activism these days comes from abroad; Chinese followers have gone into hiding. It is unclear how many people in China are Falun Gong practitioners. \nThe court cases apply foreign laws such as the US Alien Tort Claims Act to crimes committed in China -- the same principle under which, in 1998, a Spanish judge ordered former Chilean dictator Augusto Pinochet to face charges of crimes against humanity. \nChina is believed to be exerting considerable diplomatic pressure to have the suits dismissed. Yet even if the lawsuits fail, which is likely, Falun Gong may still be able to claim public-opinion points. \n"It's a good strategy. Because if you win, or even if you don't, you can call attention to what you're doing and bring shame and blame against your opponent," said Michael Davis, a professor of law and government at Hong Kong's Chinese University. \nThe legal campaign scored an early success against a pair of lower-level Chinese officials when American judges ruled they didn't merit immunity and found them guilty of human rights abuses by default. \nBut a US federal judge in Chicago dismissed a case against Jiang on grounds that courts can exempt foreign leaders from civil lawsuits in the US if the government advises. The US government in that case filed a friend-of-the-court petition requesting dismissal, reportedly after China threatened a diplomatic rift. \nFalun Gong's lawyer, Terry Marsh, says an appeal is being prepared. \n"It is time for the people of China to learn that their government has lied to them ... that the Jiang regime has committed crimes of torture and genocide," Marsh said. \nFalun Gong's legal teams have identified Jiang as their main target, saying that as president and Communist Party general secretary he was responsible for the crackdown. Other leaders being sued include Beijing party chief Liu Qi (劉淇) and Luo Gan (羅幹), members of the party's Politburo and among the country's most powerful men.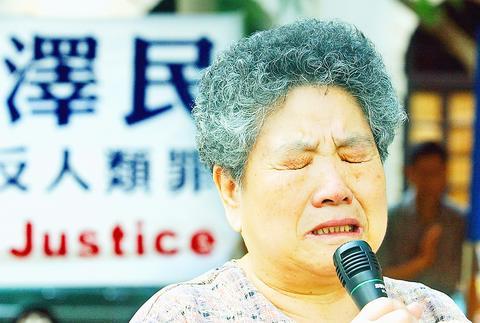 Zheng Xiulan, 70, mother of a Falun Gong practitioner Suen Chung-man who the group said, received a four-year sentence in China for possession of Falun Gong VCDs, cries as she talks during a demonstration by Falun Gong practitioners in Hong Kong, yesterday.
PHOTO: AP
Comments will be moderated. Keep comments relevant to the article. Remarks containing abusive and obscene language, personal attacks of any kind or promotion will be removed and the user banned. Final decision will be at the discretion of the Taipei Times.