Chen urges tolerance for inmates released in amnesty
Saying that sentence reduction is an asset rather than liability to society, President Chen Shui-bian (陳水扁) yesterday urged the public to be more tolerant of inmates released from prison under the recent amnesty.
A total of 9,597 inmates were released on Monday as part of a commutation granted to commemorate the 20th anniversary of the end of martial law and the 60th anniversary of the "228 Incident."
Among those benefitting from the statute were prisoners convicted on charges of minor crimes such as illegal drug possession, burglary, theft and fraud. The last amnesty was granted 16 years ago.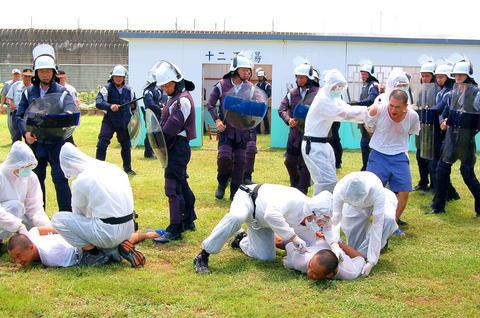 Police participate yesterday in a riot drill for prison staff in preparation for a large-scale drill, scheduled for Wednesday, at the Yunlin Second Prison in Yunlin County. The drills are partly designed to show inmates that guards are still on the alert despite the recent amnesty.
PHOTO: LEE CHING-FENG, TAIPEI TIMES
Chen urged the public and all inmates released from jail to cherish and respect their hard-earned freedom.
"I realize the sentence reduction has a certain impact on society," Chen said in the latest edition of his weekly e-newsletter, "but I hope the public will see it as an asset rather than a liability to society because each inmate is our family, relative and friend."
They enjoy the right to freedom like everybody else and the amnesty was part of the realization of a deepening democracy and a country based on human rights, he said.
Citing statistics from the Ministry of Justice, Chen said that 16 percent to 19 percent of the inmates released from jail in selective commutation would likely commit a crime again, whereas 40 percent of those released on parole or after serving full sentences would commit a crime.
While saying government agencies have mapped out supplementary plans to reduce the negative impact of the amnesty, Chen admitted that more needs to be done in terms of preventing drug addicts from picking up their old habits again.
Four drug offenders freed on Monday were arrested on Tuesday and six others were pronounced dead due to drug overdoses.
Also see editorial:
Comments will be moderated. Keep comments relevant to the article. Remarks containing abusive and obscene language, personal attacks of any kind or promotion will be removed and the user banned. Final decision will be at the discretion of the Taipei Times.