Taiwan embraces the B Corp ethical business revolution 拒當黑心商人 B型企業要讓世界更美好
Social enterprises have become something of a trend. From Norwegian-style hotels that are completely energy self-sufficient to a reclaimed straw-weaving workshop in Miaoli County's Yuanli Township and an eco-factory within an African refugee camp, all are examples of companies with business models that provide solutions to social problems. Although the definition of a social enterprise is somewhat loose, in recent years the standard has become stricter with the emergence of B Corporations (B Corps). B Corps have made a big impact and Taiwanese B Corps are at the forefront of the movement in Asia.
The B Corp movement, still in its infancy, dates back to 2007 when it was founded by two US entrepreneurs. Ten years later and there are more than 2000 certified B Corps in over 50 countries worldwide. It all started with a basketball. Jay Coen Gilbert and Bart Houlahan founded basketball clothing and accessories company AND1 in 1990 from a shared love of the sport. While running the company, they placed an emphasis on staff benefits, installing breastfeeding rooms and a basketball court. The office was also home to eight dogs and even provided basketball lessons to residents within the local community.
"It doesn't seem so special today, but 30 years ago it was way ahead of its time" says Chloe Huang, director of B Lab Taiwan. Huang adds that by 2005, AND1 was the number one basketball brand in the US with a market value of US$250 million. However the company was no match for the likes of Nike and other sport retailer giants, and the business ended up changing hands. In the short space of three months, there was practically nothing left of the company's original philosophy and culture. Staff benefits were pared back and social participation programs were terminated.
Tsai Yi-ying, front left, Founder of Taiwanese B Corp company Twine, is pictured with Nepalease co-workers in an undated photo. 台灣B型企業繭裹子創辦人蔡宜穎(前左)與尼泊爾籍生產夥伴,拍攝日期不詳。
Photo courtesy of Twine
照片:繭裹子提供
The company's founders felt as if the child they had nurtured had been harmed and started to consider how to protect the founding philosophy of companies from being destroyed following a change of management. In 2007 they invited Andrew Kassoy, who was working at a private equity fund, to join them in promoting a B Corp movement and started by working on accreditation and legislation. The "B" in B Corp stands for "best for the world," but also symbolizes "benefit."
The movement's accreditation organization, B Lab, carries out evaluations looking at five main competency areas: corporate governance, employee care, environmental friendliness, social care and customer impact. The total application process takes a minimum of half a year to complete, but can take over one year.
Huang says that the assessment is like a sort of health check up for companies and the process does not end once accreditation is granted. Certified companies must renew their B Corp accreditation every three years.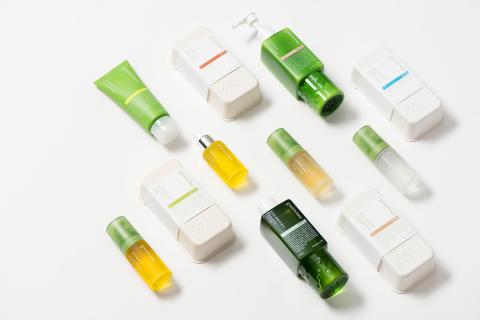 Skincare products by Taiwanese B Corp company, Greenvines. 台灣B型企業綠藤生機的護膚產品。
Photo courtesy of Greenvines
照片:綠藤生機提供
B Corp isn't just about pursuing profit to satisfy shareholders; instead a greater priority is placed on benefiting the environment, employees and the community. Many people worry that the increased costs of running a B Corp company will mean sacrificing profits, but the reverse is actually true. In Taiwan, skin-care brand Greenvines and fair trade clothing and accessories brand Twine have both developed a loyal following among younger consumers.
"Who says you can't make money from doing good?" says Chang Ta-wei, former director of B Lab Taiwan, who believes customer loyalty increases through identification with a company's philosophy, while word of mouth attracts even higher levels of participation. There are currently 80 accredited B Corp companies in Asia, and 23 of them are based in Taiwan.
(Liberty Times, translated by Edward Jones)
社會企業蔚為風潮,從挪威百分之百自產能源的旅館、苗栗苑裡挽救藺草編織的工作室、到非洲難民營裡的生態工廠,都在「用商業模式來解決問題」。不過社會企業的定義較為鬆散,近年有規範更為嚴謹的「B型企業」出現,獲得不小迴響,而台灣的B型企業又跑在亞洲最前面。
「B型企業運動」的年紀很輕,二○○七年才由兩位美國企業家發起;十年後的今天,全球已有逾五十國兩千多家企業通過認證。這一切,都從一顆籃球開始。傑伊(Jay Coen Gilbert)和巴特(Bart Houlahan)因為熱愛籃球,一九九○年代創辦了籃球鞋及服飾品牌AND1 ;經營事業的同時,也重視員工福利,設置哺乳室、籃球場,辦公室還養了八隻大狗,更提供社區民眾免費籃球課程。
「今天聽起來不覺得特別,三十年前是很前衛的做法。」台灣B型企業協會秘書長黃惠敏說,AND1在二○○五年就做到全美籃球品牌第一,市值一度高達兩點五億美元,但不敵NIKE等運動大廠競爭,將公司轉手。「沒想到三個月內,公司的理念和文化消失殆盡;」不僅員工福利縮水、社區參與也中斷。
這感覺就像一手養大的孩子受到傷害;於是傑伊和巴特開始思索,如何保障企業在經營權移轉時,創辦初衷不被消滅。二○○七年他們邀來在私募基金任職的安德魯·卡索依,一起推動B型企業(B Corp)運動,並從「認證」和「立法」著手。
B指的是Best for the world(對世界最好),也代表Benefit(利害關係人的利益 )。
認證機構B lab會從公司治理、員工照顧、環境友善、社區照顧和客戶影響力等五大面向進行評估,申請過程少則半年、多則一年以上。
黃惠敏說,「這就像是企業的健檢,並不是拿到認證就結束;每三年必須重新認證。」
B型企業追求的不只是股東利潤最大化,而是把環境、員工、社區的利益放在更優先。很多人擔心恐因成本增加而犧牲獲利,事實恰恰相反。國內包括護膚品牌綠藤生機、公平貿易服飾品牌繭裹子,都深受年輕族群歡迎。
「誰說做好事不能賺大錢?」前亞太B型企業協會理事長張大為說。因為認同理念,客戶的忠誠度更高,口耳相傳吸引更多人參與。亞洲目前有八十家B型企業,台灣就占了二十三家。
(自由時報記者羅倩宜)
讀後練習
Follow up
Questions
1. AND1 was an American retail company that produced baseball clothing and accessories. True or false?
2. AND1 was sold to Nike in 2005. True or false?
3. Accredited B Corp companies prioritize social good over maximizing profit. True or false?
4. It can take up to half a year to achieve accreditation as a B Corp company. True or false?
5. What is the difference between a social enterprise and a fair trade company?(Edward Jones, Taipei Times)
Publication Notes
今日單字
TODAY'S WORDS
1. business model phr.
商業模式
(shang1 ye4 mo2 shi4)
2. social enterprise phr.
社會企業
(she4 hui4 qi4 ye4)
3. staff benefit phr.
員工福利
(yuan2 gong1 fu2 li4)
4. change hands phr.
轉手
(zhuan2 shou3)
5. shareholder n.
股東
(gu3 dong1)
6. fair trade phr.
公平貿易
(gong1 ping2 mao4 yi4)
7. word of mouth phr.
口耳相傳
(kou2 er3 xiang1 chuan2)
Comments will be moderated. Keep comments relevant to the article. Remarks containing abusive and obscene language, personal attacks of any kind or promotion will be removed and the user banned. Final decision will be at the discretion of the Taipei Times.