WIKILEAKS: China using ECFA to push unification
NOT ON THE MONEY: A Chinese official accused Ma Ying-jeou of not doing a good job of 'handling the economy,' which had led to opposition to the ECFA
Following repeated pledges by President Ma Ying-jeou (馬英九) that there would be no political ramifications to the Economic Cooperation Framework Agreement (ECFA) with China, US diplomatic cables released by WikiLeaks show that Beijing intends to use deepening economic relations with Taiwan as a means to start political negotiations.
In a cable dated Jan. 6 last year from the US embassy in Beijing, Association for Relations Across the Taiwan Straits (ARATS) Vice Secretary-General Ma Xiaoguang (馬曉光), who had just concluded the fourth round of ECFA talks with the Straits Exchange Foundation in Taichung, said during a meeting with the US acting deputy chief of mission, Robert Goldberg, on Dec. 29, 2009, that deepening economic relations would "inevitably lead to more complicated political issues."
Ma Xiaoguang said Beijing would like to start political negotiations with the Ma Ying-jeou administration "at an early stage," but that it would not promote talks against his will, as he had been "forced" to push less actively for political talks with Beijing since his inauguration.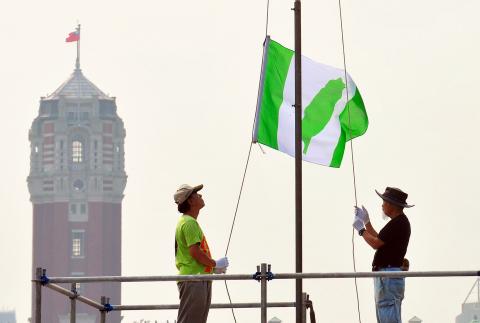 Pro-independence advocates hoist a flag during a rally near the Presidential Office in Taipei yesterday. Pro-independence groups have accused President Ma Ying-jeou of compromising Taiwan's sovereignty in exchange for economic benefits from Beijing, a claim that has been categorically denied by Ma.
Photo: Patrick Lin, AFP
"Beijing wants to engage Taiwan in political discussions, but will respect President Ma's unwillingness to do so at the current time. Nonetheless, deepening economic discussions will 'inevitably' lead to political exchanges," the cable quoted him as saying.
The comments by the ARATS official confirmed Beijing's attempt to engage in political dialogue with the Ma administration as the Democratic Progressive Party has warned.
The president and the Chinese Nationalist Party (KMT) have brushed aside such concerns, stressing the economic pact signed with Beijing last year and cross-strait talks focused on economic exchanges, saying the president would not start a political dialogue with Beijing during his first term in office.
In the cable, Ma Xiaoguang said China "realized" that "even the rapid growth of economic ties will not lead to unification naturally," but added that China would work to strengthen the basis for political negotiations under the so-called "1992 consensus."
He also criticized Ma Ying-jeou for not doing a good job of "handling the economy" and attributed opposition to the ECFA in Taiwan to the president's "inability" to handle economic issues.
In another cable dated June 1, 2007, Ma Ying-jeou, who was then the KMT presidential nominee, discussed the party's stance on unification with then-American Institute in Taiwan (AIT) director Stephen Young. He said the KMT's move to revise its charter did not mean it intended to abandon its goal of unification.
In the meeting with Young, Ma Ying-jeou, accompanied by his top adviser, then-KMT legislator Su Chi (蘇起), said on May 31, 2007, that changes to the KMT charter to emphasize "Taiwan-centered values" would not alter the party's original goal of "national unification."
The revision is aimed at broadening the appeal of the KMT to those who identify themselves as Taiwanese, he said.
Discussing his experience in handling cross-strait affairs with Beijing, Ma Ying-jeou described the Chinese government as one of "arrogance" and "inflexibility," telling Young that he did not expect special treatment from Beijing if he was elected president.
Comments will be moderated. Keep comments relevant to the article. Remarks containing abusive and obscene language, personal attacks of any kind or promotion will be removed and the user banned. Final decision will be at the discretion of the Taipei Times.