How do you take China out of Chinese-language cinema?
China's ban on Golden Horse brings greater diversity to the festival, but also the specter of growing ambition and censorship
China, poised to become the world's largest movie market, will be conspicuously absent from this year's Taipei Golden Horse Film Festival (台北金馬影展), which opens today and culminates in an awards ceremony on Nov. 23.
This follows Beijing's announcement in August that no filmmakers or films from China would be allowed to participate. It is China's first such ban since films made in the country became eligible for the Golden Horse Awards in 1996.
Often dubbed the "Oscars of Asia," the Golden Horse Awards are widely recognized as the world's premier showcase of Chinese-language film. For years, luminaries including Chinese director Zhang Yimou (張藝謀) and Hong Kong actor Tony Leung (梁朝偉) have graced the red carpet.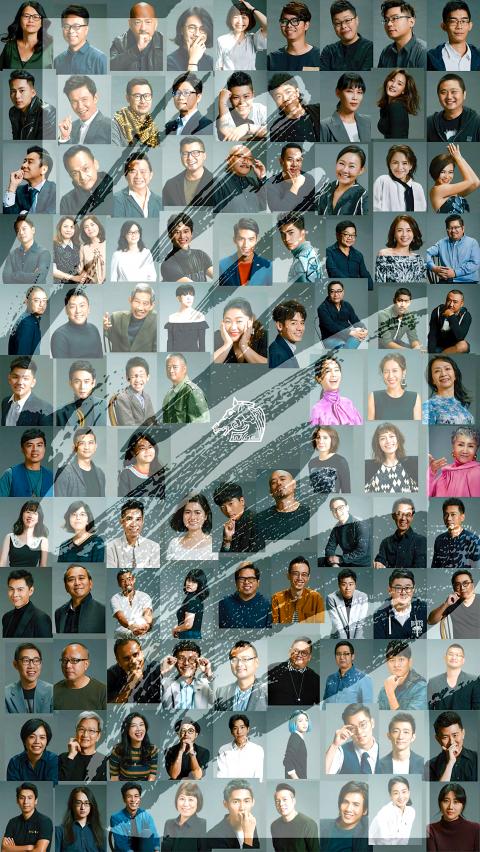 This year's Golden Horse Film Festival is navigating a ban on participation by the Chinese film industry.
Photo courtesy of Taipei Golden Horse Film Festival
Chinese regulators have reportedly enforced the ban by threatening to place filmmakers who flout it on a watchlist and bar the submitted films from domestic release. Major Hong Kong studios have also toed the line, although some independent Hong Kong productions remain in competition.
For cinephiles, the situation is regrettable, but also a unique opportunity to consider what Chinese-language cinema looks like without China. Industry insiders say there remains a strong and diverse offering of films at this year's Golden Horse Film Festival, but from a bird's-eye view, Beijing's cultural crackdown remains troubling.
GEOPOLITICAL BACKDROP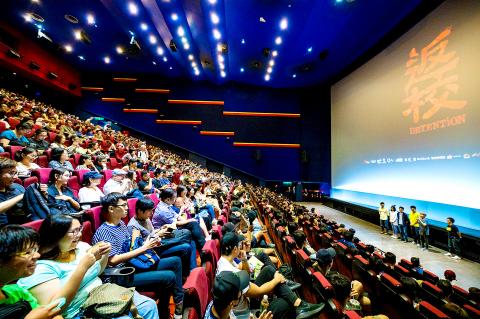 At a screening in September, audiences packed a theater at a screening of local horror film Detention.
Photo courtesy of 1 Production
Beijing did not provide reasons in its announcement of the ban. But the move follows a controversial moment during last year's televised Golden Horse Awards when filmmaker Fu Yue (傅榆), accepting an award for her documentary about the Sunflower movement, said that she hoped Taiwan would one day be recognized as an independent country.
More broadly, observers point to the awards' proximity to a confluence of geopolitical developments that are piling pressure on cross-strait ties. That includes the long summer of discontent in Hong Kong, the 70th anniversary of the founding of the People's Republic of China on Oct. 1 and most crucially, Taiwan's presidential election on Jan. 11 next year.
"The boycott will continue if [the Democratic Progressive Party (DPP)] wins the presidential election," Lee Tao-ming (李道明), Director of the Hong Kong Baptist University MFA Programme in Film, Television and Digital Media and a former Golden Horse Awards juror and recipient, told the Taipei Times.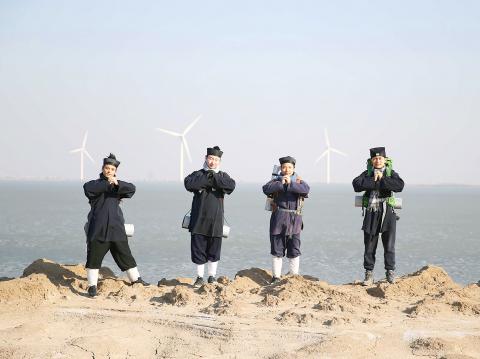 The filmmakers of Chinese documentary Shaolin Nirvana initially planned to defy a ban on the Golden Horse Film Festival, but eventually withdrew the film from competition.
Photo courtesy of Swallow Wings Films
Immediately after Fu's speech at the awards last year, Chinese celebrities in the audience demonstrated their ability to read the tea leaves of official opinion. At one point during the show, Chinese-born Singaporean actress Gong Li (鞏俐), then chair of the jury, refused to join director Ang Lee (李安) on stage to co-present a prize as planned.
Now, the impact of China's ban can be felt in numbers. This year's total of 588 film submissions, including 91 live-action features, is a significant drop from last year's total of 667 submissions, with 228 live-action features.
Erstwhile Golden Horse associates have kept their distance in other ways. Hong Kong director Johnnie To (杜琪峰), tapped to chair this year's jury, resigned in September citing contractual obligations. Days ago, Italian luxury car-maker Maserati cut sponsorship ties.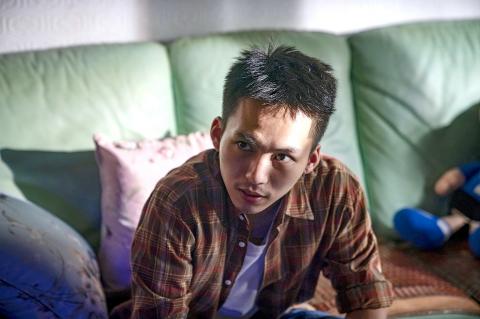 A Sun is among a strong crop of local contenders at the Golden Horse Awards this year.
Photo courtesy of Applause
In public statements, the festival has shrugged off these developments. During last month's announcement of nominations, festival executive director Wen Tien-hsiang (聞天祥) addressed the ban directly, saying that "it does not harm Golden Horse, we are strong and large enough."
Industry insiders say that the festival has done a commendable job within the constraints, aided by strong contributions from Taiwan and the region.
For Lee Tao-ming, China's ban marks an increased diversification of the festival to include more films from Southeast Asia.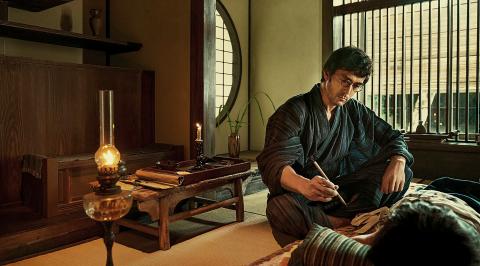 Southeast Asian films, like Malaysian production The Garden of Evening Mists, are well-represented among this year's Golden Horse Awards nominees.
Photo courtesy of Taipei Golden Horse Film Festival
"It actually is a good thing for the awards... although the lack of Chinese films from [China] and Hong Kong or Macau is a bit regrettable," he added.
Notable Southeast Asian contenders this year include Malaysian production The Garden of Evening Mists (夕霧花園) by local director Tom Lin (林書宇) and Wet Season (熱帶雨) by Singaporean director Anthony Chen (陳哲藝), which are both up for best picture.
David Lee (李富楠), a juror for this year's Golden Horse Network for the Promotion of Asian Cinema Award and Singaporean co-director of the city-state's Chinese Film Festival, said that Taiwan is having a "great year" in film, highlighting fellow best picture nominees A Sun (陽光普照) and Detention (返校), which has smashed local box-office records.
Lee added that the withdrawal of Hong Kong's major studios also gave its independent productions more opportunity to stand out. He cited another best picture nominee, Suk Suk (叔.叔) by Hong Kong director Ray Yeung (楊曜愷), which centers on homosexual themes that could have restricted its marketability in the financial hub.
Conversely, China's ban on Golden Horse has deprived newer or less famous Chinese filmmakers of an important platform for discovery by international audiences. Lee said film programmers would have to "work harder" to unearth such gems, which have been among the revelations of previous editions of Golden Horse.
Just last year, in an upset win, the best picture prize was awarded post-humously to Chinese director Hu Bo (胡波) for his debut feature film, the social drama An Elephant Sitting Still (大象席地而坐).
HORSE VERSUS ROOSTER
When the Golden Horse Awards are broadcast live from Taipei on Nov. 23, households across China are likely to be tuned into the Golden Rooster Awards (中國電影金雞獎), the country's biannual equivalent that will take place on the same evening.
The pointed scheduling conflict presents another side to the Golden Horse ban — China's own cultural production, in a bid to grab pole position in the Chinese-language film industry. Such efforts are also evident in Beijing's measures to attract more Taiwanese professionals and businesses to China.
A batch of 31 measures announced in February last year opened up the Golden Rooster Awards to Taiwan, lifted restrictions on distribution of Taiwanese media productions and employment of Taiwanese media professionals and encouraged cross-strait co-productions. Monday's additional 26 measures expanded opportunities for animated works and participation in other cultural events in China.
For now, observers are sanguine about the possibility of the Rooster outrunning the Horse.
Michael Berry, director of the University of California, Los Angeles Center for Chinese Studies and a two-time Golden Horse Awards juror, says that the Golden Rooster has historically celebrated "a very different kind of film" from the Golden Horse. The latter has a reputation for recognizing artistic achievement rather than commercial success.
"With the state support it is granted, the Golden Rooster is certainly a major player in [China's] film industry, however, in the past it has always been looked at as a highly politicized forum," Berry said. "If it wants to be seen as a festival on the level of the Golden Horse, it will need to strive for more openness and transparency and internationalize the jury process."
And although cross-strait tensions have drawn scrutiny to the censure of the Golden Horse, industry insiders say that Beijing has also been stifling participation in overseas film festivals more generally, with multiple high-profile competition withdrawals this year.
David Lee pointed to the last-minute removal of Zhang's Cultural Revolution picture One Second (一秒鐘) and Hong Kong director Derek Tsang's (曾國祥) teen drama Better Days (少年的你) from the Berlin Film Festival in February. Chinese director Guan Hu's (管虎) World War II epic The Eight Hundred (八佰) was also abruptly pulled from the Shanghai Film Festival. China releases for all three films have been called off.
Against this sweeping crackdown on cultural expression, of which the Golden Horse is just one of the latest, most prominent targets, the real victims, Lee said, are China's young and independent film talents.
China's film industry, which drew revenues of US$9.9 billion last year, is only expected to grow and overtake the US' as the largest in the world next year. When that happens, the effects of Chinese nationalism and censorship might yet be felt more intensely and globally.
Even as the show goes on at this year's Golden Horse, the international film festival circuit will likely continue to be a stage for geopolitical tussles and the tightening grip of China's censors.
Publication Notes
Event Notes
What: Taipei Golden Horse Film Festival (台北金馬影展)
When: Today to Nov. 24
Where: Various locations
Admission: NT$260, or NT$180 for weekday matinees; tickets are available online and at festival booths at Vie Show Cinemas Taipei Xinyi and Eslite Spectrum Wuchang
On the Net: goldenhorse.org.tw
Comments will be moderated. Keep comments relevant to the article. Remarks containing abusive and obscene language, personal attacks of any kind or promotion will be removed and the user banned. Final decision will be at the discretion of the Taipei Times.