Food: The Food Republic
The Food Republic recently opened on the 12th floor of Greater Taichung's Far Eastern Department Store, offering 26 food stalls in an environment designed to mimic 1950s-era small town Taiwan with a night market vibe.
Taiwanese, Chinese and Japanese are among the styles of food on offer around the open plan seating area with wooden benches and tables and red lanterns hanging from the dark wood ceiling.
My first stop was BernTai which serves steak and other meats cooked on a steel hot plate. BernTai offers New Zealand beef steaks, lamb shoulder, pork and chicken. The larger steaks range from NT$200 to NT$450. The chicken and pork chop (NT$160) looked tempting, but I chose the sirloin steak with a black pepper sauce (NT$160) — apparently a popular choice because it took 20 minutes to arrive.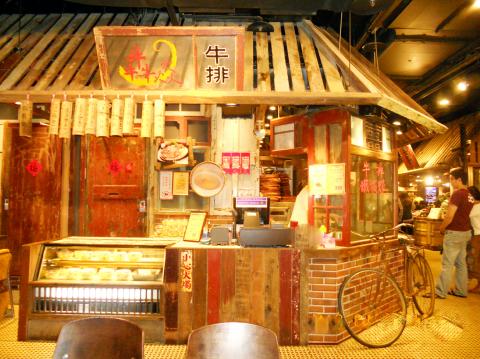 The Food Republic, a simulacrum of old-time Taiwan.
Photo: Ian Stephenson
The steak, served on a bed of spaghetti (al dente) with a fried egg and vegetables, was well cooked and juicy, and the black pepper sauce served on top was spicy but not overpowering.
Hankering some for dessert, I headed over to The Sweet Dynasty Dessert Shop (糖朝), which offers a variety of dim sum. One of its main attractions is its location next to large windows, which provide superb views of Taichung. The menu had a large selection in both Chinese and English but trying to read either language requires a magnifying glass. I selected a dim sum set menu (NT$139) consisting of taro cake, turnip cake and coconut sago dessert. I also added steamed pork spare ribs (NT$110). Waiting time was 15 minutes. I found the dim sum dishes small but with the right textures and perfectly spicy.
The BaoDao (寶島) ice stall offers the kind of shaved ice desserts you find in night markets. I ordered a cold dessert (NT$65) choosing four ingredients of red beans, pearl sago, yam and yam pearls, which, when combined, had interesting textures. The whole thing came with a syrup that was both sugary and slightly bitter.
The Food Republic is a quick way to experience traditional and modern cuisine in an old-time setting. Most menus and displays are in Chinese with pictures.
Publication Notes
The Food Republic
Address: 12F, 105, Taichung Port Road Sec 2, Greater Taichung (台中市中港路二段105號12樓)
Average meal: NT$100 to NT$500, depending on food stall
Open: Daily from 11am to 10pm
Details: Chinese menus, credit cards accepted
On the Net: www.foodrepublic.com.tw
Comments will be moderated. Keep comments relevant to the article. Remarks containing abusive and obscene language, personal attacks of any kind or promotion will be removed and the user banned. Final decision will be at the discretion of the Taipei Times.