Healthy alternatives
Drinking vinegar has emerged as a new route to long-term health, but how much good it does you can depend on how the product was made
The health benefits of vinegar have been widely touted in recent years, as the product becomes a major presence on the shelves of health food stores. Lovely packaging complements detailed instructions listing therapeutic effects ranging from improving digestion to lowering the risk of heart attacks. But the moment you start talking to people deeply involved in making and using vinegar as an alternative treatment, the theories about what works and what constitutes good vinegar are legion.
In the end it comes down to experience, and the story told by husband and wife team Cao Wu-fa (曹武發) and Liang Hsiao-ju (梁孝如) shows how vinegar can change peoples' lives. The couple now run Love Vinegar, an artisanal vinegar producer based out of a disused warehouse on the Hualien docks. Now in their fourth year, the company has picked up numerous awards for small and medium enterprises and regularly has more orders than it can deal with.
Sitting in the cavernous space of their warehouse, Liang explained the series of seemingly unconnected events that led her and Cao overseeing a warehouse full of clay jars filled with vinegar. Cao sat beside us carefully preparing a mixture of honey, water and the lavender vinegar. Lavender vinegar is currently one of their most popular products.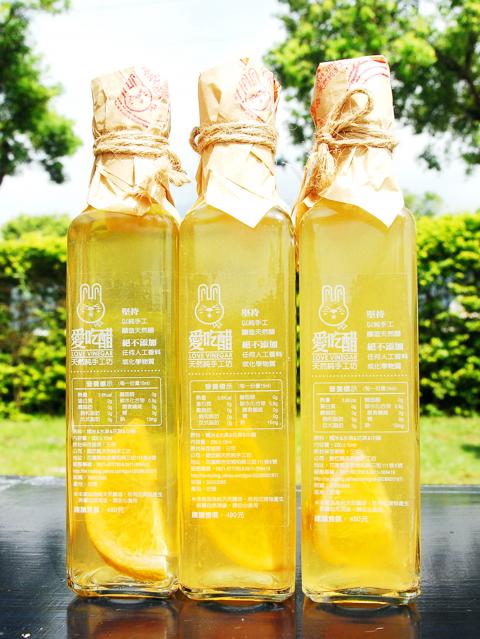 Love Vinegar tastes as good as it looks, and might even improve your health.
Photo Courtesy of Love Vinegar
Liang said that the lavender vinegar had proved a lifesaver for the family. As a two year old, Liang's daughter began to suffer from chronic hives, a condition that only got worse as she got older, and by the time she was eight, she was making hospital visits once a week to treat the condition. With conventional medicine ineffective, Liang, a keen cook who made her own vinegar for culinary applications, finally agreed to try a vinegar treatment suggested by her husband.
LEAP OF FAITH
"I had no faith at all in these alternative therapies," she said, "But we had tried everything else." Cao, who formerly worked in television and had studied health care management at college, had a long-standing interest in alternative therapies, and he suggested using Liang's vinegar together with lavender to treat their daughter's condition. "Lavender is effective against skin inflammations," Cao said, and prescribed the use of external application and ingestion of homemade lavender vinegar. According to Liang, it took no more than a month of this treatment before her daughter's condition was brought under control.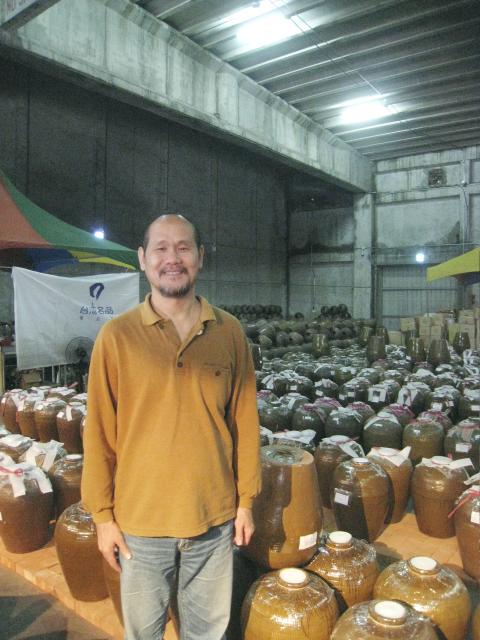 Cao Wu-fa stands among jars of vinegar made the old-fashioned way.
Photo: Ian Bartholomew, Taipei Times
"At first I did not accept my husband's beliefs about the importance of using the right types of food for good health," Liang said. "I felt that this kind of thinking belonged to the era of my grandparents. 'In this sophisticated modern era, there is no place for this kind of thinking,' I told myself." She has since become an ardent convert to the effectiveness of vinegar as a means of improving overall health and dealing with a wide range of ailments.
When they decided to start Love Vinegar, Liang was confronted with Cao's determination to manufacture vinegar on his own terms. Cao believes, and he is not alone in this, that processed cane sugar is one of the main contributors to chronic disease in modern society, and insisted that Love Vinegar produce vinegar without the use of this ingredient. Sugar greatly facilities and expedites vinegar production, and refusing to use it in the brewing process has considerable consequences for production.
SLOW PROCESS
"We do everything from scratch," Cao said, "Starting with the fermenting of glutinous rice and an active flavoring ingredient such as lavender. This process takes about three months. Then we add the bacteria, and leave the brew to become vinegar. This takes a further six months. It is not a process that can be rushed."
Despite the long production time and consequent costs, Liang said that more and more people are becoming aware of the damage that excessive consumption of processed sugar can cause to long-term health, and are willing to pay a premium for vinegar produced in a slower, more labor intensive fashion.
"It's probably some of the most expensive vinegar made in Hualien," Cao said. Despite its high cost, Liang said that they are planning to rent more warehouse space in order to meet demand. Cao has drawn on his knowledge of alternative therapies to develop 40 kinds of vinegar. Only six are regularly available: lavender; Eucommia (a tree bark widely used in Chinese medicine); chrysanthemum and wolfberry; rose and si wu (四物, a combination of medicinal herbs used particularly to treat menstrual pain); kumquat; and plain rose.
"Vinegar enhances the effectiveness of ingredients and is itself a great anti-bacterial agent. For example, kumquat is very effective for treating coughing. When added with vinegar, the vinegar kills the germs and the beneficial qualities of the kumquat can take effect in minutes. That's how I think about," Cao said.
Liang attributed the success of Love Vinegar to a growing awareness about the toll long-term illnesses can take, as well as a loss of faith in the effectiveness of western medicines in the treatment of these conditions. "Many people know that they are sick, but they don't want to take medicine," Liang said. "This is one reason why people have turned to products such as ours."
With so many vinegars on the market, Cao said that consumers need to take care when choosing a product. "Any naturally brewed vinegar is good vinegar," he said, "But so many products on the market simply steep various flavoring agents in vinegar or they contain petrochemical products such as synthesized alcohol. These types of vinegar have limited effectiveness for health."
Comments will be moderated. Keep comments relevant to the article. Remarks containing abusive and obscene language, personal attacks of any kind or promotion will be removed and the user banned. Final decision will be at the discretion of the Taipei Times.