[ SOCIETY ] Germans brew beers for Jews, Muslims
Having tapped the local beer market for all it is worth, German brewers have begun making kosher beer for Jews and a halal, alcohol-free version for Muslims in a search for new clients.
In the land of Berliner Kindl, Beck's and Loewenbrau, the kosher version stands out with the name Simcha and a Star of David on its blue and gold label.
"The name means 'joy' in Hebrew," said Ludwig Hoernlein, a brewer in Hartmannsdorf in the east German state of Saxony, who is breaking into the Jewish market.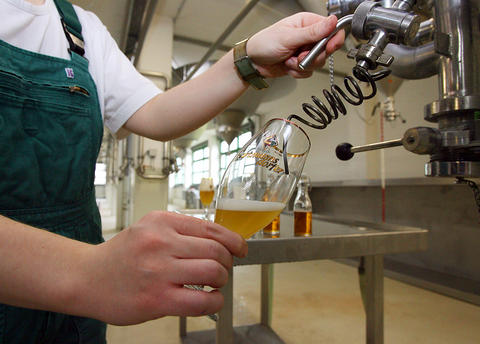 A worker samples beer at the Hartmannsdorf Brewery in Hartmannsdorf, Germany. Having tapped the local beer market for all it is worth, German brewers have begun making kosher beer for Jews and a halal, alcohol-free version for Muslims in a search for new clients.
PHOTO: AFP
A certificate on the brewery wall, signed by Rabbi Yitshak Ehrenberg from Berlin, attests that the beer is produced in accordance with Judaic dietary rules but warns that it is not suitable for Passover.
"The whole production process is scrutinized from A to Z by a rabbi," Hoernlein said.
He explained that Simcha, a white pilsner with its alcohol content of 4.9 percent, may not come into contact with a drop of beer produced the traditional German way.
A 30-tonne silo at the brewery is reserved exclusively for kosher grains.
The barley and hops are grown organically in Bavaria, the yeast used to ferment it is made at the brewery and the water comes from local springs.
In accordance with Jewish food rules, the barley may not have been grown during the Passover period and pregnant or menstruating women may not be involved in the production.
The brewery's stainless steel pipes have to be cleaned before the Simcha streams through them and the beer is bottled well apart from the others produced here.
The kosher certification comes at a high cost — Simcha is roughly 80 percent more expensive than the average German beer.
The brew was launched six months ago and Hoernlein said though demand has been strong, it is too soon to speak of a hit.
"We are still in the experimental stage."
The first 100,000 liters were sold mainly to Jewish communities and kosher restaurants in Germany but Hartmannsdorf, a tiny brewery by German standards, has also received orders from Vienna, Belgium and Britain.
"We are also actively involved in negotiations in Israel with import-export people and a hotel chain there," Hoernlein said proudly.
He said the beer is the cross-cultural brainchild of Jewish brothers by the name of Dziuballa who run a kosher restaurant in east German city of Chemnitz and Wilfried Gotter, a friend who runs an evangelical bookshop.
"It proves that beer brings people together," Hoernlein said.
An even more ambitious project of making granules for just-add-water, alcohol-free beer for the Muslim market has its home in Freising in Bavaria.
It is made by GranMalt, a company founded just last year, and sells to soft-drink producers abroad who mix it with water and milk for their Muslim clients.
"Because of the saturation of the German market, we have begun making instant alcohol-free beer and selling it to exporters who serve mainly the Middle East," said GranMalt director Claus Kuester.
"Since their religion forbids alcohol, Arab countries have hardly any breweries so we have decided to move in to fill the gap."
GranMalt opted for granules because these are easier to export and less likely to spoil on the export voyage than a bottled beverage.
Drying the malt without losing the flavor and destabilizing the ingredients that produce beer's head of foam proved a challenge, but Kuester said a special evaporation process has done the trick.
The Muslim market is yet to deliver its verdict, but in the meantime the project has won Germany's Entrepreneur Prize.
Comments will be moderated. Keep comments relevant to the article. Remarks containing abusive and obscene language, personal attacks of any kind or promotion will be removed and the user banned. Final decision will be at the discretion of the Taipei Times.