'Lust, Caution' romps home at Golden Horse
Ang Lee's steamy espionage thriller in eight categories, including best feature film and best director
The 44th Golden Horse Awards (金馬獎) ceremony was held at the Taipei Arena (台北巨蛋) last night, attracting the best directors, actors, choreographers and writers of Chinese-language cinema to highlight their achievements over the past year.
The red carpet parade saw Ang Lee (李安) lead his pupils Tang Wei (湯唯), wearing a baby blue dress, a scruffy Wang Lee-hom (王力宏) and members of Lust, Caution's (色,戒) production team from Hong Kong, France and the US. Wei walked away with the best new performer award for her role in the film.
A deafening round of applause was given to the only South Korean representative at the ceremony, actor Lee Jun Li, who rose to stardom in the role of a hermaphroditic jester from The King and the Clown in 2005. Other scream-inducing stars included Hsiao Jing-teng (蕭敬騰), an everyday Joe made instant star by the talent show One Million Star (超級星光大道) and Aaron Kwok (郭富城), impeccably dressed in a black suit with red cummerbund and silver appliques on his shirt.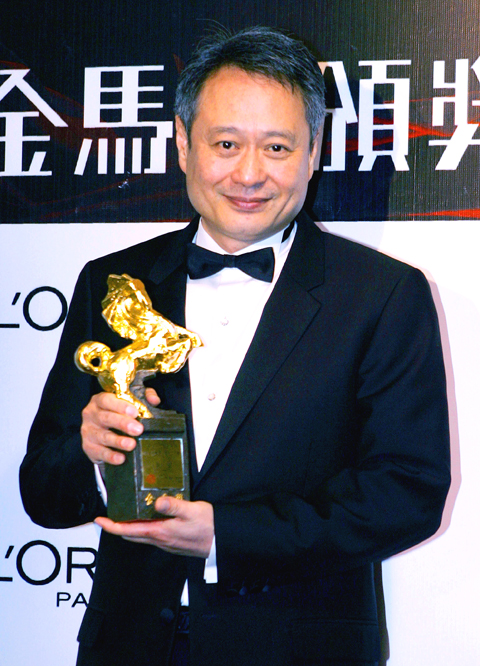 Ang Lee cleaned up at this year's Golden Horse Awards.
PHOTO: AP
Novice actresses Chang Chun-ning (張鈞甯) and Alice Tzeng (曾愷玹) from Taiwan lost the best supporting actress award to China's Fan Bingbing (范冰冰), who was rewarded for playing a vengeful ghost in The Matrimony (心中有鬼). This Chinese ghost flick also won the best cinematography award. The top honor came as a surprise to veteran Taiwanese cinematographer Mark Ping-bin Lee (李屏賓), who said he thought the winner would be Mexico-born Rodrigo Prieto, winner of the best cinematography at this year's Venice Film Festival for his work in Lust Caution.
Hollywood Chinese (荷里活華人) by Arthur Dong beat out Taiwan's Exotic Exoticism: Plant Wars (草木戰役), the only other contender in the documentary category, to walk away with the trophy for its exposition on the little-known history of Chinese actors and filmmakers in Tinseltown cinema.
In the best supporting actor category, Hong Kong veteran actor Tony Kai-fai Leung (梁家輝) beat out the favored 12-year-old Joel Lok, who played Joan Chen's (陳沖) son in the Home Song Stories. Leung was most notable by his absence.
Tang Wei won the best new performer Golden Horse gong.
PHOTO: AP
Yau Nai-hoi's (游乃海) collaboration with Johnnie To (杜琪峰), Eye in the Sky (跟蹤), however, received only four nominations though his works, which have reshaped the Hong Kong gangster genre, had won the best original screenplay gong at the Golden Horse Awards for three consecutive years.
Political maneuvering overshadowed the contest. The withdrawal of Tuya's Marriage (圖雅的婚禮) and Blind Mountain (盲山), both Chinese films, from the contest hit several raw political nerves in Taiwan. Beijing prohibits films with exclusively Chinese investment from competing in events under the auspices of Taiwan's Government Information Office (GIO, 新聞局).
Works from Hong Kong have dominated previous editions of the awards, but this year Chinese films took the lead. Many industry observers have expressed misgivings at the dearth of nominations for Taiwanese movies this year. Local productions only received nominations for technical categories, with the exception of actor-turned-director Doze Niu's (鈕承澤) directorial debut What on Earth Have I Done Wrong?!, which was nominated for best feature film.
New to the competition, films from Australia and Singapore also made a splash. Just the Follow Law (我在政府部門的日子), a humorous satire on Singapore's rigid bureaucracy, and 881, a hilarious musical from Australia, made it onto the nomination list in four categories, including best leading actor and best original screenplay.
Based on director Tony Ayre's own life, Australian production The Home Song Stories garnered seven nominations and won the best original screenplay accolade. The story examines the complicated relationship between a Chinese-Australian son and his mother, a Hong Kong nightclub singer who follows her sailor lover to Australia.
The lifetime achievement award went to Edward Yang (楊德昌), who died of cancer in June at the age of 59. Yang, whose works were considered by many to be ahead of their time, had made seven feature films after his debut short In Our Time (光陰的故事), a collaboration with three other emerging directors in 1982. Yang's feature debut, That Day on the Beach (海灘的一天), came out one year later and immediately caught critics' attention for casting a poignant gaze on modern society.
Together with Hou Hsiao-hsien (侯孝賢), Yang led Taiwan's New Wave in 1980s, writing a glorious page in the history of Taiwanese cinema. In 2000, Yang was awarded with the best director trophy at Cannes for his last film Yi Yi: A One and a Two (一一).
Disappointed that his directorial debut Secret (不能說的秘密) failed to secure nominations in major categories, pop star Jay Chou (周杰倫) excused himself from the ceremony saying it conflicted with his ongoing concert tour. The box office success scored well, though, in the music department, picking up best original film song.
"The best thing about winning the award is that you get to touch the hand of [award presenter] Tang Wei. The benefit of being a musician is that you get a shot both at the Golden Horse and Golden Melody Awards," Chou's music partner Fan Wen-shan (方文山) said.
The worst red-carpet dresser awards went to Hong Kong actress Charlie Yeung (楊采妮), who looked like a wedding cake in a pink flouncy dress. Taiwan's Chang Chun-ning (張鈞甯) caught the fashion police's attention with a yellow gown that resembled a massive curtain. Teen idol Mike He (賀軍翔) tried to set himself apart from the black-suited male crowd with brown shirt and green boots.
Comments will be moderated. Keep comments relevant to the article. Remarks containing abusive and obscene language, personal attacks of any kind or promotion will be removed and the user banned. Final decision will be at the discretion of the Taipei Times.