Dark money funds flood of US election ads
With the majority of Congress campaign commercials being financed by groups with undisclosed donors, concerns are mounting about the accountability of contributions to both political parties
More than half of the general election advertising aired by outside groups in the battle for control of the US Congress has come from organizations that disclose little or nothing about their donors, a flood of secret money that is now at the center of a debate over the line between free speech and corruption.
The advertising, which has overwhelmingly benefited Republican candidates, is largely paid for by nonprofit groups and trade associations, some of which are established with the purpose of shielding the wealthy individuals and corporations that contribute. More money is being spent on advertising by the secret donors than by super PACs, the explicitly political committees whose fortunes have dominated attention with the rise of big money in politics.
According to an analysis by the New York Times of advertising data from the Campaign Media Analysis Group, 55 percent of broadcast advertising in the midterm elections has been paid for by groups that do not fully disclose their donors, compared with 45 percent from super PACs, which are required to file regular financial disclosures with the US Federal Election Commission.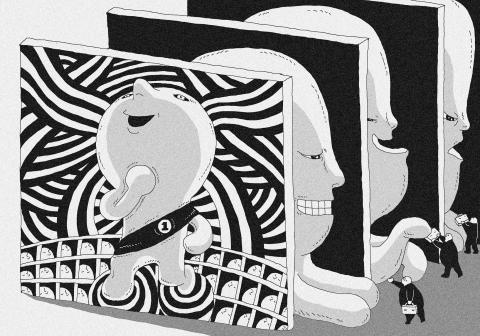 Illustration: Mountain People
The proportion of advertising flowing through nondisclosing groups is slightly lower than in 2012, a presidential election year with far more spending overall. However, secretly funded ads are widely expected to surge in 2016, when there will be no incumbent running for the White House.
The dominance of secretly funded advertising defies one of the underlying assumptions of the US Supreme Court's Citizens United decision in 2010, which paved the way for outside groups to raise and spend more money, so long as they did not coordinate with candidates and parties. In the majority opinion, Justice Anthony Kennedy envisioned campaigns in which unlimited independent spending by unions and corporations would be paired with robust, real-time disclosure.
"Shareholders can determine whether their corporation's political speech advances the corporation's interest in making profits and citizens can see whether elected officials are 'in the pocket' of so-called moneyed interests," Kennedy wrote.
FAILED IDEALISM
The reality is far different: In race after race, voters are confronted by advertising from an array of groups with generic names and unclear agendas. The groups' finances are disclosed only on federal tax returns — typically filed more than a year after election day — on a form on which the names of donors are allowed to be redacted.
"There are assumptions in Citizens United that have never happened," said Fred Wertheimer, president of Democracy 21, which supports more robust disclosure. "The assumption that we would have real-time disclosure never happened. When we get to the 2016 election, the dark money is going to greatly explode."
The advertising data also suggest that while Democrats and Republicans have built formidable outside spending networks since the Citizens United decision, Democrats have aired far more advertising through super PACs, while Republicans have relied significantly more on advertising paid for with secret money. (Both parties also rely on alliances of grassroots nonprofit groups or unions to help turn out voters, spending that is even more difficult to track.) The greater transparency of liberal groups has helped drive a perception that liberal billionaires, not conservative ones, have been the biggest political donors this cycle.
Yet close to 80 percent of general election advertising by outside groups aiding Republicans has been paid for with secret money, donated to groups like the US Chamber of Commerce, Freedom Partners — a trade association of donors with ties to Charles and David Koch — and Crossroads GPS, founded by former White House deputy chief of staff Karl Rove.
Heavily regulated businesses like insurance companies have long relied on such groups to allow them to quietly intervene in campaigns. Yet Republican strategists said many donors who gave freely to super PACs during the 2012 cycle have shifted part of their giving to nondisclosing groups; among them is Sheldon G. Adelson, one of the biggest political donors in either party. Little is known about how much the Kochs give to the outside spending groups they oversee, virtually none of which disclose donors.
Conservative groups said that donors had become more sensitive in part because of Democrats' attacks on the Kochs, along with controversy over the Internal Revenue Service's (IRS) reviews of the tax returns of Tea Party groups.
"Given the record of this administration in using regulatory agencies like the IRS in a retaliatory fashion, then it's understandable that there's concern about disclosure from a lot of individuals," said Tim Phillips, president of Americans for Prosperity, a conservative organization that combines field efforts with large advertising campaigns. "Donors on the left don't have to have that concern."
LIBERAL DISCLOSURE
By contrast, about three-quarters of general election ads aired by liberal-leaning outside groups during the current cycle have been paid for by super PACs, particularly the US Senate Majority PAC and the US House of Representatives Majority PAC, two organizations with close ties to Democratic leaders in Congress. Unions, which raise money from their members and are often eager to get credit for their contributions, have both aired their own ads and donated millions of US dollars to Democratic super PACs.
"They're contributions accumulated from working people and represent support for worker issues, and there's no reason not to be completely upfront about that," said Michael Podhorzer, political director of union group the American Federation of Labor and Congress of Industrial Organizations. "I think a lot of the contributions that come from corporations, the corporations would rather mask their commercial interest in making these contributions."
Yet Democrats have secret money, too. Notably, the Senate Majority PAC works in tandem with Patriot Majority, a 501(c)(4) organization run by a former aide to Senate Majority Leader Harry Reid of Nevada.
Much of the secret money benefiting Democrats in ads has poured through a network of regional and national environmental groups like the League of Conservation Voters and the Sierra Club, which are a growing force in the world of outside spending. These groups have grassroots memberships, but they have also spent millions on election activity in recent years and their budgets include sizable checks from a few anonymous donors, including a US$6 million contribution on the most recent tax return by the League of Conservation Voters.
Because of the limited disclosure, it is unclear exactly how much money conservative and liberal nonprofit groups are spending on campaigns. The only political expenditure that they are typically required to disclose to the Federal Election Commission is money over a certain threshold that is spent specifically to advocate the election or defeat of a candidate. Even then, the donors behind the spending usually do not need to be disclosed.
According to a new analysis by the Brennan Center for Justice, a New York-based think tank that supports tighter campaign rules, more than half of the reported outside spending in nine leading Senate races — Alaska, Arkansas, Iowa, Colorado, Georgia, Kentucky, Louisiana, Michigan and North Carolina — has come from anonymous donors. Through Sept. 30, reported expenditures in the nine Senate races by groups that shield their donors totaled US$84 million, well ahead of the pace in 2012.
While most nonprofit groups operate in multiple races, in part to demonstrate to the IRS that they are not overly attached to individual candidates, several have emerged this cycle with what appears to be the sole purpose of supporting a single candidate.
A group called the Kentucky Opportunity Coalition, which is overseen by a former aide to Senate Minority Leader Mitch McConnell, has been one of the biggest spenders this year, airing 10,000 ads through the end of last month to benefit McConnell.
"When Citizens United started, the reaction was: 'This is terrible because it opens the door to money from corporate treasuries,'" said Lawrence Norden, a Brennan Center scholar who worked on the study. "But what you are really seeing is dark money and people using buddy groups to get around contribution limits."
Additional reporting by Alicia Parlapiano
Comments will be moderated. Keep comments relevant to the article. Remarks containing abusive and obscene language, personal attacks of any kind or promotion will be removed and the user banned. Final decision will be at the discretion of the Taipei Times.