Food scare puts Chinese media on the defensive
A majority of the Chinese media still view foreign coverage of the tainted food scandal as Western efforts to put down their country
For weeks, as questions have multiplied over the safety of China's exports of food and other consumer goods, the Chinese media have had a consistent refrain.
US complaints about China's products are part of a mounting trade war. They are the expression of efforts by Westerners to keep China down, to invent what the Chinese media have called a "China threat" to manipulate public opinion.
Exceptions can be found to this line, particularly regarding safety issues involving Chinese-made toothpastes, which importers around the world recently discovered often contain diethylene glycol -- a poisonous chemical that tastes sweet, like its more expensive cousin, glycerin. Panama last year inadvertently mixed the chemical, imported through middlemen from China and mislabeled as glycerin, into cold medicine, killing at least 100 people.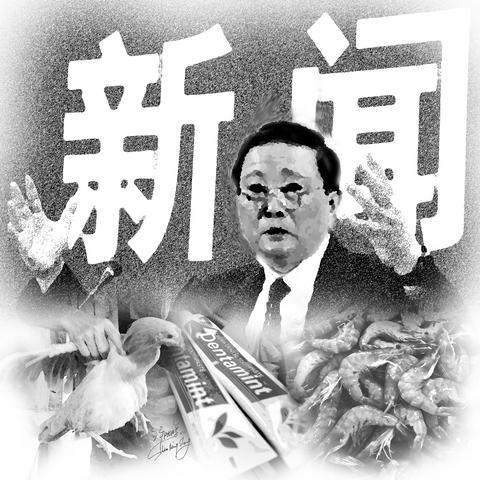 ?
After an initial spate of attacks on the foreign coverage, many Chinese media outlets have belatedly come to accept that the nation's standards for toothpastes -- which hold that using the chemical in small amounts is not harmful -- need to be refined.
In a commentary last week, one newspaper, the Xiaoxiang Morning Post, went further, rejecting the foreign conspiracy theories outright.
"In the end, it is not trade barriers, or stirring people up, which I deeply believed at the outset," Liu Hongbo (劉洪波) wrote. "In recent years, whenever we have heard of the rejection of Chinese agricultural or seafood products, we have adopted the formula of invoking trade barriers. Please, let's drop the perspective of international struggle to explain our consumer safety issues."
Such commentary, however, has been rare. And that is remarkable, given that for years, Chinese consumers have been bombarded with reports about problems with domestic food safety and fraud: animals injected with illegal hormones to speed growth; eggs treated with poisonous dies; turbot, a popular fish, contaminated with unsafe antibiotics.
"I have no idea what we can and cannot eat nowadays," said Feng Jiangping, 40, as she shopped in a Shanghai street market. "I have stopped eating many things based on media reports. Recently, I have stopped eating turbot, river eel, eggs from free-range chickens."
"I don't know how the government manages food-safety things," she said. "I only know there is less and less safe food for us to eat."
More than anything, the food-safety crisis has revealed major weaknesses in China's emerging civil society, which for all its booming, frontier capitalist ethos has never developed anything like a consumer movement or citizen advocacy groups.
This leaves Chinese consumers at the mercy of what the government decides to make of any situation. Since earlier this year, when Chinese exports of tainted pet food ingredients touched off one of the biggest pet food recalls in US history, Beijing has announced that it would rewrite food safety regulations, introduce a national recall system, and overhaul the nation's top drug watchdog. On Tuesday, it executed the former head of its food and drug watchdog Zheng Xiaoyu (鄭筱萸).
But the government's sense of commitment seems variable.
"After all, these problematic products in the news are infinitesimally few," said foreign ministry spokesman Qin Gang(秦剛) in Beijing on July 3. "Do they represent all the goods China exports? Should we totally deny the quality and safety of Chinese products because of what very few people did and the existence of very few products?"
The next day, a government survey was released showing that nearly 20 percent of consumer goods on sale in China were substandard. The news drew scant commentary here.
"China's food and drug situation has worsened over the last 10 years," said Wang Hai (王海), one of the country's few prominent consumer advocates. "Before, it was only small and informal workshops that would churn out fake food and drugs, but nowadays many big companies have joined in. The main reason, I think, is that penalties are not stiff enough to stop wrongdoers from making bad products, but there are many other faults in our consumer safety system, as well."
Wang said these included the lack of accountability in the main watchdog agencies for food and drug quality.
"When you report a case to them, they don't have to accept it, they don't give you any word on how they are handling it and you never know whether or not they've done their jobs, because they don't provide any results," Wang said.
The food safety crisis also underscores persistent shortcomings in the Chinese news media, which, far from the state-controlled monolith many foreigners imagine, sometimes manage to be feisty and surprisingly investigative. The best example came recently, when a television reporter, Fu Zhenzhong (傅振中), uncovered longstanding practices akin to slave labor in the brick-making industry in Shanxi Province.
What China's emerging media outlets are less willing to do is directly criticize the government for failures in basic responsibilities, like ensuring the safety of food, medicine and other widely used products. As hard questions are being raised by outsiders, the Chinese news media have fallen back on the old formula of defensive nationalist posturing.
"There is unbalanced trade between the United States and China, and China indeed has the largest trade surplus with the US," intoned the Oriental Morning Post recently. "But there are many ways to keep trade balanced, and we wouldn't want to see the American media realize this goal by discrediting China's food safety."
Another newspaper, the International Herald Leader, which is published by the Xinhua news agency, denounced what it called "a new round of Chinese food panic that originates in America and has been stirred up by Western media."
This common story line of a US-driven plot to discredit China and Chinese products has run into difficulty, however, as Japan, the EU, certain Southeast Asian countries and even Hong Kong, a semiautonomous Chinese territory, have all announced tightened controls or stricter inspections of Chinese consumables.
In contrast to coverage of US bans on Chinese toothpaste, dog food ingredients and fish, reports about global concerns on food safety in China have been sparse.
Asked why, Gao Xianmin (高先民), a producer at Economy 30 Minutes, a daily economic news program on CCTV said: "I don't have to tell you. You already know why."
Comments will be moderated. Keep comments relevant to the article. Remarks containing abusive and obscene language, personal attacks of any kind or promotion will be removed and the user banned. Final decision will be at the discretion of the Taipei Times.