DBS Bank unveils new service to attract young clients
DBS Bank (星展銀行) yesterday launched a new online service called the "DBS Digital Savings Account," which allows clients to make deposits, exchange foreign currencies and invest online, but does not allow remittances, in a bid to attract young people.
"In Taiwan, banks close at 3:30pm, but the younger generation, who usually get off work late, cannot make it to conventional banks," DBS Bank general manager Lim Him-chuan (林鑫川) told a news conference in Taipei yesterday, adding that they also prefer using online services, especially on mobile devices.
By using the new service, clients can save time, and use the service any time and anywhere, Lim said, adding that the service also enables clients to feel spontaneous.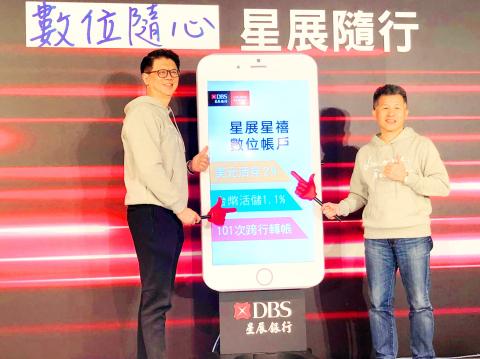 DBS Bank general manager Lim Him-chuan, left, and head of consumer banking Seraph Sun, right, yesterday pose at a news conference in Taipei to mark the launch of a digital savings account aimed at young clients.
Photo: Grace Kao, Taipei Times
After acquiring Australia and New Zealand Banking Group's retail banking business in Taiwan last year, DBS Bank now has more than 600,000 credit card users, who it hopes to transform into clients with personal savings accounts, Lim said.
Fifteen percent of DBS Bank's clientele are under the age of 35 and the bank plans to expand its young client base through the new service, DBS Bank head of consumer banking Seraph Sun (孫可基) said.
The new service, which is only available for new clients and those who have held a DBS Bank credit card for at least six months, is different from the bank's Internet banking service, as it allows clients to open an account online, which Internet banking service users cannot do, Sun said.
Clients using the new service can open a new account within 10 minutes on average, as it takes less time for the bank to fulfill the "know your customer" (KYC) requirement, because the new service offers only simple functions, such as making deposits, exchanging foreign currency or buying funds, he said.
If a client wants to make a remittance, which is more strictly regulated, they still need to visit a physical branch so the bank can fulfill its KYC requirement, Sun said.
"The digital banking service is the future," Lim said.
Sun added that online applications for DBS Bank credit cards, which were launched in August, already account for 54 percent of total applications.
DBS Bank runs Web-only banks in India, which signed up millions of clients within two years, but the bank decided to follow a different strategy in Taiwan, as there are too many banks in the nation, Lim said, adding that Web-only banks and digital savings accounts both have their strong points.
Comments will be moderated. Keep comments relevant to the article. Remarks containing abusive and obscene language, personal attacks of any kind or promotion will be removed and the user banned. Final decision will be at the discretion of the Taipei Times.